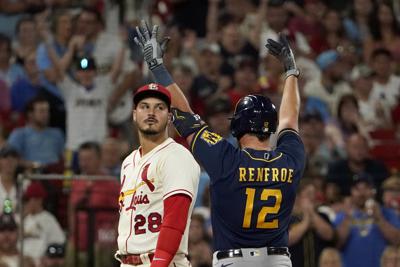 Of course the August 14th Brewers at Cardinals betting matchup is a series rubber match, as these two teams are about as neck-and-neck as you can get. St. Louis (62-51) holds a slight 1/2 game lead over Milwaukee in the NL Central, and the season series is now all knotted up at 7-7.
St. Louis picked up a 3-1 win in Friday's opener as -164 favorites, but Milwaukee evened things up 3-2 in 10 innings on Saturday to cash at -145 in a solid Corbin Burnes vs. Adam Wainwright pitching matchup. The Cardinals are -142 favorites in the finale on Sunday, and have won 9 of their last 10 at home.
Milwaukee Offense Leaving a Bit To Be Desired
Saturday's game went into the 10th inning tied 1-1, but Hunter Renfroe came through in the clutch with a go-ahead RBI triple and then scored the insurance run on a sacrifice fly from Kolten Wong. Despite the win, that's just two runs scored through the first 18 innings this weekend at Busch Stadium as the Brewers took the 3-1 loss on Friday.
Milwaukee hopes to get the bats going in the August 14th Brewers at Cardinals betting matchup up against Miles Mikolas, who they face for the fourth time this season. Mikolas gave up 6ER over 5.2 IP in his only home start against the Brewers this season, an 8-0 Milwaukee win. Christian Yelich is just 5-31 (.161) with 11 K's in his career vs. the STL starter while Andrew McCutchen has really struggled at 1-13 (.077).
Renfroe's extra-inning heroics salvaged 7.0 IP from 1 ER ball from Burnes on Saturday night. Now Aaron Ashby (2-10, 4.32 ERA) looks for a quality start of his own. Ashby allowed 4ER over 4.2 IP in his last time out in a loss to the Reds, but he had held opponents to 2 ER or less in five starts prior.
Cardinals Try to Pick Back Up Their Home Dominance
St. Louis had won 9 straight at Busch Stadium prior to Saturday night's loss, pushing their mark to 36-21 at home on the year. The Cardinals have won four straight home games against LH pitching, but also did not score a run over 4.2 IP against Ashby in their only time facing him in 2021 – a 6-5 Brewers win in Milwaukee way back in April.
The big dogs stepped up for St. Louis on Friday night, with both Paul Goldschmidt and Nolan Arenado hitting HRs (for the second straight game) and accounting for all three Cardinals runs. That duo was just 1-8 on Saturday though, and a combined 1-6 vs. Ashby, although Goldschmidt has drawn three walks vs. the Milwaukee starter.
While the Brewers were able pick up the win and save a dominant Burnes start, the Cardinals did not as Wainwright pitched a full 9 innings on Saturday giving up just 3 hits while taking the no decision. At least that leaves a rested bullpen for Mikolas (8-9, 3.50 ERA) who got the full Coors Field effect giving up 10 runs to the Rockies in just 2.2 IP his last start.
Free August 14th Brewers at Cardinals Betting Pick
There has been two low scoring games to start this series, but will that trend continue with an O/U of 8 for Sunday's finale? A whopping 80% of public action is on the Redbirds, giving the Brewers the value at +120 in a game that seems like it could go either way between two evenly matched teams.
Free Pick: Brewers +120