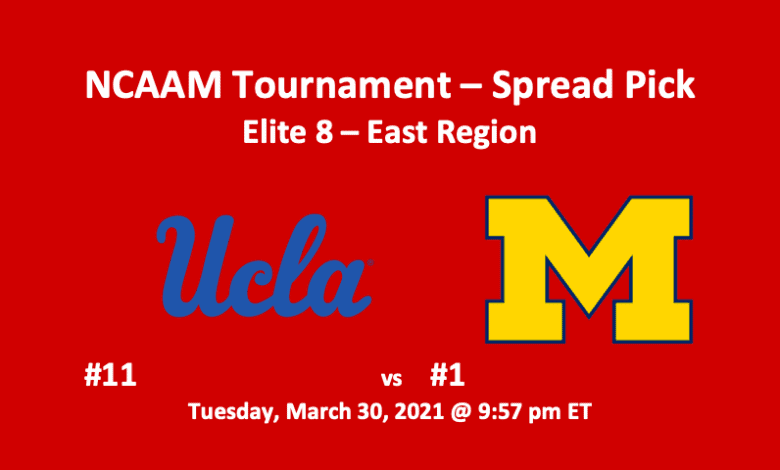 Our UCLA vs Michigan pick observes that the Wolverines, who are the favored club in this game, can be found at -6.5 (-110). On the other hand, you can get the UCLA Bruins at +7.0 (-115). UCLA is in the 2021 NCAAM Tournament Elite 8 East Region game after they first beat #6 BYU Cougars 73-62. In the round of 32, the Bruins easily took down the #14 Abilene Christian Wildcats 67-47. In the Sweet 16, they surprised the #2 Alabama Crimson Tide by beating them 88-78.
During the first three rounds of the tournament, the Michigan Wolverines have been easy winners. In Round One, the Wolverines beat the #16 Texas Southern Tigers 82-66. Then, in the second round, their win over the #8 LSU Tigers took more effort. Finally, in the end, the score was Michigan 86 and LSU 78. In the Sweet 16, Michigan annihilated the #4 Florida State Seminoles 76-58.
The Bruins and Wolverines will meet on Tuesday, March 30 at 9:57 pm ET. The game will be held at Lucas Oil Stadium in Indianapolis, IN. Also, see our West Region Elite 8 pick for Tuesday as the #6 USC Trojans take on the #1 Gonzaga Bulldogs at 7:15 pm ET. That game will also be played at Lucas Oil Stadium in Indianapolis, IN
UCLA vs Michigan Pick – Stats
Overall, statistically, the Bruins and Wolverines are fairly evenly matched. Michigan tops UCLA is points per game (76.8 to 73.6), field-goal percentage (48.5% to 46.0%), and rebounds (37.4 to 35.2). The Wolverines are allowing opponents 67.3 PPG, while the Bruins are giving up slightly less, 66.8. UCLA is also a bit better on steals, as they are making 5.0 and the Wolverines are good for 4.3. There are two other discrepancies between these two teams that favor Michigan. In terms of three-point shots, the Wolverines are better (38.7% to 36.7%), as they are in free-throw attempts made (77.7% to 72.1%).
Key Players
The Bruins are led by guard Johnny Juzang. Juzang is scoring 15.0 PPG and 4.1 RPG. Point man Tyger Campbell leads the team in assists with 5.4 PG, while Jaime Jaquez Jr. and Jules Bernard are scoring 12.4 and 10.7 PPG respectively. Jaquez is also bringing down 6.1 RPG and Bernard 5.0. In the paint, Cody Riley is good for 10.0 PPG and 5.4 RPG. Jalen Hill is averaging 6.1 PPG and 5.5 RPG. Both are 55% shooters from the field.
The Wolverines possess both a fine frontcourt and backcourt. Center Hunter Dickinson and forward Isaiah Livers patrol the paint. Dickinson tops Michigan with 14.2 PPG and 7.6 RPG. He's shooting 60.2%. Livers, who's completing 43-plus-percent of his shots from anywhere on the court, is averaging 13.1 PPG and 6.0 RPG. In the backcourt, Mike Smith is the playmaker. Smith is averaging a solid 5.4 RPG and 9.3 PPG. He's a 48.5% shooter. Also, in the backcourt,
Franz Wagner and Eli Brooks are averaging 12.8 and 9.5 PPG. Together, they are good for 6.1 APG and 9.6 RPG.
UCLA vs Michigan Pick – Final Thoughts
Our UCLA vs Michigan pick finds that the Bruins will give the Wolverines a fine battle. But can they cover the spread? In the tournament, Michigan has handled their opponents with aplomb. We think that they will excel in this game too. With that in mind, we're taking the Michigan Wolverines at -6.5 (-110).
#11 UCLA Bruins vs #1Michigan Wolverines
Michigan Wolverines at -6.5 (-110)