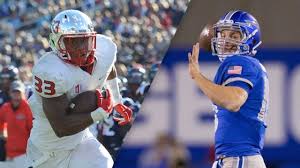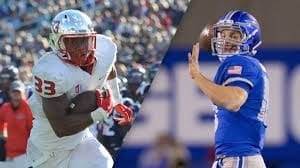 Our 2016 College Football free pick Air Force plays Fresno State. The Air Force Falcons (4-3) are fifth in the Mountain Division of the Mountain West Conference while the Fresno State Bulldogs (1-7) are last in the West of the MWC. This is a contest between two teams that are struggling. This game has a 10:30 p.m. Friday night kickoff and will be played at Bulldog Stadium.
Air Force has not won a game since October 1 when they surprised Navy 28-14. Since that win they have lost to Wyoming 35-26, New Mexico 45-40 and Hawaii 34-27 OT. All three loses were MWC games. The Bulldogs have lost six straight. Their last win was in week two of this season when they beat Sacramento 31-3. Recent losses have been to MWC opponents, including UNLV 45-20, Nevada 27-22, San Diego State University 17-3, and Utah State 38-20.
So, which team will persevere tonight? Most are picking the Falcons. Will they be able to soar above the Bulldogs?
Air Force Falcons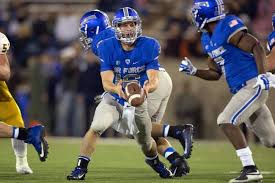 Ironically, it's Air Force's ground game and not their air attack that is dominant. The team is rushing for almost 300 yards per game. Falcon QB Nate Romine has struggled as of late. Three of his four picks were tossed in his last three games, and he's completing just 40.4% of his passes. Junior RB Timothy McVey have five TDs and is averaging close to eight yards per carry. Romine has tossed nine TD passes and has run for three more. Five different running backs have scored two or more touchdowns each in 2016. WR Jalen Robinette is the top receiver with four TD catches, 21 receptions and 568 yards. Air Force should do well on the ground against a Bulldog team that cannot stop the run. The falcons are averaging 33.4 PPG while Fresno State is allowing 34.1.
Fresno State Bulldogs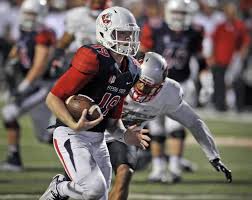 The Bulldogs are scoring just 20.1 PPG and the Air Force D is offering up 26.1. State may have a tough time scoring in this game. Neither their air game nor their running attack is particularly effective. One primary problem is QB Chason Virgil who has 10 TD passes, six INTs, and has been sacked 19 times. RB Dontel James is averaging just 3.6 YPG while Virgil is averaging 1.9. There are three decent receivers on the team, including Jamire Jordan who has 35 catches for 521 yards and two TDs. Still, the Bulldogs are challenged on offense and their defense is limited.
College Football Free Pick Air Force Plays Fresno State
Because our College Football free pick Air Force plays Fresno State offers two teams that are having difficulties in their conferences, which makes this a difficult game to predict. The 14.5 spread is large especially against Air Force. Can the Falcons cover more than two TDs?
Our 2016 College Football Free Pick: Air Force at -14.5