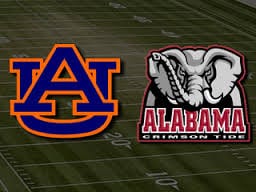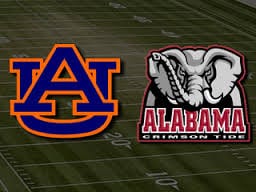 Although you can spend a lot of time debating over who will win this game, most concede that it's Alabama's to lose. Overall, we agree with that assessment. The big question for our 2016 Auburn plays Alabama free pick is the point spread. It started at 18 and it's now down to 17.5. That's a mighty big spread, and although it's true that the Crimson Tide has blown various ranked teams out of the water, they've also had some very tight games with others.
The #13 Auburn Tigers (8-3 Overall, 5-2 SEC) are in second place in the South Division of the SEC, and there they will finish behind the Crimson Tide. The Tigers are 4-1 over their last five. Their one loss was to unranked Georgia 13-7 (Nov 12). Prior to that loss, they hammered #17 Arkansas 56-3, Ole Miss 40-29, and Vanderbilt 23-16. In their last game, which was on November 19, they beat up on non-conference opponent Alabama A&M 55-0.
As for the #1 Alabama Crimson Tide (11-0 Overall, 7-0 SEC) today's game won't in anyway influence the team's standing in the conference. This is about finishing off a perfect season where they started and ended as number one in the nation. In the club's past five games, and throughout the season, they've won big and, also, won those close ones. As an example, they beat Mississippi State 51-3 (Nov. 12) and took down #13 LSU 10-0 (Nov 5).
#13 Auburn Tigers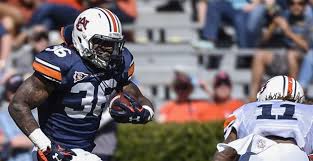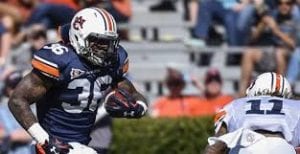 The Tigers have a productive offense and a very tight defense. They're averaging 34.1 PPG and 297.8 YPG in ground offense. There are two problems for Auburn when it comes to their ground game. The first would be that Alabama is allowing opponents an average of just 68.9 rushing yards per game. The second is that Auburn's two primary running backs, Kamryn Pettway (117 ATT, 1107 YDs, 6.4 AVG, 7 TDs) and Kerryon Johnson (165 ATT, 823 YDs, 5.0 AVG, 11 TDs), will be playing injured.
Also problematic for Auburn is that starting QB Sean White (65.2 COMP%, 9 TDs, 3 INTs, 15 Sacks) is out. That means backup Jeremy Johnson (72 COMP%, 1 TD, 1 INT, 2 Sacks) will start, as he did last week in a winning effort against Alabama A&M. But Alabama is not Alabama A&M. The team's passing attack, which is minimal, will be directed toward WR Tony Stevens (29 REC, 466 YDs, 16.1 AVG, 3 TDs)
The Auburn defense is allowing just 14.3 PPG. In terms of yardage, that includes 216.8 yards of passing and 117.7 yards of rushing. Auburn has posted a respectable 24 sacks and a solid 72 TFL. They've also broken up 82 passes and forced six fumbles. Many of these are solid marks, but they may not be good enough to stop the Tide.
#1 Alabama Crimson Tide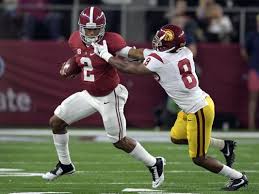 The Crimson Tide is scoring an average of 40.3 PPG while allowing a mere 11.4. The team's 447.6 yards of offense is almost split evenly between the pass and run, making this a tough team to defend against. Alabama freshman QB Jalen Hurts (64.8 COMP%, 19 TDs, 7 INTs, 14 Sacks) has proven himself in his rookie season. Along with running a successful pass attack, he's been a top-notch runner. Hurts has 142 carries for 803 yards and 11 rushing TDs. He's averaging 5.7 YPA.
Although RB Damien Harris (114 ATT, 853 YDs, 7.5 AVG, 2 TDs) doesn't have a lot of touchdowns, he can certainly rack up yardage on the turf. WRs ArDarius Stewart (39 REC, 693 YDs, 17.5 AVG, 7 TDs) and Calvin Ridley (57 REC, 640 YDs, 11.2 AVG, 7 TDs) are the team's main pass catchers, and they are speedy.
The Alabama defense is massive, as they are giving up just 183.7 yards per game in the air and 68.9 on the ground. As noted, opponents are scoring an average of 11.4 PPG against them. The defense has 40 sacks and 89 TFL, which are both huge numbers. They have also forced 14 fumbles, broken up 45 passes, and made 10 interceptions.
2016 Auburn Plays Alabama Free Pick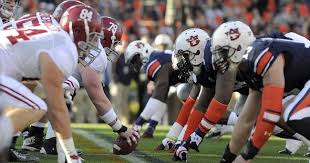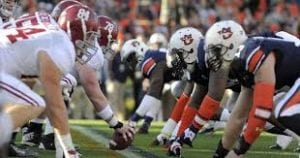 In our 2016 Auburn plays Alabama free pick, we see today's game developing in the following way. With Auburn's offense suffering and depleted physically, it will be up to the Tiger defense to keep them in the game. They may be able to do so for a while, but by the second half, they'll be feeling the physical strain that Hurt and company put on them in the first 30 minutes. The result will be a win of +20 by the Tide.
Kickoff for the Iron Bowl, as it's called, is 3:30 p.m. ET.
2016 Auburn Plays Alabama Free Pick: Alabama at -17.5