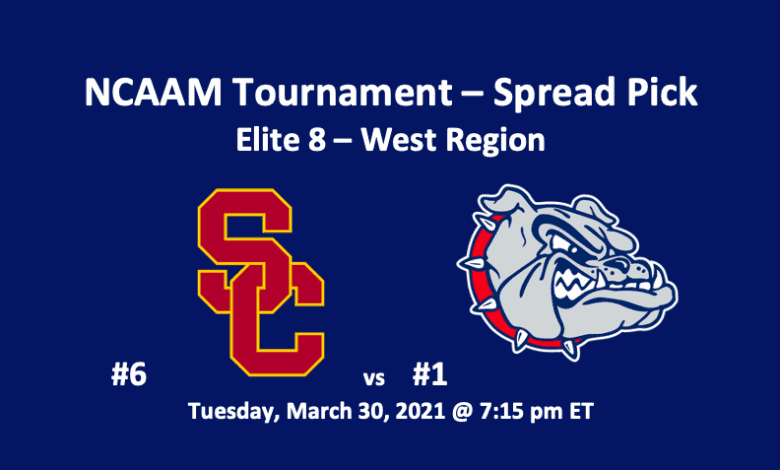 Our USC vs Gonzaga pick observes that in this contest the Bulldogs are favored. For the Zags, the best point spread is -8.5 (+101). You can get the Trojans, who are the dogs in this one, at +9.0 (-115). USC is in the 2021 NCAAM Tournament Elite 8 West Region game due to having beaten the #11 Drake Bulldogs 72-56 in Round One. They then annihilated the #3 Kansas Jayhawks 85-51. In the Sweet 16, the Trojans easily beat the #7 Oregon Ducks 82-68. In the initial round of March Madness, the Gonzaga Bulldogs easily hammered the #16 Norfolk State Spartans 98-55. In the next round, the Zags beat the #8 Oklahoma Sooners by 16 points. The final score was 87-71. In the Sweet 16, the Bulldogs defeated the #5 Creighton Bluejays 83-65.
The Trojans and Bulldogs will meet on Tuesday, March 30 at 7:15 pm ET. The game will be held at Lucas Oil Stadium in Indianapolis, IN. Also, see our East Region Elite 8 pick for Tuesday as the #11 UCLA Bruins take on the #1 Michigan Wolverines at 9:57 pm ET. That game will also be played at Lucas Oil Stadium in Indianapolis, IN
USC vs Gonzaga Pick – Stats
If USC is going to have a chance in this game, their defense is going to have to come up big. The Trojans are holding opponents to 58.3 PPG, while the Zags are allowing 63.7 PPG. However, the real question is can UCLA keep up with a team that is averaging 91.8 PPG and completing 55.1% of their field goals, 36.5% of their threes, and 72.7% of their free throws? Comparing the Trojans output to that of the Zags, USC is scoring 75.2 PPG, while hitting 47.4% of their shots from the court, 34.8% of their attempts from downtown, and 64.7% of their shots from the charity stripe. That leaves a lot of ground for the Trojans to make up.
In other areas, Gonzaga is better when it comes to assists (18.6 to 14.0) and steals (8.1 to 4.7). On the other hand, USC is outrebounding the Bulldogs 39.2 to 37.9 and better on blocks 5.3 to 2.8.
Key Players
For USC, big man Evan Mobley is a huge force in the paint. Mobley is averaging 16.3 PPG, 8.8 RPG, and 3.0 BPG. He's shooting 58.2% from the floor. Also, in the paint, is forward Isaiah Mobley. A 46.5% field-goal shooter, he's also completing 44.4% of his three-point attempts. Isaiah Mobley is scoring 9.6 PPG and bringing down 7.3 RPG. In the backcourt, Tahj Eaddy and Drew Peterson are each averaging 2.8 APG, while Eaddy is recording 13.7 PPG. Peterson is good for 9.7 PPG and 5.0 RPG. Eaddy and Peterson are both completing 39% of their three-point attempts.
The Zags are ripe and deep with scorers. Four players, forwards Corey Kispert and Drew Timme and guards Jalen Suggs and Joel Ayayi, are averaging double-digits in scoring. Kispert, a 54.7% field-goal shooter and 46.2% three-point man, leads the team with 19.0 PPG. Also, around the rim, Timme is good for 18.9 PPG and 7.2 RPG. He's hitting 65.7% of his field-goal attempts and 31.6% of his threes. Guard Suggs is dishing off 4.4 APG and averaging 13.9 PPG and 5.3 RPG. Ayayi, who comes to this game with a 56.1% field-goal success rate, is good for 11.9 PPG and 7.1 RPG.
USC vs Gonzaga Pick – Final Thoughts
Our USC vs Gonzaga pick really likes Gonzaga. At -8.5, the spread is minimal. This is partly due to USC's defense and inside play. In addition, the Trojans are the sixth seed. However, we find that the Bulldogs will be tough to stop. They are loaded with top-notch shooters. We're taking the Gonzaga Bulldogs at is -8.5 (+101).
#6 USC Trojans vs #1 Gonzaga Bulldogs
Gonzaga Bulldogs at -8.5 (+101)