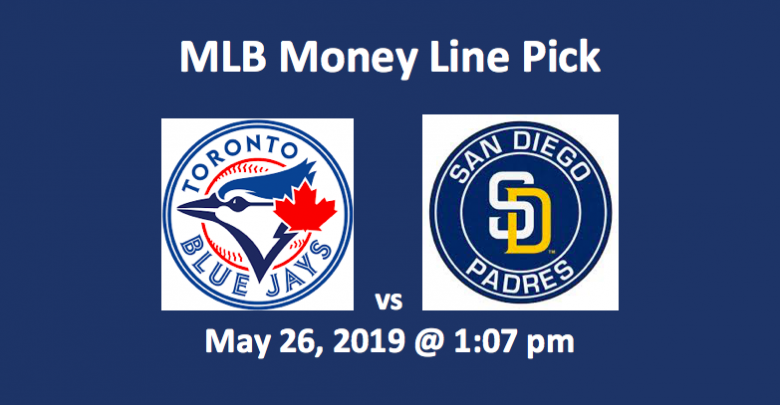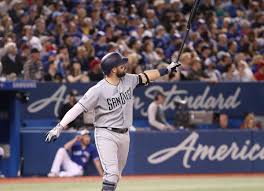 Our Toronto Blue Jays vs San Diego Padres moneyline pick has the Padres at -122. This Toronto Blue Jays vs San Diego Padres pick and preview offers the Jays at +117. San Diego comes into this game with a five-game winning streak, which includes a sweet of the Arizona Diamondbacks and victories in the first two games of this three-game series. Prior to that streak, San Diego had gone 3-7. The Blue Jays have dropped four straight games, which includes two losses at home to the Boston Red Sox. The Jays have had their struggles, as they are 3-7 for their last 10 contests.
In the standings, the San Diego Padres (28-24 Overall, 14-10) are second in the NL West, sitting six games behind the division-leading Los Angeles Dodgers. In the AL East, the Toronto Blue Jays (20-32 Overall, 9-18 Home) are fourth in the division. They are 14.5 games behind the first place New York Yankees. The game, which will be played Sunday, May 26, 2019 at the Rogers Centre in Toronto, has a 1:07 pm ET start.
Toronto Blue Jays vs San Diego Padres Moneyline Pick – Pitching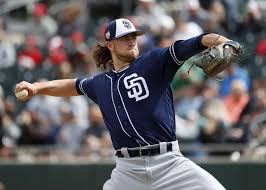 Righty Chris Paddock (4-2 W/L, 1.93 ERA, 0.76 WHIP) starts for the Padres. Paddock started the season with three no decisions in a row. The Padres did win each of those games. Since then over six starts, he is 4-2. On April 14, he had a tough outing against the Dodgers. In that game, which he lost, he lasted just 4.2 inning and allowed six runs on five hits. Three of those runs were earned. Prior to that game, he had won three-straight and in his next start after that loss, Paddock went six innings against Arizona, allowing one run on five hits while striking out seven and walking no one. Primarily, Paddock uses a 94mph fastball and an 84mph change. The four-seam fastball results in a larger than average number of swings and missing. The change drops down nicely, generating more ground balls than usual.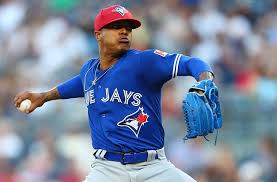 On the mound for the Blue Jays is righty Marcus Stroman (2-6 W/L, 2.81 ERA, 1.34 WHIP). Our Toronto Blue Jays vs San Diego Padres pick notes that Stroman won his last start, which was on May 21. In that game against the Red Sox, he pitched six innings giving up one run on five hits. He struck out four and allowed six walks. In his five previous starts, the righty was 0-3-2. Stroman is a slider and sinker pitcher, and when his slider is sweeping across the plate and sinker is falling out sharply, he can be effective. His cutter also offers solid action.
Jays vs Padres Offense
Four Padres hitter have generated more than half of their 208 RBI with first baseman Eric Hosmer leading the way with 30. Hosmer, who's batting .292, has eight four baggers and nine doubles. Right fielder Hunter Renfroe has driven in 29 runs. He's smacked 14 homers and nine doubles. Also in the high 20s in RBI, are Franmil Reyes (27) and Manny Machado (26). Reyes leads the team with 15 homeruns.
The Jays have generated just 184 RBI this season. Two first basemen lead the way, Justin Smoak and Rowdy Tellez, with 25 each. They also have each generated nine homers. Smoak is batting just .219 while Tellez is hitting .243. Freddy Galvis, who tops the team with a .270 BA, has 22 RBI, seven homeruns, and 11 doubles.
Toronto Blue Jays vs San Diego Padres Moneyline – Our Pick
As a team, the Jays are batting just .215, while the Padres are hitting .234. Opponents are batting .234 against San Diego pitchers and .243 against Toronto hurlers. In yesterday's game against the Blue Jays, the visiting Padres launched seven homers as they won 19-4. Our Toronto Blue Jays vs San Diego Padres moneyline pick does not expect this game to be that bloody, but we do find that the Padres have a real opportunity to notch their second-straight series sweep today. This Toronto Blue Jays vs San Diego Padres pick is the visiting team, San Diego, with the moneyline at -122.
Summary Moneyline Pick – Toronto Blue Jays vs San Diego Padres
San Diego Padres moneyline (-122)