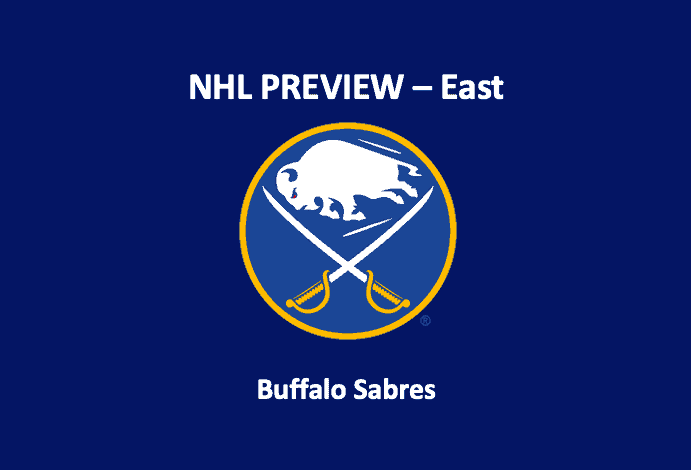 The Buffalo Sabres were one of seven teams to not qualify for the play in round of the NHL playoffs. They finished with a 30-31-8 record for 68 points. This Sabres club looks much different than last season. IN fact they look to be one of the most improved teams in the NHL. Our Buffalo Sabres preview 2021 looks to see whether their moves make their roster strong enough to return to the playoffs this year.
Buffalo Sabres Preview 2021 – Forwards
The Sabres made multiple big acquisitions this offseason at forward. They managed to lock up arguably the biggest name free agent in Taylor Hall on a one year contract. Hall started the 2019-2020 season with the Devils before being traded to the Arizona Coyotes. Over the course of the season he put up 52 points in 65 games. This season, the 2018 Hart Trophy winner could be in line for a big season. He is slated to line up on superstar center Jack Eichel's left side. Eichel was dominant last season before pause. He put up his second straight season where he broke the point per game threshold. Eichel had 78 points and a career high 36 goals in 68 games last season. He is one of the top centers in the league and could be even more dominant if he can develop chemistry with Hall.
Important Shooters
Buffalo will also rely upon Victor Olofsson, Sam Reinhart, Jeff Skinner, and the newly acquired Eric Staal to provide secondary scoring behind Eichel and Hall. Reinhart and Olofsson finished second and third respectively for the Sabres in scoring. Reinhart has been very consistent over the duration of his five-year professional career. He has scored at least 20 goals and 40 points four times including last season where he had 22 goals and 28 assists.
Olofsson is coming off a strong first season where potted 20 goals, the second most among all rookies. Olofsson is a pure sniper and it shouldn't be out of the realm of possibility to see him score upwards of 30 goals. Skinner had one of the worst seasons of his career last year. The 28-year-old winger finished with just 23 points along with a -22 plus-minus rating. The Sabres hope that playing along Staal will give Skinner a boost. The two were former teammates in Carolina, and Staal has proven that he can continue to be productive even after turning 36 this offseason. Staal had 47 points in 66 games for Minnesota last season. Overall with the additions of Hall and Staal, Buffalo has solidified their top-six forward group and could be an offensive powerhouse this season.
Defense
The Sabres' have a deceptively underrated blueline. Rasmus Dahlin is the team's stud on the backend. The 20-year-old blueliner enters his third season after showing improvements on both sides of the puck last year. The former first overall pick had 40 points in 59 games along with a -7 plus-minus rating. Dahlin has the talent and potential to be a perennial Norris Trophy candidate and will look to take another step towards that this season.
Along with Dahlin, Brandon Montour was a key piece for Buffalo last season. After struggling during the 2018-2019 season, Montour bounced back last year. He led his team in plus-minus with a +13 rating despite Buffalo finishing in the bottom third of the league with a 3.12 goals against average. Montour will once again be counted on as the principle defensemen D-man for Buffalo in 2020.
The team's leader in time on ice last season was Rasmus Ristolainen. The Finn averaged 22:48 minutes per game on a team where the backend was mostly managed by committee. He was the only defenseman on the roster to log more than 20 minutes a night. While Ristolainen has always been productive offensively, he made tremendous strides last season in his own end. He saw his plus-minus rating increase from -41 in 2018-2019 to -2 last year. At a quick glance Buffalo's blueline doesn't look too impressive, although they are on a trajectory where they could be in for a very solid season.
Buffalo Goaltending
Buffalo gave their goaltenders a pretty even split in games last season. Linus Ullmark and Carter Hutton started 34 and 30 games respectively. Ullmark had a pretty impressive season going 17-14-3 with a .915 save percentage and a 2.69 GAA. He looks to be the 1A of the tandem. Hutton struggled last year compiling a .898 save percentage and a 3.18 GAA. Despite Ullmark's 2019-2020 stats looking good, he is still unproven as a bonafide starter. Overall the Sabre's situation in net looks okay, although it is not elite.
Buffalo Sabres Preview 2021: Outlook
Our Buffalo Sabres Preview 2021 expects the team to surpass their results from last year. The Sabre's weakest area this season is in net. While they have a talented goaltender in Linus Ullmark, he is still fairly unproven. The Sabres should be competitive this season despite this. The additions of Hall and Eric Staal solidify a forward group that will most certainly increase their offensive output this year. Expect Buffalo to be solid this year, although it is unlikely they can grab a playoff berth in the NHL's most competitive division.
Buffalo Sabres Preview 2021: Projection
Record: 26-18-12, 64 points
Finish: 5th in the East Division