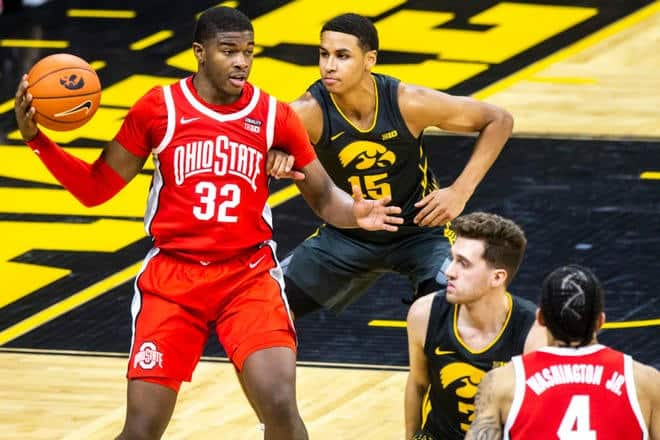 The Hawkeyes face a tough test in the February 19th Iowa at Ohio State betting matchup, having to head to The Schottenstein Center where OSU is undefeated this season. The Buckeyes (16-6) sit at #16 in the top 25, and at 9-4 are tied in the loss column in the Big Ten with Purdue, Wisconsin, and Illinois.
Iowa had a three game win streak snapped on Thursday in an 84-79 home loss to Michigan as -5 point favorites. The Hawkeyes are just 3-5 on the road, which may make it tough to get a win in Columbus where the Buckeyes have run their record to 11-0. These two teams split last season, with the away team getting the win in both games.
Iowa With a Possible Resume Padder
The Hawkeyes loss to Michigan on Thursday was a brutal one, not just because they were at home but because both teams are on the bubble for the NCAA Tournament. Iowa still has a better than 55% chance to make the tournament right now, but they also have Saturday's tough trip to Ohio State, a home game with #19 Michigan State, and then visits to Ann Arbor and Illinois to close out the regular season.
A win at #18 Ohio State would relieve some of that bubble pressure for Fran McCaffrey's squad. Iowa comes to Columbus with the Big Ten's #1 scoring offense (#4 nationally) with 83.8 ppg, but they also have a defense that has allowed 75+ in five of their last six.
Keegan Murray gives the Hawkeyes a chance to win no matter where they play, as he's 3rd in the country scoring 23.3 ppg. Murray has a couple of 30+ point outings over his last three, but Ohio State also has the #5 best scoring defense in the Big Ten (66.3 ppg).
Buckeyes Try to Avoid Slow Start
Ohio State had a little tougher time than they expected on Tuesday at home as -12.5 favorites against Minnesota – in the first half anyways. The Golden Gophers had a 25-23 lead at the break before OSU turned it on for a dominating 70-45 win. That makes two wins in a row for the Buckeyes after their 66-64 loss at Rutgers on February 9th.
E.J. Liddell had 16 points vs. Minnesota last time out and grabbed 10 rebounds. Iowa did a decent job of slowing down Wolverines big man Hunter Dickinson on Thursday limiting him to 14 points and 9 rebounds, but they also allowed 18 rebound games to Purdue's Trevion Williams and Illinois' Kofi Cockburn earlier in the year.
Liddell will have to be good in the February 19th Iowa at Ohio State betting matchup to keep up with Murray nad the high scoring Iowa offense.  That shouldn't be too big of a concern though as the Hawkeyes also have the 2nd worst scoring defense in the Big Ten (71.8 ppg).
Free February 19th Iowa at Ohio State Betting Pick
Ohio State showed how good they can be when they want to, outscoring Minnesota 47-20 in the second half in their meeting this week. The Buckeyes are -5 point favorites against Iowa, with 68% of the betting public liking OSU. The Buckeyes are undefeated at hoe, and should stay that way rather handily.
Ohio State 79 – Iowa 69
Free Pick: Ohio State -5