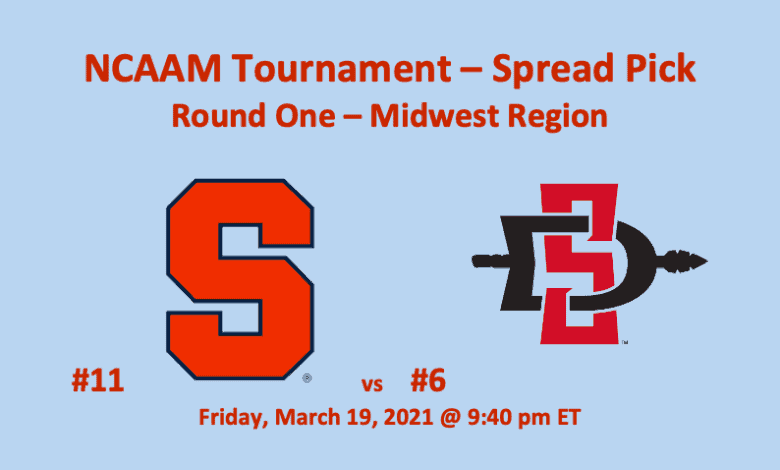 Our Syracuse vs San Diego State pick offers the Orange, who finished eighth in the Atlantic Coast Conference, against the Aztecs, who topped the Mountain West Conference. In the 2021 NCAA Tournament, this is a First Round Midwest Region matchup. The SDS Aztecs are favored and at -3.0 (-105), while the Orange are +3.0 (-105). In the ACC Quarterfinals, the Orange lost to Virginia 72-69. Over their last five games, they've gone 3-2. The San Diego State Aztecs have won five of their last five games. In the MWC, the Aztecs beat the Utah State Aggies in the conference tourney finals 68-57. The Orange and Aztecs will meet on Friday, March 19 at 9:40 pm ET. The game will be held at Hinkle Fieldhouse in Indianapolis, IN. Want the scoop on Morehead vs West Virginia? We've got the Eagles vs Mountaineers pick.
Syracuse vs San Diego State Pick – Stats
The Orange are scoring 75.8 PPG and the Aztecs are hitting for 74.1 PPG. These teams are close in numerous statistical categories, including rebounds, where each team is grabbing just under 36 per game, and turnovers, where each team is at 11 per game. In other areas, Syracuse is averaging 15.3 APG, 8.7 SPG, and 4.9 BPG, while San Diego State is recording 13.9 APG, 8.3 SPG, and 2.9 SPG. In terms of shooting, the Orange has a 44.1 FG%, 33.9% 3PT%, and 78.4 FT%. At the same time, the Aztecs are at 45.5%/37.5%/72.3%.
Key Players
Syracuse will look to Buddy Boeheim to generate points. The guard is averaging 17.1 PPG and 2.8 APG. Also, in the backcourt, Joseph Girard III is recording 9.5 PPG and 3.3 APG. In the paint, the Orange feature three forwards, Alan Griffin, Quincy Guerrier, and Marek Dolezaj. Guerrier is averaging 14.4 PPG and 8.8 RPG while sinking 50.0% of his shots. Griffin is a fine point maker and defender. He's averaging 14.7 PPG, 6.5 RPG, and 1.8 BPG. He's good on 37% of his threes. Dolezaj is averaging 9.9 PPG, 5.3 RPG, and 3.2 APG.
For the Aztecs. forward Matt Mitchell commands the paint and guard Jordan Schakel is the top shooter in the back. Mitchell leads the team with 15.4 PPG. He's also averaging 5.5 RPG and 1.5 SPG. Schakel is good for 14.3 PPG and 4.4 RPG. He can hit from anywhere on the court 47% of the time. Other key players include guard Trey Pulliam, who's averaging 3.4 APG and 7.2 PPG, and forward Nathan Mensah, who recording 8.2 APG and 6.1 RPG. Mensah is a 57.7% shooter from the field.
Syracuse vs San Diego State Pick – Final Thoughts
Our Syracuse vs San Diego State pick notes that over all the Aztecs have a better shot percentage than the Orange. They are especially adroit from downtown. Conversely, Syracuse is a much better free throw shooting club. In other statistical areas, these two teams are very close. After all is said and done, we're going with SDS.
#11 Syracuse Orange vs #6 San Diego State Aztecs
San Diego State Aztecs at -3.0 (-105)