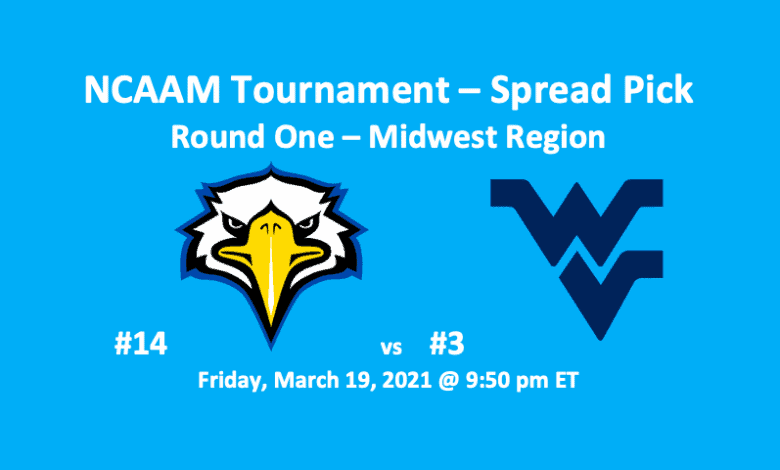 Our Morehead State vs West Virginia pick is for the last game in Round 1 of the 2021 NCAA Tournament's Midwest Region. The first round is made up of two 16-game days, and the initial day, which featured teams in the Midwest and South Regions, is almost over. The Mountaineers are favored. You'll find them at and at -13.0 (-108), while the Eagles are +13.0 (-102). In the regular season, Morehead State came in second in the Ohio Valley Conference and then went on to beat top team Belmont 72-69 in the finals of the conference tourney. Over their last five games, the Eagles have gone 5-0. The West Virginia Mountaineers, who've lost three of their last five matchups, were fourth in the Big 12. The Mountaineers lost to the Oklahoma State Cowboys 69-72 in the conference quarterfinals. The Eagles and Mountaineers will meet on Friday, March 19 at 9:50 pm ET. The game will be held at Lucas Oil Stadium in Indianapolis, IN. We've got the pick for the huge Rutgers vs Clemson game right here.
Morehead State vs West Virginia Pick – Stats
The Eagles are averaging 68.8 PPG, while the Mountaineers are putting up a hefty 77.3 PPG. Despite the fact that West Virginia is outscoring Morehead State, the Eagles have a better shooting percentage. They are putting in 46.1% of their attempts while WVU is good on 42.8%. On the other hand, the Mountaineers are better when shooting fouls, 71.7% to 68.2%, while these two teams are even on shots from beyond the arc with each hitting 35% of their attempts. Morehead State is averaging 5.0 BPG; WVU is knocking away 2.9. Conversely, the Mountaineers are making 7.5 SPG while the Eagles are at 4.4 SPG. At the same time, West Virginia is committing three fewer turnovers. The teams are just about even on rebounds with 38 each and assists with about 13.
Key Players
The powerful presence of forward Johni Broome should help Morehead State keep this game close. Broome, a potential double-double threat, is averaging 13.9 PPG and 9.0 RPG. He's an inside player who is shooting 57.6% from the floor. Broome is averaging 1.8 BPG. Three guards, DeVon Cooper, Skyelar Potter, and Ta'lon Cooper, are shooting 40-percent-plus from the floor and 35% or better from downtown. DeVon Cooper is good for 12.2 PPG and 5.0 RPG, while Ta'lon Cooper is scoring 8.2 PPG and 3.6 APG. Potter's averaging 11.7 PPG and 5.8 RPG.
West Virginia has four double-digit scorers on the team and a lot of solid depth. Guard Miles McBride leads the team with 15.4 PPG and 4.7 APG. Also, in the backcourt, Taz Sherman and Sean McNeil are consistent contributors, averaging 13.6 and 11.8 PPG. Each of the three guards is connecting on 40-percent-plus of their field goals and 37-percent-plus of their threes. Forward Derek Culver, who has double-double potential, is averaging 14.6 PPG and 9.8 RPG.
Morehead State vs West Virginia Pick – Final Thoughts
Our Morehead State vs West Virginia pick finds that the Eagles have a good shot at beating the spread. They're sound on both offense and defense. However, they will have to work hard to slow down the Mountaineers and stay relatively close. When all is said and done, we're going with Morehead State at +13.0 (-102).
#14 Morehead State Eagles vs #3 West Virginia Mountaineers
Morehead State at +13.0 (-102)