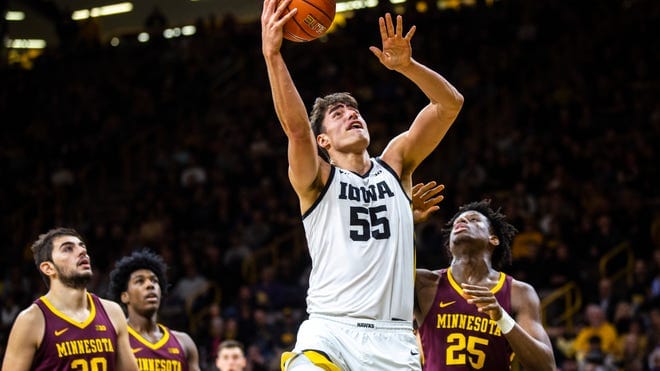 The #5 ranked Hawkeyes have just two losses coming into the NCAAB Minnesota at Iowa pick. One of those defeats for Fran McCaffrey's team came against Gonzaga, the #1 team in the country. The other was against Sunday's opponent as the Golden Gophers won 102-95 in OT on Christmas night as +6.5 underdogs.
Minnesota matches up well with Iowa, having taken 3 of the last 5 matchups. Richard Pitino's team is still a +10 point underdog when they visit Carver-Hawkeye on Sunday. Minnesota is 0-3 on the road this season, and the losses haven't been pretty. Iowa also won by 20 at home in last year's matchup as -5 point favorites.
#16 Minnesota Struggles on the Road
The Golden Gophers have already had three tough road campaigns to kick off Big Ten play. They've lost 92-65 at Illinois as +9 underdogs, 71-59 at Wisconsin at +8.5, and most recently suffered an 82-57 walloping at Michigan on Wednesday at +7.5. Those are three of the top 12 teams in the country – but so is Iowa.
Besides those road tilts, Minnesota has been pretty solid in running their record to 10-3 on the season. They beat Ohio State by 17 points in the Twin Cities as -1.5 favorites, and do have that big statement win over these Hawkeyes last month.
In that previous meeting, Iowa star Luka Garza still got his with a 32 point, 17 rebound performance. The Golden Gophers torched Iowa's 3rd worst defense in the Big Ten for 102 points (in OT) their highest tally of the year. Marcus Carr had 30 to pace the upset, but Brandon Johnson shot lights out going 8-9 from three point range. Can Minnesota expect to shoot that well again on the road?
Iowa Not Really Out for Revenge
It would be easy to call the NCAAB Minnesota at Iowa pick a revenge game after the Golden Gophers handed the Hawkeyes one of their two losses this season. In reality though, Minnesota may have given Iowa a much-needed wake up call as they've gone on to beat pesky Northwestern by 15, get a big victory at Rutgers, and absolutely dismantle Maryland on Thursday, 89-67 on the road.
Iowa's dominating win pairs up nicely with an atrocious outing from the Golden Gophers in their last tilt, shooting just 32% from the floor at Michigan. Minnesota does have the #4 offense in the Big 10, but their defense is barely ahead of the Hawkeyes in allowing 73.2 ppg. That's why oddsmakers have set this total at a sky high 160, a number that has hit in 5 of the last 7 head to heads.
The Hawkeyes were actually very close to running away with the previous meeting in Minneapolis. They were up 7 points with 0:44 left, but Iowa got cold from the FT line while Minnesota started heating up.
Free NCAAB Minnesota at Iowa Pick
Iowa could easily run away with this one, especially with the way Minnesota has failed to show up in their three conference road games. 10 points just seems like a lot though. The Gophers have four players averaging double figures, and have a big inside presence in 7'1″ Liam Robbins. Maybe the beating at Ann Arbor serves as good motivation.
Minnesota 76 – Iowa 84
Free Pick: Minnesota +10