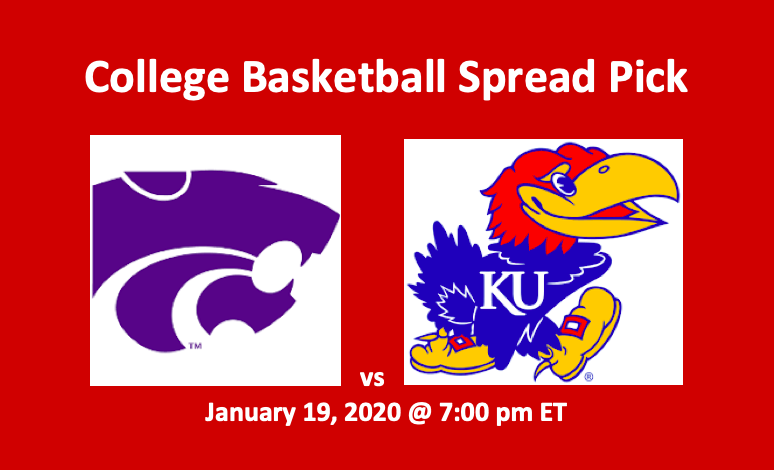 Our Kansas State vs Kansas pick offers the #3 Wildcats with a -15.0 spread. This Kansas State vs Kansas prediction notes that the Kansas State Wildcats (8-9 Overall, 1-4 BIG 12) are tied with the Iowa State Cyclones for eighth in the Big 12. The Kansas Jayhawks (14-3 Overall, 4-1 BIG 12) are second in the conference. The number two Baylor Bears, who are 5-0, are first in the league. The game will be played Tuesday, January 21, 2020 at 7:00 pm ET on the Jayhawks' home court, Allen Fieldhouse in Lawrence, KS.
Kansas State vs Kansas Pick – Recent Performance
Kansas State started the season with four wins. After that, starting on November 25, the Cats went up and down, unable to sustain a winning streak. Over the next eight games, KSU went 3-5. Starting the new year, the Wildcats lost their first four games. Finally, on Saturday, January 18, the Wildcats won their first game of 2020, surprising #12 West Virginia 84-68.
The Jayhawks come to this game having won eight of their last 10 games. During that span of games, Kansas beat #20 Colorado 72-58 and #16 West Virginia 60-53. However, the two losses were also to nationally-ranked teams. On November 21, #18 Villanova edged the Jayhawks 56-55. Also, in their first game of the new year, the #4 Baylor Bears hammered Kansas 67-55. The Jayhawks come to this game having won their last two games, beating Oklahoma 66-52 and Texas 66-57.
Wildcats at Jayhawks – Stats
Both of these teams bring stingy defenses to the court. The Wildcats are allowing opponents 62.2 PPG while the Jayhawks are permitting 60.6 PPG. Kansas is grabbing 38.7 RPG while KSU is bringing down 33.2. Also, Kansas is blocking 4.5 shots per game. The Wildcats are recording 2.8 BPG. However, KSU is topping the Hawks in steals, averaging 8.8 to 8.2 SPG. Our Kansas State vs Kansas pick notes that the Jayhawks have the edge in points scored (76.4 PPG to 65.6 PPG) and shooting percentage (49.5 FG% to 42.7 FG%). Also, Kansas is better than Kansas State in three-pointers (36.1 3PT% to 33.2 3PT%). KSU has the edge in frees (66.7% to 65.8%).
Player and Roster Assessment
KSU forward Xavier Sneed and guard Cartier Diarra are the team's top scorers. Sneed is averaging 14.6 PPG and 4.8 RPG. Diarra, a solid playmaker averaging 5.4 APG, is recording 13.3 PPG and 4.4 RPG. Three other players are averaging over six points per game. Forward Makol Mawien is scoring 6.9 PPG and taking down 4.5 RPG.
Three Kansas players are averaging double-digits in points and another is four-tenths of a point away from doing so. Guard Devon Dotson, who leads the team with 18.2 PPG, is a fine playmaker. He's good for 4.3 APG and 3.9 RPG. Also in the backcourt, Ochai Agbaji is recording 10.5 PPG. Guard Marcus Garrett is good for 9.6 PPG. He's dishing off 4.4 APG and taking down 3.9 RPG. In the frontcourt, center Udoka Azubuike is a major force. Azubuike, who's completing 77.6% of his shots, is averaging 13.1 PPG. He's also good for 9.2 RPG and 2.3 BPG.
Our Kansas State vs Kansas Pick
This is the first of two times these two teams will meet this season. The Jayhawks have beat some of the tougher teams they've faced this season by 15 or more points. But as of late, those wins have been fewer than 14 points. This season, none of KSU's losses have been by 15 points. Both teams put very tough defenses on the court. Although we do think that Kansas will win, we have the feeling that they won't cover. Our Kansas State vs Kansas pick is the Wildcats at +15.0.
Kansas State Wildcats vs #3 Kansas Jayhawks Prediction – Summary
Kansas State Wildcats at +15.0