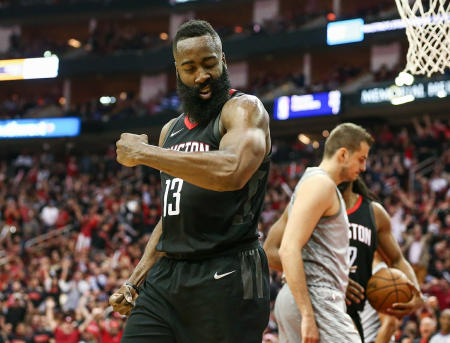 For all intents and purposes, game 1 of this playoff series went well for Minnesota – except for the final score. The Timberwolves were +11.5 underdogs on Sunday night but ultimately fell to the Rockets 101-104. Houston is obviously hugely favored in this series, and in game two again as oddsmakers have made the 4/18 NBA free pick spread HOU -10. Did Mike D'Antoni's team show weaknesses in that first game, or does the close contest just make them buckle down for a blowout on Wednesday night?
Timberwolves Will Try to Go To Towns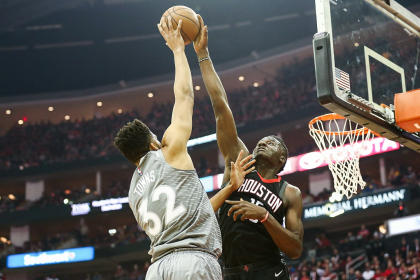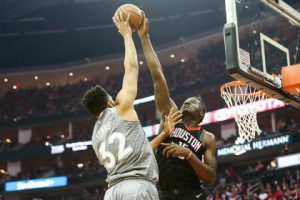 If there's one major advantage Minnesota has in this series it's their big man Karl-Anthony Towns going up against Houston's Clint Capela. Everybody around the league has heard this and apparently Capela is taking it personal as he helped limit Towns to 8 points on 3-9 shooting. It's a very good sign for Minnesota that they were able to keep Sunday's contest close with little to no contribution from their leading scorer during the regular season. Jimmy Butler only added 13 and Minnesota got an unlikely 16 point contribution from Derrick Rose so may the balance is there for an upset in the 4/18 NBA free pick.
If there's one thing working against the psyche of the T'Wolves it's the fact that they are now 0-5 on the season against the Rockets, including three losses by 18 points. It was also Houston that ended Minnesota's 13 game home win streak back on January 18th. The T'Wolves won three straight contests including a 'play-in' game against the Nuggets to get in the postseason, but don't forget this is a team that dropped 6 of 10 before that. Was Sunday night's game a version of a team ready to buckle down and make this a series – or is Houston just bored with their 1st round opponent?
Houston Aims to 'Just Take Care of Business'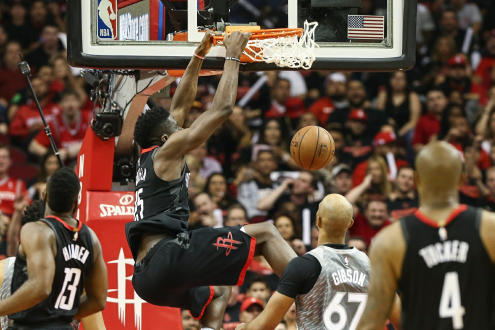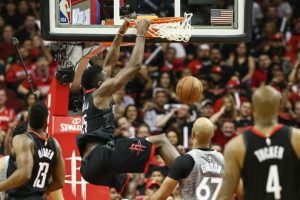 Getting past the first round and possibly even the second is all but a given for this Rockets team – they want Golden State in the Western Conference Finals. That's why Houston is going to be such a dangerous bet in the postseason, because they know they can turn it on at will. The T'Wolves kept Game 1 close pretty much throughout and even outscored Houston by 4 points in the second half. Ultimately James Harden 'did whatever he wanted' en route to 44 points to get the W. Capela added 24 points and 12 rebounds to win the battle of the paint and the Rockets were able to survive a rare cold shooting night of 10-37 (27%) from three point range.
One of the biggest reasons to expect a larger winning margin in the 4/18 NBA free pick is because people expect Houston to shoot better from beyond the arc on Wednesday night. The Rockets had the #2 scoring offense in the NBA during the regular season but don't forget they also had the #6 scoring defense. Minnesota had a top 10 scoring offense as well, but their defense was uncharacteristically bad ranking 29th in opponents field goal percentage. Being bad at that end of the court is simply unacceptable if Minnesota wants the win on Wednesday.
4/18 NBA Free Pick Betting
What is Minnesota's mindset heading into Wednesday night's game 2? Do they have confidence after knowing they went toe-to-toe with the #1 seed in the playoffs and legitimately believe they can get the series win? Or…are they frustrated in that they gave Houston one of their best shots – and still lost? Oddsmakers are giving Minnesota a bit more respect tonight, as our public bettors who are only 56% behind the Rockets. The truth is, this feels like a game Houston could run away with. Minnesota could see a loss as an inevitability tonight, and focus their efforts on getting a win back at the Target Center where they were so good at times this year.
Free Pick: Houston Rockets -10