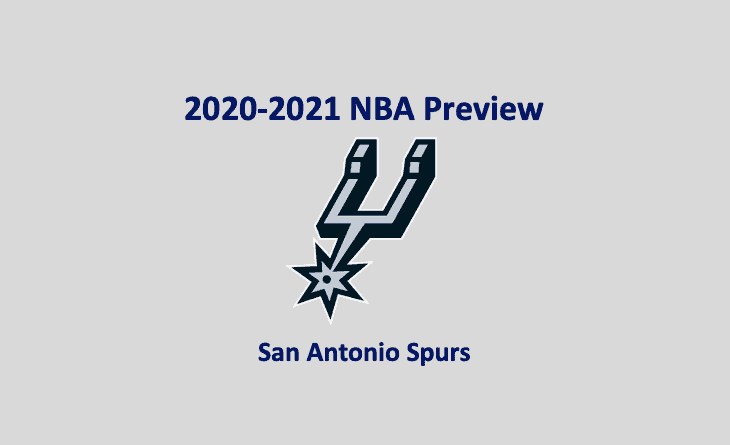 Our San Antonio preview 2020 – 2021 observes that the Spurs missed the NBA playoffs in 1996-1997. After that, they made 22-straight postseason appearances, wining the NBA Championship five times and making it to the finals one other time. Last season, the Spurs finished 32-39. They were fourth in the Southwest Division and 11th in the Western Conference. San Antonio missed the playoffs. That marked the second time since head coach Gregg Popovich took over as head coach that the team did not qualify for the postseason. Will they miss out another time this year? That's the nagging question for this basketball team.
San Antonio Preview 2020 – 2021 – Stats
The Spurs were eighth in point production, averaging 114.1 PPG. They recorded 24.7 APG (13th) and 44.6 RPG (15th). The Spurs were solid in field goals, shooting 47.2% (5th), while hitting threes at the rate of 37.6% (4th). Also, the team shot 80.0% from the foul line. That placed second in the league. The team was overall disciplined in ball handling, averaging just 12.3 TO (3rd). They were 22nd in steals (7.3 PG) and sixth in blocks (5.5 PG).
Defense was an issue for this team as San Antonio's opponents averaged 115.2 PPG (25th), while they completed 46.9% of their field goals, ranking 20th. The Spurs were 25th in three-point conversions, hitting 37.3%. Thus, the Spurs had a slight negative differential in PF/PA and a slight advantage in shooting percentages. Although, San Antonio's opponents hit 77.7% of their frees, ranking 17th, which offered the Spurs a 2.3 percentage-point advantage. Opponents recorded 45.3 RPG (17th), 25.7 APG (27th), and 12.8 TO (6th). If San Antonio can limit opponents more than they did last year, they could be back as a contender.
San Antonio Roster
This is a fine, young group, which has a lot of potential. Injuries are an issue. At least for the start of the season. Many of these young players are expected to reach new levels of performance as they expand their stats. In front, DeMar DeRozan and LaMarcus Aldridge are both experienced and highly productive veterans who help ground and lead this team. The bench is sound. Rookie Tre Jones, who played for Duke, could become a major force in the backcourt.
San Antonio Preview – Backcourt
In his third season with the Spurs, Dejounte Murray moved into the point guard starting spot. He averaged 10.9 PPG, 4.1 APG, and 5.8 RPG. Murray shot 46.2% from the field and 36.9% from the arc. Last season, he started 58 of 66 games. Shooting guard Derrick White (Out), who had surgery on the dislocated toe on his left foot in late August, is still out. White is essential to this team's success. Last season, his third with the team, he averaged 11.3 PPG, 3.5 APG, and 3.3 RPG. He shot accurately from just about anywhere on the court.
Spurs Preview – Frontcourt
Small forward DeMar DeRozan played nine seasons with the Raptors before coming to San Antonio two years ago. DeRozan is a premium player. He excels on offense and defense. Last year, he averaged 22.1 PPG, 5.6 APG, and 5.5 RPG. He posted 1.0 SPG. A 53.1% field-goal shooter, DeRozan can rack up points in the paint. At point forward, LaMarcus Aldridge is another top-notch veteran. This is his sixth season with the Spurs. Prior to coming to San Antonio, he played nine years with the Portland Trail Blazers. Last season, Aldridge was good for 18.9 PPG, 7.4 RPG, and 1.6 BPG. He shot field goals at 49.3% and threes at 38.9%. In his second season with the Spurs, center Jakob Poeltl played 66 games last season, starting 18. A 62.4% field-goal shooter, he recorded 5.6 PPG and 5.7 RPG. He also posted 1.4 BPG. Our San Antonio preview 2020 – 2021 notes that at the foul line, he connected on less than 50% of his attempts.
Spurs Bench
Derrick White, who we noted is out, is a solid backup at point. Tre Jones, who was a second round, 41st overall pick this year, will be the primary guy rotating in at the point. Jones, who played two seasons with Duke, averaged 12.4 PPG, 5.8 APG, and 4.0 RPG. He posted a 41.9 FG% and 31.3 PT%. Jones averaged close to two steals per contest. Lonnie Walker IV and Patty Mills back up at shooting guard. In his second NBA season last year, Walker averaged 16.2 MPG, 6.4 PPG, and 1.1 APG. Longtime veteran Mills, who last year averaged 22.5 MPG, was good for 11.6 PPG.
Rudy Gay subs in at small and power forward. Keldon Johnson (Out), who also comes in at small forward, will be out for a few weeks with a foot injury. Trey Lyles comes in at power forward and center. Starting power forward Aldridge subs at center. A former starter, Gay, who's in his 15th season, is now a reliable backup. Last season, he posted 10.8 PPG and 5.4 RPG while playing 21.8 MPG. In his initial NBA season last year, he averaged 9.1 PPG and 3.4 RPG with the Spurs. After four NBA seasons split between Utah and Denver, Lyles came to the Spurs last season. He averaged 6.4 PPG and 5.7 RPG.
San Antonio Preview 2020 – 2021 – Coaching
Starting out as a college assistant and head coach, Popovich's first NBA job was as an assistant with San Antonio. After working with the Spurs from 1988-1992, he went to Golden State as an assistant from 1992-1994. In 1996, he became the head coach of the Spurs. Popovich is a five-time NBA Champion (1999, 2003, 2005, 2007, 2014), three-time NBA Coach of the Year (2003, 2012, 2014), and four-time NBA All-Star Game head coach (2005, 2011, 2013, 2016).
Our San Antonio preview 2020 – 2021 observes that Popovich is noted for his blunt, intense style. He focuses on telling players the truth, and, also, he spends a lot of time supporting and mentoring them. However, even with the team, Popovich is not all about basketball. He's very connected to everyday life and to the politics of democracy. In other words, he looks at life and his players in a wholistic way. Team dinners are numerous. In the end, Popovich has high expectation for his team and for each individual player. Those expectations are born from a belief that they can achieve those expectations.
San Antonio – Pluses and Minuses
Aldridge and DeRozan are premium talents
Popovich is one of the best in the NBA
Top-notch shooting percentages
Spurs need more persistent D
Can center Jakob Poeltl have a breakthrough season?
SG Derrick White needs to get back into the lineup
San Antonio Preview 2020 – 2021 – Final Word
Our San Antonio preview 2020 – 2021 asks can this team get back to the postseason this year? The answer is a major "maybe" leaning towards "yes." The issue is that the Houston Rockets Dallas Mavericks, and Memphis Grizzlies are all loaded for bear. There is a huge amount of competition in the Southwest Division. However, San Antonio has something no other team has. That is head coach Gregg Popovich. He is a true difference-maker.
San Antonio Spurs Projection – 45-27 First-Place, Southwest Division