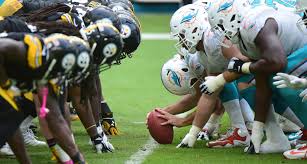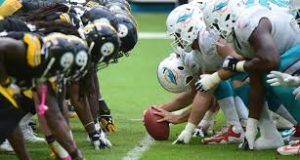 This Miami Dolphins vs Pittsburgh Steelers pick offers the Steelers at -14.0. Our Miami Dolphins vs Pittsburgh Steelers pick sees this game as being a win for the favored home team. But is 14 points a viable spread? This game, which will kick off at 8:15 pm ET on Monday, October 28, 2019, offers two teams that are struggling.
The Miami Dolphins (0-6 Overall, 0-2 Away) have yet to win a game. They sit at the bottom of the AFC East and are one of only two NFL teams, the other being the Cincinnati Bengals, to have not yet posted a win. No team in the NFL has scored fewer (63) or allowed more (211) points. The Pittsburgh Steelers (2-4 Overall, 1-2 Home), who are second in the AFC North to the 5-2 Baltimore Ravens, have done a bit better. Still, they are inconsistent at best as they have the 29th-ranked total offense and 17-ranked total defense.
Pittsburgh Steelers – Good Enough to Win?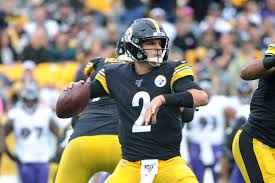 The Steelers are -8 in PF/PA differential. The Fins come in at -148. With those stats, Pittsburgh has a +140 advantage in combined points scored and points allowed. With QB Ben Roethlisberger out, second-year signal caller Mason Rudolph came in. In four games, he's completed 67.0% of his passes for 646 yards and seven TDs. Rudolph has offered up two picks, and teams have sacked him three times. One the other hand, Devlin Hodges, a rookie out of Samford, played in Pittsburgh's last game, which was against the LA Chargers. In that winning effort, he was 15 of 20 (75%) as he tossed one TD and one INT. Rudolph is expected to start tonight. At least, at this point. Third-year running back James Conner, who's averaging 3.2 YPA, has rushed for three TDs and caught two TD passes. WR JuJu Smith-Schuster has 25 receptions for 340 yards and two scores.
The Pittsburgh defense is decent, as they've accumulated 20 sacks 44 TFL, and eight picks. They've also defended 32 passes. Rookie LB Devin Bush leads the D. Bush has posted a team-best 52 tackles, as well as one sack, 3.5 TFL, two picks, and three PD. Veteran DT Cameron Heyward has 28 total tackles, 3.5 sacks, and 5.5 TFL. Both of these guys will be key in tonight's game.
What Can Miami Dolphins Do?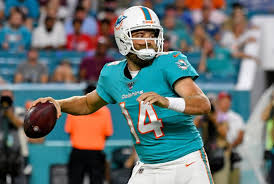 Our Miami Dolphins vs Pittsburgh Steelers pick observes that first-year coach Brian Flores, who's in the midst of a rebuilding effort, may try anything and everything to win tonight. With that reality in mind, the Dolphins are very dangerous. Both veteran QB Ryan Fitzpatrick and second-year QB Josh Rosen are active. Fitzpatrick's stats are a bit better, as he's completed 59% pf his passes for 717 yards. He tossed three TDs and five interceptions. WR DeVante Parker leads the team with three TD catches and 15.8 YPC. The rush attack will most likely utilize Kenyan Drake (3.7 AVG) and Mark Walton (4.6 AVG). However, neither has scored this season.
While the Miami offense is averaging 10.5 PPG, the defense is allowing 35.2 PPG. As a result, teams are running over and freely passing against this group. They've got seven sacks and one INT as well as 16 TFL and 16 PD. As can be seen, their numbers are exceptionally anemic.
Miami Dolphins vs Pittsburgh Steelers Pick
The Steelers were first at -17.0, and now they are at -14.0. In this game, we expect the Steelers to outmatch the Dolphins on both sides of the ball. The Fins' defense is especially weak. Our Miami Dolphins vs Pittsburgh Steelers pick is the Steelers. As one might expect, Pittsburgh should get a solid win tonight..
Miami Dolphins vs Pittsburgh Steelers Pick – Summary
Pittsburgh Steelers at -14.0