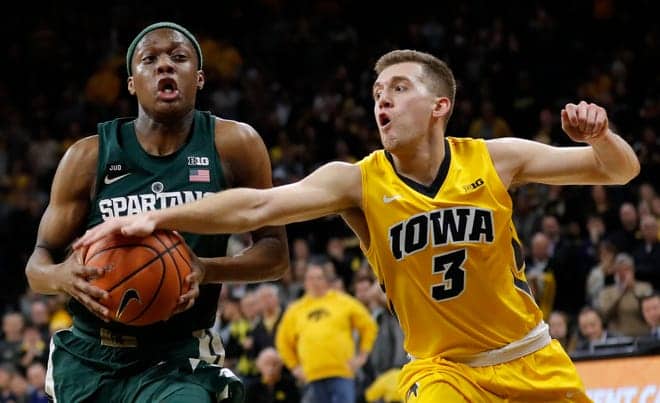 Usually late February and early March are considered Tom Izzo's time to shine around college basketball circles, but the legendary coach's squad is faltering hard heading into the February 22nd Michigan State at Iowa betting preview. The Spartans were all the way up to #13 in the country before an 84-63 loss at Rutgers has spurned a stretch of four losses in the last five games for MSU.
The unpredictable Hawks' squad takes the court on Tuesday with a home loss to Michigan (84-79) as -5 point favorites and a 75-62 victory at Ohio State as +5.5 underdogs being the last two games on their resume. Iowa won two meetings last February to sweep the 2020/21 series, and they're looking for a third straight over the Spartans as -6 point favorites in the only regular season matchup.
Too Many Points for MSU To Be Getting?
Michigan State getting +6 points on Tuesday night in Iowa City has about 65% of public bettors licking their chops on the Spartans on Tuesday. MSU is in a bit of a rut coming into this matchup, but three of their four recent losses have been tough in falling at Rutgers (who is 13-2 at home) and against #13 Wisconsin and #15 Illinois.
Michigan State's slumped has dropped them to 9-6 in Big Ten play, still a couple games down in the loss column against four loss Purdue, Wisconsin, and Illinois. The Spartans are projected as the 6th seed in the conference tournament with games against the Boilermakers, Michigan, and Ohio State following the contest in Iowa. Only the top four seeds in the Big 10 tournament get a first round bye.
The Spartans gave up 79 points at home to Illinois over the weekend, and now have to face the #1 scoring team in the conference with Iowa putting up 83.5 ppg. The Hawkeyes are also 13-3 at home on the year, while Michigan State has lost three of their last four on the road with the lone win coming just 65-63 against Maryland who is just 5-11 in conference play.
Iowa Seems Like They'll Score Here
The Hawkeyes have rarely had to worry about scoring points this season, there problem has been more on the defensive end. Iowa has allowed 84+ points in three of their last six games, although one of those was an OT loss to Penn State while the other game was a 110-87 win at Maryland.
Fran McCaffrey brings his team into the February 22nd Michigan State at Iowa betting matchup with an 18-8 overall record. A win over #18 Ohio State on the road over the weekend definitely helps Iowa's chances of making the tournament, but they seem to be headed to March Madness regardless with an 71.6% chance at an at large bid.
Another reason why Iowa would possibly get the nod over another team if they did go on the bubble is because the Hawks' have a player people want to see in Keegan Murray. The NCAA's #4 scorer (23.4 ppg) has gone for at least 21 points in six straight games, of which Iowa is 4-2.
Free February 22nd Michigan State at Iowa Betting Pick
This definitely doesn't feel like "Izzo Time" with Michigan State losing four of their last five as the regular season winds down, but he Spartans getting +6 points on Tuesday seems like way too much. Maybe it's a huge trap laid by oddsmakers, but once again those are a lot of points to play with.
Michigan State 68 – Iowa 69
Free Pick: Michigan State +6