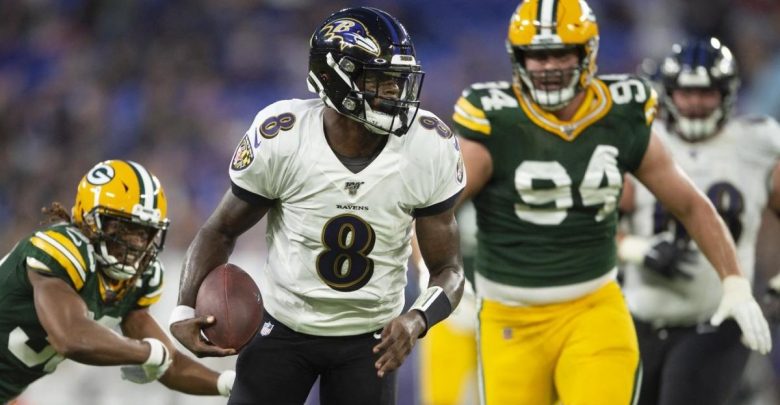 The Baltimore Ravens look to extend their 15-game preseason winning streak when they travel to take on the Philadephia Eagles on Thursday night. Baltimore hasn't dropped a preseason game since 2015, winning both of their contests this season. Philadelphia is 1-1 after last week's 24-10 win over Jacksonville.
Baltimore hasn't just been winning this preseason; it's been dominating, holding its first two opponents — Jacksonville and Green Bay — to a total of 13 points. Philadelphia dropped its opener to Tennessee 27-10 at home and will look to give the Philadelphia faithful a better showing in this one.
The moneyline for this contest has the Baltimore Ravens -240 and the Philadelphia Eagles +200. The Ravens are a five-point favorite, while the over/under has been set at 36.
Midseason Form
Baltimore has looked very good this preseason, and that includes second-year quarterback Lamar Jackson. Jackson led two scoring drives in his limited playing time against Green Bay, though he had an impressive 18-yard scoring scamper called back due to penalty. He should play a little longer in this one, but coach John Harbaugh likely won't take any chances with his franchise quarterback.
The Ravens are excited about the play of rookie running back Justice Hill, the team's fourth-round pick out of Oklahoma State. At 5-10, Hill is drawing comparisons to Darren Sproles with his elusiveness and ability to make defenders miss. He had a team-high 49 yards on 10 carries in the win over Green Bay, forcing nine missed tackles on 12 touches in the contest.
In Better Hands
Philadelphia's success over the last two seasons has been partially due to its backup quarterback, Nick Foles, who took over for the injured Carson Wentz and led the team to a Super Bowl victory two years ago. But with Foles now in Jacksonville, the Eagles weren't feeling good about their backup quarterback situation, knowing Wentz has been susceptible to injury. Enter Josh McCown, who signed with the team after a very brief retirement last week. He should see a lot of time in this one to try to get up to speed with the season fast approaching.
Philadelphia is hoping to get a completely healthy Sidney Jones in his third season in the NFL. The second-round pick in 2017 was expected to be a high first-rounder before tearing his Achilles at his pro day. He played in just one game as a rookie, then missed seven games last season with hamstring troubles. He's healthy now, and the Eagles think they have a dominating cornerback if he can stay on the field. Look for him to try to make an impact in this game.
Eagles Get Win
It's only a matter of time before Baltimore suffers a preseason loss. Philadelphia wants to make up for its loss in its home opener of the preseason, and they'd love to be the ones to finally knock off the Ravens. Look for a hard-fought battle for a preseason contest, with the Eagles coming through with a win.