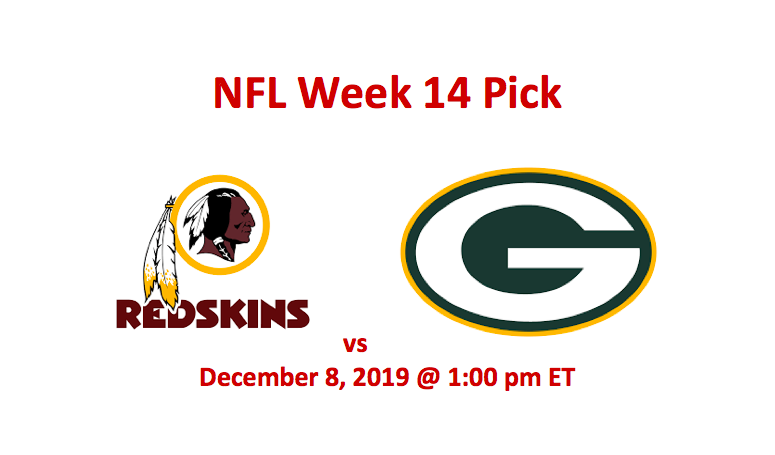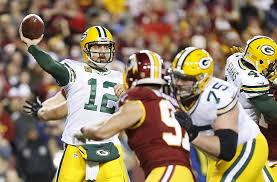 Our Redskins vs Packers pick has Green Bay at -13.0. This Washington Redskins vs Green Bay Packers Week 14 pick notes that the visiting Skins have won two straight games. That is their only winning streak of the season. The Washington Redskins (3-9 Overall, 2-4 Away) come to this contest as potential spoilers. Washington is third in the NFC East and out of the playoff picture. On the other hand, the Green Bay Packers (9-3 Overall, 5-1 Home) top the NFC North and are in a solid position to win the division or to, at least, earn a wildcard spot.
This game will be played at Green Bay's Lambeau Field. Kickoff is scheduled for 1PM ET. The temperature during the game will be in the high 30's. Winds will be 14mph from the SSW with gusts up to 23mph. There is zero chance of precipitation.
Redskins vs Packers Pick – Stats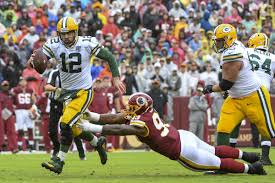 The Packers come to this game with a combined PF/PA advantage of +12.6. Green Bay is averaging 24.1 PPG, while Washington is putting just 14.2 PPG on the scoreboard. Defensively, the Skins are allowing opponents 24.2 PPG. The Pack are a tad better at 21.3 PPG.
In terms of offensive yardage, it's 288.3 YPG for Washington and 358.1 YPG for Green Bay. For the Redskins, their passing yardage is especially problematic at 188.8 per game. The Packers are solid in the air with 256.7 YPG. Both teams are averaging about 100 YPG on the ground.
On defense, the Packers allow a lot of yards. The big question is can the Redskins take advantage of that fact? Of the 393.8 YPG allowed by Green Bay, 270.8 are airborne and 123.0 are ground. The Skins are not much better. They are giving up 248.1 YPG in passing and 131.6 YPG in rushing. Total defensive yards come to 379.7 PG.
Looking at specific defensive stats, the Redskins have posted 36 sacks and 13 picks. They also have 64 TFL and 38 PD. In terms of forced fumbles, Washington has caused 10 and recovered six. The D has not scored a TD. The Packer defense has recorded just 28 sacks. They've made a dozen interceptions, forced nine fumbles, and recovered seven. Like the Skins, the Packers have not scored a defensive TD. The team's TFL come to 47.5 and PD 54.
While defenses are fairly even, the Green Bay offense is far better than that of the Redskins. Plus, the Packers, as noted, are +12.6. in PF/PA. Add to that Green Bay's 5-1 home record and Washington's 2-4 away mark, and it's clear that the Packers have a statistical edge.
Washington at Green Bay – Offense and Defense
Our Redskins vs Packers pick notes that in the battle of quarterbacks Green Bay's Aaron Rodgers gives his team a major advantage. Rodgers has been on target this season. Can the Redskin defense stop him? If they can, then Washington will have a shot at beating the spread.
Washington Redskins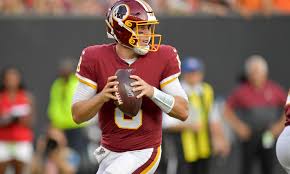 QB Case Keenum is active and will likely start. Keenum has nine TD catches and four picks. He's completing 67.0% of his passes and has been sacked a dozen times. QB Dwayne Haskins could see action today. Haskins is completing 54.1% of his passes and has connected for two scores while tossing six INTs. He's been sacked 22 times. WR Terry McClarin is the team's top pass catcher with 42 receptions and five going for scores. Veteran RB Adrian Peterson has resurrected his career with the Skins. He's averaging 4.4 YPA, has a total of 642 yards and two scores.
On defense, tackle Matt Ioannidis has been a beast. He has 7.5 sacks and 9.5 TFL. In the secondary, safety Montae Nicholson has snagged two picks and defended four passes. DE Jonathan Allen has recorded five sacks and five TFL.
Green Bay Packers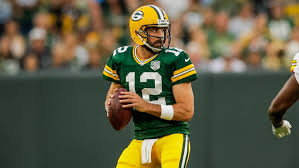 At QB, Rodgers has thrown for 3,065 yards. He's connected on 64.4% of his passes and has notched 22 TDs. Although he's tossed just two picks, Rodgers has been sacked 27 times. He is vulnerable. Rodgers is completing 64.4% of his passes. The Packers have a fine unit of receivers, with DaVante Adams leading the way. Adams, with 52 catches, has crossed the goal line three times and is averaging 12.4 YPC. RB Aaron Jones, who's averaging 4.1 YPA, has recorded 11 rushing TDs.
On defense, the Packers have some fine players. LB Preston Smith has 10.5 sacks, 10 TFL, and one INT. LB La'Darius Smith has made 10 sacks and 10.5 TFL. Corner Kevin Kings comes to this game with four picks and 13 PD. This is a deep unit.
Our Redskins vs Packers Pick
Our Redskins vs Packers pick likes Green Bay in this contest. The Packers have some big advantages at quarterback, in the receiving corps, and when it comes to quality players on defense. Plus, they possess a fine rush attack. The Skins have a sound pass rush and Rodgers is vulnerable. But with think that the variety they feature on offense will put them over the top. We're taking the Green Bay Packers at -13.0.
Redskins vs Packers Pick – Summary
Green Bay Packers at -13.0