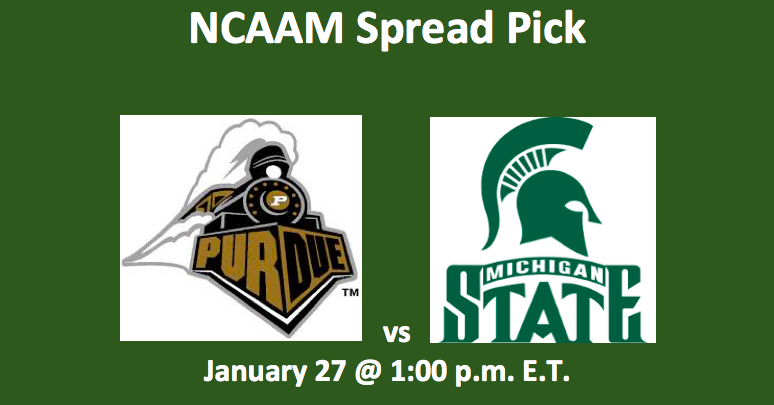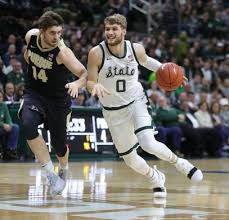 Today, Sunday, January 28 at 1 pm, in Big Ten NCAAM basketball action, the very dangerous Purdue Boilermakers (13-6 Overall, 6-2 Big Ten) host the #6 Michigan State Spartans (18-2 Overall, 9-0 Big Ten), Our Purdue vs Michigan State pick has the game at PK (pick 'em/teams even).
That's despite the fact that when these two teams met on January 8, MSU beat the Boilermakers 77-59. But this game will not be played on the Spartan home court, but, rather, at Mackey Arena in West Lafayette, IN, Purdue's home. The Boilermakers are 11-2 at home.
Recent Performance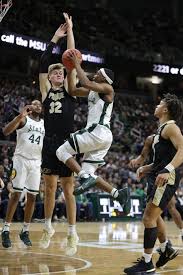 In their last 10 games against Purdue, MSU is 7-3 and 5-4-1 ATS. The average difference in scoring over those 10 games has the Spartans at +5.3. Over the course of that string of games, Michigan State has hit 30 more threes, shot three-percentage points better from the floor, and taken down 2.6 more rebounds.
Michigan State
The Spartans come to this game having won 13 games straight and, in that time, having taken down four nationally-ranked teams. Those team are #13 Maryland, #14 Ohio State, and #18 and #19 Iowa twice. Five of those 13 wins have been on the road. Michigan State last lost on November 27. Louisville beat them 82-78 in OT. Their one other loss occurred when the Spartans hosted #1 Kansas for their first game of the season. The final in that one was 92-87.
Purdue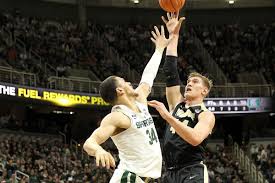 Over their last 10 games, the Boilermakers are 7-3. One loss was to the Spartans and the other two were back on December 9 to Texas 72-68 and December 15 to Notre Dame 88-80. Just prior to those two losses, Purdue beat #23 Maryland 62-60, and since those dual defeats, the Boilermakers have beaten #25 Iowa 88-70 and #25 Indiana 70-55. But can they do the same to a team like MSU? Can the Boilermakers hamper and even shut down what is a daunting offense? Purdue did take down Ohio State on January 23, beating them easily 79-67.
Advantage
Despite Purdue's recent performance and the fact that they are tough to beat at home, we're still giving Michigan State the edge here. We base that advantage on their history, including leading statistical indicators, as well as performance against top teams. Although the Boilermakers have beaten many top-25 teams, they've had a tough time against those ranked in the single digits, like MSU. Plus, the Spartans blew them out last time.
Edge: Michigan State
Important Stats and Strengths
Our NCAAM Purdue vs Michigan State pick notes that the Spartans are better, and at times dominate, in most statistical categories. That includes points per game (84-78), rebounds (44-36), assists per game (20-15), and blocked shots (5.6-3.8). The Spartan field goal percentage stands at .500, while the Boilermakers come in at .456. Points against are almost even, but today's away team is allowing two fewer per game. Finally, in the realm of free throws, the Spartans are averaging three more shots per game made from the charity stripe than their opponents today.
Edge: Michigan State
Five Keys to Our Purdue vs Michigan State Pick
Guard battle – MSU's Winston (18.3 PPG, 7.3 APG, 44.7 3PT%) vs Purdue's Edwards (24.7 PPG, 3.5 APG, 38.2 3PT%) – we like Winston
In the paint – Purdue's Haarms and Boudreaux (14.3 PPG & 8.5 RPG) vs MSU's Ward and Goins (23.1 PPG & 16.7 RPG) – we like the Spartans
Offensive rebounds are even- who wins this can make a difference
Free throws – MSU is going to the line three to four more times per game than Purdue
Purdue better in ball control, more steals and fewer turnovers could be key
Edge: Michigan State
Spartans at Boilermakers Spread Pick
There is no doubt about it that the Boilermakers are on a hot streak. But so too are the Spartans. With everything being factored in and the spread being so small, we like the visitors in this game. Our Purdue vs Michigan State pick is the Spartans with the game listed as PK.
Summary Purdue vs Michigan State Pick – MSU even