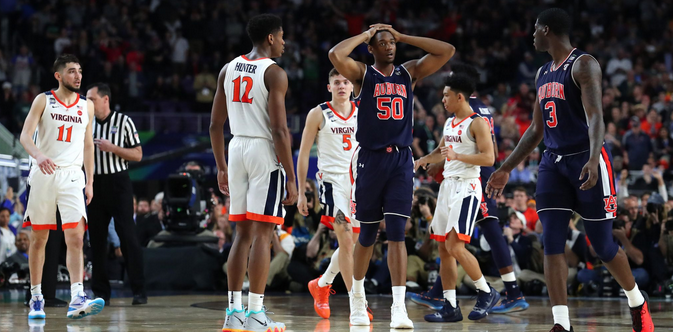 Virginia and Texas Tech were not very popular picks to win the National Championship, but one of them will be crowned on Monday night. Both teams were regular season conference championship teams this season, and they have been rolling in the NCAA Tournament. Virginia came into this tournament as a number 1 seed, and Texas Tech was given a number three seed in the East Region.
Texas Tech upset Gonzaga in the West Regional Final and then shut down Michigan State in their semifinal victory. The Red Raiders have given up more than 58 points just one time in their tournament run, and have been relentless on defense this season. Virginia probably should have been knocked out a couple of times already, but they have found a way to survive and advance. The Cavaliers pulled off a stunning upset over Auburn in the Final Four. Virginia is a -1.5 point favorite over Auburn in this game.
Cavaliers Have Experience
Virginia came into this season with a ton of experience at the guard position, and those players have carried the team. Kyle Guy leads the team with 15.6 points per game, and Ty Jerome is averaging 5.4 assists per contest. De'Andre Hunter doesn't get a ton of hype or publicity, but he will be a top draft pick in the 2019 NBA Draft. If the Cavaliers are going to win this game, then these three players will have to lead them.
The Cavaliers are giving up just 55.5 points per game which leads all division one teams. Virginia plays the best version of the pack-line defense, and they will employ the same strategy against Texas Tech. Depth has been an issue for the Cavaliers this season, and they got just two points off the bench in the semifinals.
Texas Tech Can Make Some Shots
Texas Tech doesn't do a ton of things great on the offensive end of the floor, but they can make shots with the best of them. The Red Raiders are shooting better than 38 percent from deep this season, and they have plenty of shooters. Guards Matt Mooney and Davide Moretti are both shooting better than 39 percent from deep, and they will have to shoot it well.
The Red Raiders are allowing just over 58 points per game this season, and they will put a ton of pressure on the guards from Virginia. Texas Tech leads the country in defensive field goal percentage, and they can also block shots. Sophomore guard Jarrett Culver has the ability to take over this game and leads the team with 18.5 points and 6.3 rebounds per game.
Virginia Wins National Championship
Since both of these teams play such terrific defense, this is going to be a tight game throughout. The first team to reach 50 points might be the winner, and this type of game favors Virginia more. Texas Tech has had a terrific season, but they just don't have enough experience to upset the Cavaliers in this game. Bet Virginia -1.5 over Texas Tech in the 2019 National Championship Game.