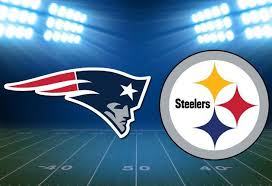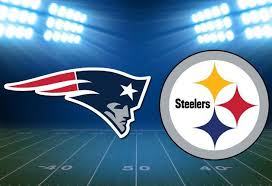 The AFC Championship game is schedule for Sunday, Jan. 22 at 6:40 p.m. ET and it promises to be a good one. The Pittsburgh Steelers, who managed to beat the Kansas City Chiefs last week 18-16 without scoring a touchdown, will play the New England Patriots at Gillette Stadium in Foxboro, MA. Like the NFC game, this contest features two exceptional quarterbacks. Here's our Pittsburgh plays New England AFC Championship free pick.
The Pittsburgh Steelers met the Miami Dolphins in the first week of the playoffs, taking them down 30-12. Last week, they beat Kansas City in a strange game that saw the Steelers consistently stall out in the red zone. In that game, they settled for six field goals. The Steelers have won nine straight games extending from the regular season into the playoffs.
The New England Patriots finished the top seed in the AFC, but in their playoff game versus the Texans, they certainly didn't play like they deserved that designation. They did win 34-16, but it was a very sloppy game with Brady throwing two picks. The Pats have won eight in a row.
Pittsburgh Steelers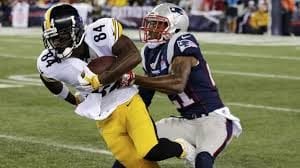 It's true that there's a bunch of guys on the injury list noted as being questionable, and there's a rumor that 15 Steelers contracted the flu, but let's face it anyone who can play will play. That means just about every Pittsburgh player will be suited up for this game.
Of any of this week's QBs, Ben Roethlisberger (64.4 COMP%, 29 TDs, 13 INTs, 17 Sacks) comes to this game with a dual distinction: he's tossed the most interceptions and been sacked the second-least number of times. Those two stats may be connected. Roethlisberger has a bunch of talented receivers, but his number one guy is Antonio Brown (106 REC, 1,284 YDs, 12.1 AVG, 12 TDs). Brown may be the best wideout in the league. Plus, he's a stellar runback guy. He could score two TDs today. The Steelers also have a great rush attack. RB Le'Veon Bell (261 ATT, 1,268 YDs, 4.9 AVG, 7 TDs) is always a threat to make a game-changing run.
The Steeler defense has 18 FF, 13 INTs, and 38 sacks. Plus, they've accumulated 54 TFL and 79 PD. James Harrison (5.0 Sacks, 5 TFL, 1 INT, 2 FF) and Artie Burns (13 PD, 3 INTs) are both critical on defense. Lawrence Timmons (114 TCKL, 5 PD, 2 INTs) leads the team in tackles. Ross Cockrell is tops in PD with 14 while Ryan Shazier has three picks, three forced fumbles and nine passes defended.
New England Patriots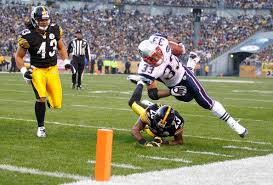 The New England Patriots have a dynamic, well-balanced offense and one f the stingiest defenses in the league. The team is scoring just over 27 PPG while allowing opponent under 15 PPG. Taking the field after missing the first four games of the season due to his Deflate Gate suspension, QB Tom Brady (67.4 COMP%, 28 TDs, 2 INTs, 15 Sacks) has played stellar football. He's got a full range of dependable receivers, including WR Julian Edelman (98 REC, 1,106 YDs, 11.3 AVG, 3 TDs) and TE Martellus Bennett (55 REC, 701 YDs, 12.7 AVG, 7 TDs). Six different receivers on the Pats have four or more TD catches.
Last week, Dion Lewis emerged as a major offensive threat, scoring three TDs. One touchdown was scored rushing, another receiving, and another on a runback of a kickoff. Lewis came into the game with 64 carries for 283 yards and 17 catches for 94 yards and no touchdowns on the season. The primary rusher for the Patriots is LaGarrette Blount (299 ATT, 1,161 YDS, 3.9 AVG, 18 TDs). He's always dangerous.
The Patriots defense forced 19 fumbles this season. Plus, they made 13 INTs and 34 sacks. Other stats include 70 PD and 30 TFL. Malcolm Butler (17 PD, 4 INTs) is tops in the secondary while Trey Flowers (7.0 Sacks, 2 TFL) leads the team in sacks. Three other players have at least four sacks. Logan Ryan (11 PD, 2 INT) is another guy to watch in the secondary.
Pittsburgh Plays New England AFC Championship Free Pick
The over/under for this game is 49.5 and the Pats are favored at -6.0. This should be another quarterback duel with Brady winning. Our Pittsburgh plays New England AFC Championship free pick is the Pats at -6.0 and the over at 49.5.
Pittsburgh Plays New England AFC Championship Free Pick: New England -6.0 and over 49.5