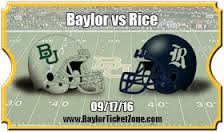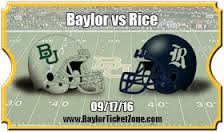 Our Rice versus Baylor free college football pick features one club that is 0-2, Rice, and another that is 2-0, Baylor. The Big 12 Baylor Bears, who are ranked 21st nationally, visit the Conference USA Rice Owls at Rice Stadium in Houston, Texas, on Friday, September 16. Game time is 8 p.m. ET. In this contest, Baylor is heavily favored to win. We think that the Owls will be tested mightily. Here's a look at both teams on both sides of the ball.
Baylor Offense vs. Owls D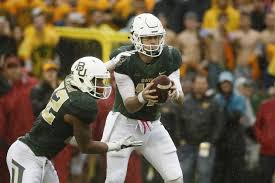 QB Seth Russell (59.7% COMP%, 6 TDs, 2 INTs, 0 Sacks) is featured on the Bear offense. Considered to be one of the top QBs in the Big 12, he's led the team to a 55-7 win over Northwestern State and a 40-13 victory past SMU. Receiver KD Cannon (15 REC, 139 YDs, 9.3 AVG, 2 TDs), a junior, is his main go-to guy. Senior Shock Linwood (27 CAR, 156 YDs, 5.8 AVG, 0 TDs) is the team's top rushing threat. Also Terrence Williams (30 CAR, 153 YDs, 5.1 AVG, 2 TDs) and JaMycal Hasty (14 CAR, 132 YDs, 9.4 AVG, 1 TD) are both solid on the ground attack. The Bears have a seasoned offense with a lot of talented and skilled players, Their offensive line is very good.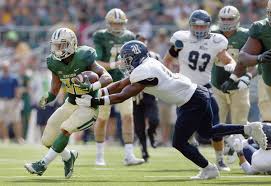 Rice's defense, which is one of the weaker ones in C-USA, will be tested by this game. Thus far the Owls have had a tough time containing opponents, having lost to Western Kentucky 46-14 and to Army 31-14. Against the Hilltoppers, Rice could not stop the pass, and against the Black Knights, they were unable to hamper the run. They gave up over 500 yards in the air and three passing touchdowns when they met Western Kentucky. Against Army, they allowed over 300 yards and four scores. With Baylor, which offers both a strong ground and pass attack, they could end up on the losing side of 400+ yards and 36+ points.
Rice Offense vs. Bears Defense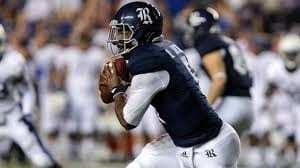 The Owl offensive line, which is considered to be the weakest in C-USA, will once again struggle in this game. Senior QB Tyler Stehling (57.4 COMP%, 1 TD, 3 INT, 1 Sack) has struggled. In his last game, which was against Army, he found himself under a lot of pressure and in each game he offered up at least one interception. Sophomore Austin Walter is a rushing and pass-catching threat. In nine rushes, he's averaged 5.0 yards and as a receiver he's made two catches with each averaging 12.5 yards. He's scored one touchdown.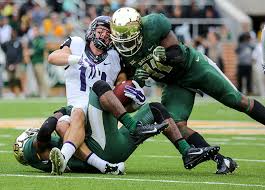 Overall, the Baylor D is good. They held Northwestern to under 100 yards of offense and picked the SMU QB three times. The Bears have a fine secondary and good group of linebackers. OLB Taylor Young can be especially pesky, while CB Ryan Reid is a smart, resilient player. Plus, the Baylor Bear defensive line includes three juniors with playing experience. Look for the Baylor defense to keep the Rice offense hemmed in, allowing the Bear offense plenty of time for possession and numerous opportunities for scoring.
Rice Versus Baylor Free College Football Pick
This Rice Versus Baylor free college football pick comes with a large point spread. The Bears are favored by 31.5 points. Can Baylor beat that spread? It seems like a tall order, however the Bears should be able to contain Rice's offense, while cranking out points in the air and on the ground. In this one, we like Baylor.
Rice Versus Baylor Free College Football Pick: Baylor Bears at -31.5