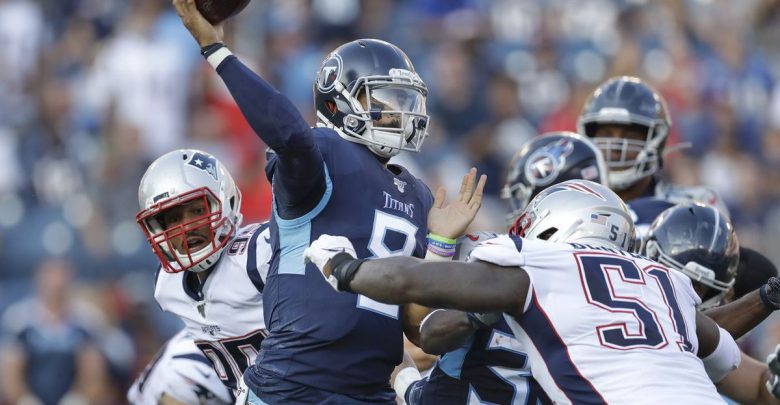 The Pittsburgh Steelers look to stay unbeaten as they travel to face the Tennessee Titans Sunday night in the final game of Week 3 of the NFL preseason. The Steelers have won their first two preseason games, beating Tampa Bay and Kansas City at home, while the Titans have split their first two games, beating Philadelphia before falling to New England.
Both teams are looking for bounce-back seasons from 2018 when neither was a part of the postseason party. Pittsburgh is in transition after trading away receiver Antonio Brown and letting running back Le'Veon Bell go, taking away two of the most dangerous offensive players in the league. Tennessee is also potentially in transition, with starting quarterback Marcus Mariota being challenged for his job by newly-acquired Ryan Tannehill.
The moneyline for this contest has the Pittsburgh Steelers +120 and the Tennessee Titans -140. The Titans are a two-point favorite, with the over/under for the game being set at 39.5.
Same Leader
With all of the changes to the Steelers offensive lineup this year — as well as many years past — the one constant has been quarterback Ben Roethlisberger. The 37-year-old Roethlisberger is expected to play a little more than a quarter of this game in his first action of the preseason before giving way to the Steelers' other signal callers, Joshua Dobbs, Devlin Hodges, and Mason Rudolph. Roethlisberger will look to forge a little chemistry with his receivers in game situations, including veteran Donte Moncrief, who came to Pittsburgh from Jacksonville in the offseason.
The Pittsburgh defense has always been one of the best in the league, but the Steelers are integrating some new faces into their lineup heading into 2019. Rookie Devin Bush Jr. is expected to be a solid contributor at linebacker as the Steelers are still trying to replace the injured Ryan Shazier. Pittsburgh is already very confident after holding the high-powered Chiefs to just seven points in their last game.
Position Battle
Coach Mike Vrabel is learning the hard lesson that sometimes it's not easy having too many players at a position. Vrabel has Mariota and Tannehill competing for the starting nod at quarterback, and it's not going to be an easy decision for the second-year head coach. In their last game, Mariota was 6-of-9 for 63 yards and a touchdown, while Tannehill was 7-of-11 for 84 yards and a touchdown. In other words, not much different. For now, Mariota remains the starter, but it will be interesting to see if that changes any time soon.
Tennessee was hit with a blow this week, as left tackle Taylor Lewan was suspended for four games for violating NFL policy on performance-enhancing substances. The team has known about the potential suspension for a little while, so there have certainly been some preparations for it already as far as getting Lewan's backups some playing time.
Titans Get Win
The Steelers have played well this preseason, but the Titans have two quarterbacks that need to perform well to solidify their arguments for being the team's starter. This should be a close contest, but expect Tennessee to pull it out in the end. I'm taking the Titans -2 to get the win.