NFL Picks
NFL Pick: San Francisco 49ers at Chicago Bears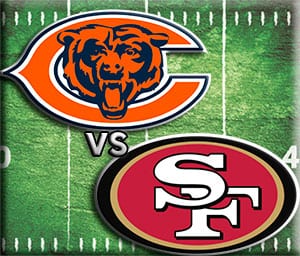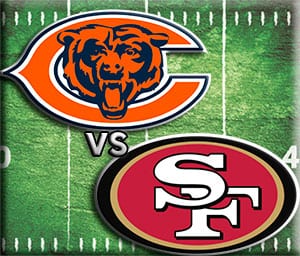 The San Francisco 49ers and Chicago Bears wage war in week 13, as both try to find some positives in an otherwise rocky 2015 season. Blaine Gabbert has been a pleasant surprise for the Niners, who are a sorry 3-8 but have kept it together the past three weeks and remained a competitive team. Jay Cutler has the Bears in wild card contention after a huge road win over the Packers in week 12, but whether or not the Bears can start taking care of business at home could decide whether they're a contender or pretender.
Matchup History
The Bears and 49ers first started playing each other back in 1950 and have faced off a whopping 63 times. There hasn't been one dominant team in the series, either, but the 49ers win the mild edge, 32-30-1. That hasn't exactly been the case lately, however, as the Bears took the last meeting in 2014 and have won four of the last six contests. San Francisco has won two of the last three, though, with both of their most recent wins coming at home. This week the Niners will be trying to beat Chicago at Soldier Field for the first time since 1989.
49ers Preview (+6.5)
Many would think the 49ers would have thrown in the towel on a lost 2015 season, especially with former starting quarterback Colin Kaepernick benched and then placed on IR with a shoulder injury. One look at a weak 3-8 record suggests they have, but Blaine Gabbert has actually been impressive over his last three starts – all fairly competitive games against solid teams. One of them was a home win over the Falcons and just last week the Niners barely lose to a very good Arizona team. San Francisco is playing with spare parts across the board, but Gabbert and surprisingly effective running back Shaun Draughn haven't let this team quit just yet. Their hard-fighting ways may not matter much on the road this week, of course, as they are 0-5 away from home on the season.
On the NFL Moneyline odds
at Bookmaker.eu
the Bears are at -310 and with the point spread the 49ers are getting +7 points.
Bears Preview (-6.5)
Chicago is the better version of a team that was left for dead but refused to give in, as Jay Cutler's Bears have worked their way through an injury-riddled season and still have a shot at the playoffs at 5-6. A disastrous 0-3 start would have doomed most teams, but Chicago has bounced back with a 5-3 run since then, displaying a balanced offense and a fairly underrated defense. Head coach John Fox has a pretty talented crew – one that has rarely seen the likes of Jay Cutler, Matt Forte, Alshon Jeffery and Martellus Bennett all on the field at the same time. They'll all be there this week to take on the Niners, who aim to be the fifth team to take down the Bears at Soldier Field this week.
The Pick
I like that the Bears are 4-0 against the spread in their last four games, but what I don't like is that they're 1-4 overall at home this year and a putrid 7-19-1 ATS at home in their last 27 contests. None of that sounds good, but the Niners don't boast the best ATS numbers either, as they're just 1-5 ATS on the year against a fellow losing record club.
It would be so Bears for Chicago to blow this, but they're the more talented team and their home crowd deserves for them to play like it, so I'll take the Bears to win. These Niners do have fight though, so I think they can beat the spread.