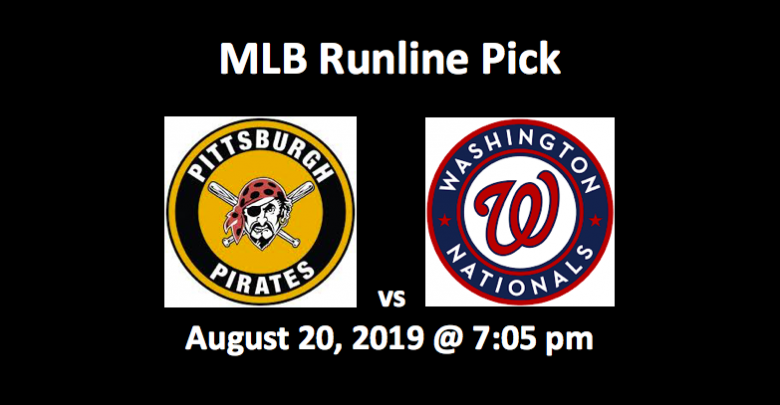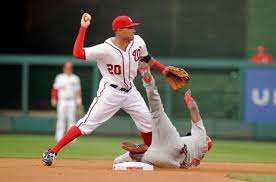 Our Pittsburgh Pirates vs Washington Nationals runline pick likes Washington's chances. This Pittsburgh Pirates vs Washington Nationals runline pick is for the second game of this series, which will be played on Tuesday, August 20th. The first pitch is set for 7:05 pm ET. With a 68-56 record, Washington currently sits in the first NL wild card spot. The Pirates are last in the NL Central and have dropped seven of their last ten games. The two clubs last met in April with the Nats taking two out of three games from the Pirates. Our pick sees the recent differences in offensive production as being a major factor in the second game of this series along with the pitching matchup.
Pittsburgh Pirates vs Washington Nationals Runline – Pitching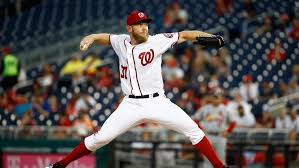 The Nationals' Steven Strasburg will be aiming to set a new season-high in wins on Tuesday. The former first overall draft pick will make his 26th start of the year. In 2019, he owns a 15-5 record and a 3.82 ERA. Despite having a solid overall season, Strasburg has had a rough month of August. In his three starts, he has allowed 20 hits, seven walks, and 16 runs in 17 and one-third innings. In his last start, the right-hander was yanked in the fifth inning after allowing four runs and a total of 10 base runners. A matchup against the struggling Pirates may be just what is needs for Strasburg to get back on track.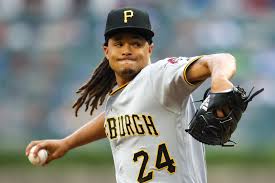 Chris Archer will make his 23rd start of 2019. Archer had a rough start to the season but has been solid lately. Over the entire year he has a 3-9 record with a 5.23 ERA. In his last three starts he is 0-1 with a 3.18 ERA. Despite the loss in his last start, Archer pitched will and fanned 10 batters over five innings. The Righty faced off against the Nationals just once this season. He registered a no decision in the April 13th matchup where he allowed just a single run over seven innings. With his club's lack of run support, Archer will need to be stingy against Washington for a Pirates win.
Pittsburgh's Offensive Slump
The Pirate bats went cold in their last series against the Chicago Cubs. Over the three games they scored just four runs. While their pitching kept them in two of the contests, they will need to be better at the plate to beat the Nats. Over the last week, Pittsburgh ranked 23rd in total runs scoring 28 in six games. In contrast, Washington is first in the same span putting 59 runs on the board. Starling Marte in the only Pirates hitter with an OPS of over 1.000 in the past week. Besides Marte, Pittsburgh's stars have struggled recently. Josh Bell has gone cold with a .150 average in his last six games. A matchup against Strasburg does not bode well for him either. Bell has just one hit in eight at bats against the Nationals' ace. Bryan Reynolds has a .919 OPS on the season but this has dipped to .725 over his past 23 at bats. Pittsburgh will need better offensive production in this game to keep up with Washington's hot bats.
The Nationals' bats have been great lately. Over the past week almost all of their starters have contributed to their offense. Adam Eaton and Trea Turner have 10 and eight RBI respectively in the past week. Eaton has a .409 batting average and a 1.682 OPS in this span. Turner has a .346 average from the leadoff spot during the same time frame. Victor Robles and Juan Soto have dominated recently as well. Robles has a 1.203 OPS in his last six games. He also has 11 hits in his last 25 at bats. Soto has four home runs in his last six games. His OPS for the past week sits at 1.322. The Nats own the clear advantage at the plate and their recent production will be tough for the Pirates to keep up with.
Pittsburgh Pirates vs Washington Nationals Runline Pick: Summary
Washington owns a clear advantage over the Pirates in the scoring department. Almost all Nationals batters have contributed to the offense while Pittsburgh has struggled to score. On the mound, Chris Archer has been solid lately. In contrast Steven Strasburg has struggled this month. Archer will need to be unbeatable on Tuesday to keep his team in this game. We like The National's chances to win by at least two in this game. In our Pittsburgh Pirates vs Washington Nationals runline pick, the contrast in offensive efficiency, and the talent of Strasburg make a Pittsburgh victory look unlikely.
Pittsburgh Pirates vs Washington Nationals Runline: Prediction
Washington Nationals Runline -1.5 (+105)