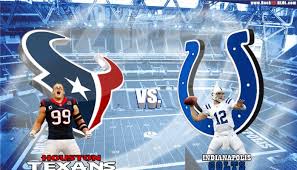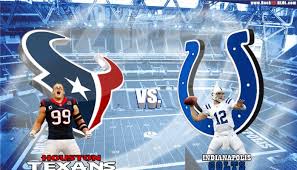 In our week six 2016 NFL Sunday Night Football free pick, the Indianapolis Colts (2-3) visits the Houston Texans (3-2). The spread has the home team at -3.0. This game is between one team that plays solid offense but weak defense, the Colts, going up against a club that has a tough time scoring but is able at times to keep opponents off the scoreboard, the Texans.
Indy has won two of their last three, while Houston has gone 1-2 over that same stretch. The Colts beat Chicago last week 29-23 and in week three they were good against San Diego 26-22. In-between those two wins was a loss to Jacksonville 30-27. Three weeks ago, Houston traveled to New England and lost 27-0. Last week, the Vikings trounced them 31-13. In-between those two losses was a 27-20 win against the Tennessee Titans.
Indianapolis O vs. Texans Defense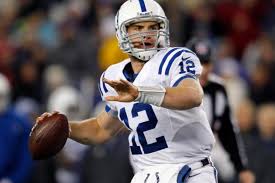 As of late, QB Andrew Luck (63.9 COMP%, 10 TDs, 3 INTs) has been finding his stride. His top receiver is T.Y. Hilton (35 REC, 507 YDs, 14.5 AVG, 3 TDs). Although Hilton is listed as questionable, he practiced fully on Friday. We expect him to play. Other key receivers include WR Phillip Dorsett and TE Dwayne Allen. RB Frank Gore, a 12-year vet, is the primary ground gainer. In 78 attempts, he accumulated 328 yards, averaging 4.2 YPC and scoring two touchdowns. Indy is ninth in passing offense and 20th in rushing. They lead the league in a category no one wants to- sacks allowed. Luck has hit the turf 20 times thus far.
The Houston defense has recorded 14 sacks and 17 TFL. They are tied for eighth in sacks. This is their strength. Another strength is in the area of passes defended. Houston has 25, making them tied for 10th. Still, the Texans have their problems. One is that their primary sacker, J.J. Watt, is out for the season. In addition, they offer a decent defense against the run, but it is penetrable.
Houston Offense vs. Colts Defense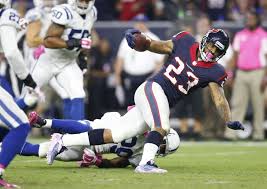 Houston QB Brock Osweiler (58 COMP%, 6 TDs, 7 INTs, 11 INT) is struggling. He's tossed at least one pick in every game, and he has thrown two in two games. Will Fuller V (20 REC, 327 YDs, 16.4 AVG, 2 TDs) and DeAndre Hopkins (22 REC, 283 YDs, 12.9 AVG, 3 TDs) are his top receivers. Fuller is questionable for Sunday with a hamstring. RB Lamar Miller (101 ATT, 371 YDs, 3.7 AVG, 0 TDs) anchors the ground attack. Here's a stat for you. The Texans have no rushing touchdowns this season. Another concern is placekicker Nick Novak. Novak is at 78.6% on field goals and is three of six from 40+ yards.
On defense, the Colts excel when it comes for forced fumbles. They have caused seven fumbles and recovered four. LB Erik Walden is the glue of the Colt defense. He has four sacks, 1 PD, and 1 FF. Also important on D is LB D'Qwell Jackson. Jackson is tied for the team lead in total tackles with 30 and has recovered two fumbles and notched two TFL. LB Sio Moore, who is questionable for the game, leads the club with 25 solo tackles, is tied for total tackles (30), and has two TFL.
Week Six 2016 NFL Sunday Night Football Free Pick
In our week six 2016 NFL Sunday Night Football free pick, we see this as a battle between Luck and Osweiler. We feel that Luck can win this battle. However, he is questionable due to a shoulder problem. Plus, his penchant for being sacked is worrisome.
If it's close and it comes down to field goals, the Colts have the edge. Vet Adam Vinatieri is 13 of 13 on field goals and 10 of 10 from 40+ yards. He's also perfect on PATs. Houston PK Novak is inconsistent from 40+ yards.
However, we think that the Texans will win this home game based on their defense and Luck's vulnerability in the pocket.
We're taking the Texans at +3.0.
Our Week Six 2016 NFL Sunday Night Football Free Pick: Houston at +3.0.