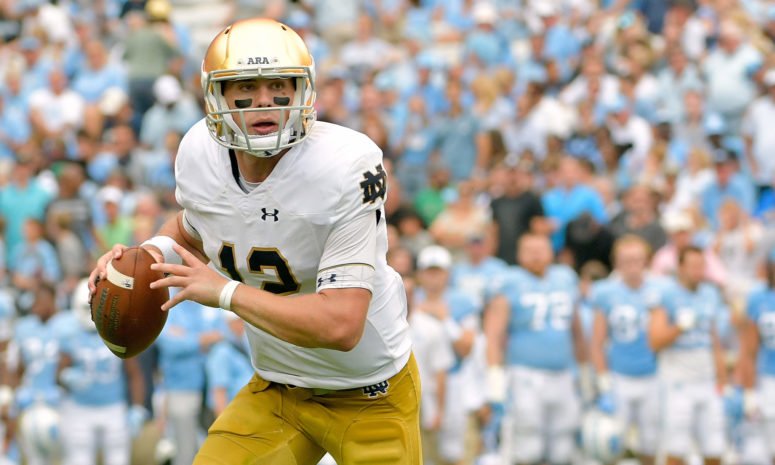 Is the line for the NCAA week 11 Notre Dame at Duke free pick a trap – or right on the numbers? The Fighting Irish are just -7.5 favorites, a number that you think the betting public would absolutely love with the very popular Notre Dame squad in action. It's true, nearly 3/4 of public wagers are on Brian Kelly's team, even though they've largely struggled the last month. Is this another game where ND plays down to their opponent – or are the Fighting Irish in blowout mode to try and get back on the minds of FBS voters?
Notre Dame a Good Play – You'd Think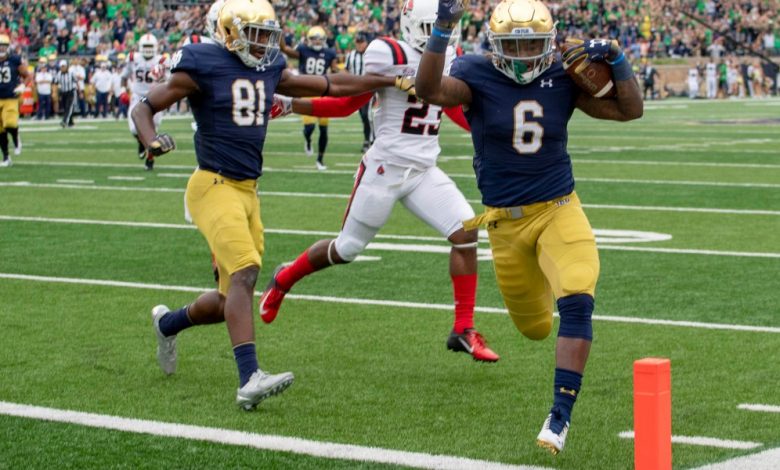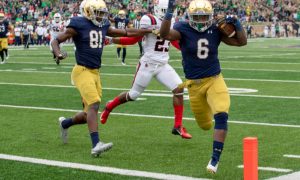 The Irish seem like they would still get some public love even if listed as 10-14 point road favorites on Saturday night in Durham. Does that give ND value on Saturday night, or does the -7.5 point spread seem a bit too easy?
The Irish are 6-2 on the year and ranked #15 in the country. They struggled last week at home though in a 21-20 win over Virginia Tech as -17.5 favorites. That game followed a 14-45 shellacking at Michigan in a PK game and the Irish again struggling the week before that vs. USC, winning 30-27 but as -10.5 favorites. The last three teams have been able to stay close or win due mostly to the Irish offensive struggles. ND averaged just 2.8 ypc on 38 rushes vs. Virginia Tech, had just 180 total yards against Michigan, and were held to 165 yards passing on 32 attempts in the USC game.
The Blue Devils' defense isn't horrible and would be a reason to go 'under' 51 in the NCAA week 11 Notre Dame at Duke free pick. Is Notre Dame's defense in a rut right now though? VT had just 240 total yards last week and was able to keep things close thanks to a 98 yard fumble recovery score. Michigan ran the ball 57 times for 303 yards though and USC had a diverse game en route to 426 total yards in week 8. Duke won't "wow" anybody on offense though.
Duke Ready For the Test at Home Saturday Night?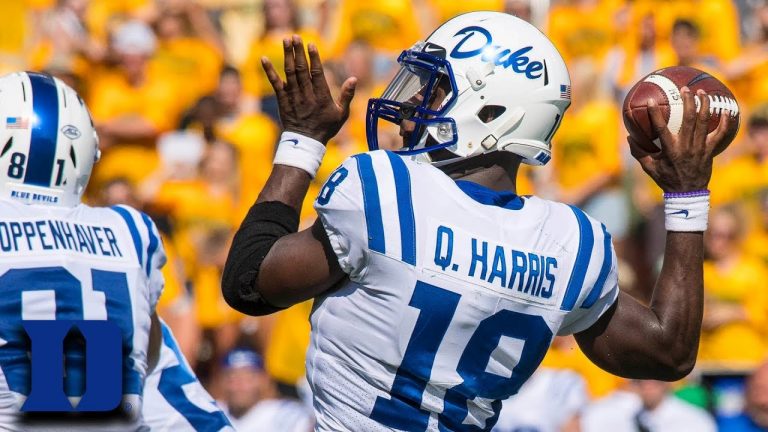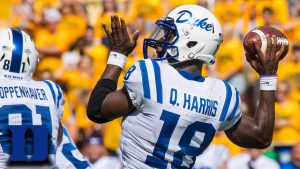 The good thing going for the Blue Devils ahead of the NCAA week 11 Notre Dame at Duke free pick is that the Irish are just 1-2 on the road this season. Their last away win was the season opener at Louisville.
Duke comes into Saturday night's game having lost 3 of their last 4 including two in a row. Their offense has looked extremely sub par the last two games, scoring 17 at North Carolina two weeks ago and 10 points vs. Virginia the week prior. The Blue Devils have 329 and 250 in total yards the last two games, and get set to face an Irish defense that is 34th best in total yards allowed (345.6). Blue Devils QB Quentin Harris has just one game with 180+ yards passing in the last 5. The Irish have one of the better pass defenses in the country which will make Duke very one-dimensional here. Duke's leading rusher Deon Jackson has one game over 72 yards rushing this season.
NCAA Week 11 Notre Dame at Duke Free Pick
This line is a sneaky one. In a weird way you'd feel better about taking the Irish if they were 10+ point favorites because -7.5 is the proverbial "too easy." Notre Dame is way more talented, has a better offense and defense, and desperately needs a win after looking so bad against Michigan two weeks ago. As easy it would be to just make a contrarian play on Duke, you have to think the Irish hang 30+ here, a number the Blue Devils just can't match.
Pick: Notre Dame -7.5