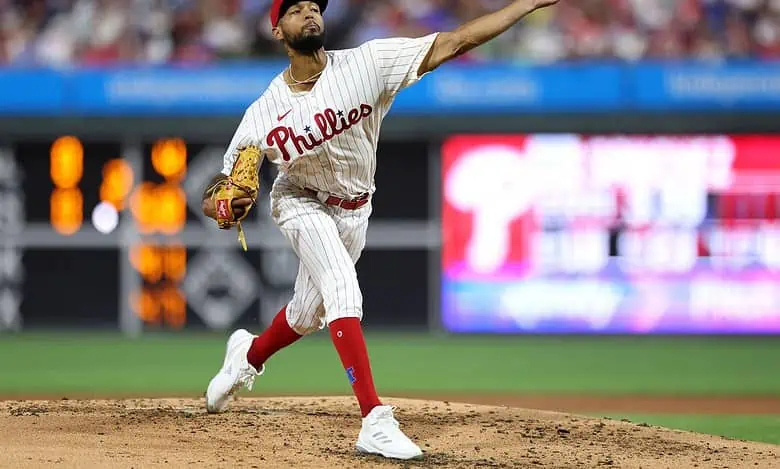 Game 4 of the NLCS is set for Friday night as the Philadelphia Phillies visit the Arizona Diamondbacks for a second straight game. The home team has won all three games so far in this series, and that has the Phillies with a 2-1 series lead.
Everything went well for the Phillies in the first two games at home, and they came to Arizona with a ton of confidence. Philadelphia will now be looking to bounce back in a hurry in an attempt to take control of this series back.
Arizona needed to pick up a win in Game 3 in order to stay in this series, and they were able to do that in walk-off fashion. The Diamondbacks have been a terrific story in the MLB Playoffs, but they now need to find a way to win a second game in a row.
The Philadelphia Phillies are the moneyline betting favorites at -130 in Game 4 of the NLCS.
Phillies Want to Slug
The Philadelphia Phillies were unable to hit a home run in Game 3 of the series, and that's a big reason why they weren't able to score. Kyle Schwarber has already belted two home runs in the NLCS, and Bryce Harper has gotten in on the action as well.
Philadelphia is easily the better offensive team in this series, and only scoring one run is simply unacceptable. Arizona is scrambling for pitching in Game 3, and that could lead to a big night on offense for the Phillies.
Cristopher Sanchez will take the ball for the Phillies in Game 4, and he is going to make his postseason debut. Philadelphia hopes to get a solid outing from Sanchez to let the offense do its thing.
Bullpen Day For Diamondbacks
The Arizona Diamondbacks are going to go with Joe Mantiply to start this game, and it's going to turn into a bullpen day. Arizona got a great start from Brandon Pfaadt in Game 3, but they just don't have another great option to start this game.
The Diamondbacks were able to pick up a 2-1 win in Game 3 of this series, and that's the type of game that they need to play. Arizona just isn't going to have what it takes to win in a slugfest, and there is a ton of pressure on this starting rotation.
Corbin Carroll is the best offensive weapon for the Diamondbacks, and he has to set the tone at the top of the lineup in this matchup.
Phillies Get Momentum Back
Arizona was able to slow down the Phillies in Game 3, but few teams are able to do that in back-to-back games against this team. The Phillies just have so many weapons on offense, and they are going to bounce back in a big way in this game.
Arizona knows the formula to win in this series, but they just aren't going to have what it takes to pull that off again. The Diamondbacks are going to be required to score more than two runs to win Game 4, and they can't get that done.
Forget about betting the Phillies at -130 on the moneyline, as going with the run line bet of -1.5 is the way to go.