Free Expert Sports Picks
Tuesday May 26th Gander RV Truck Series Lottery 200 Betting Guide
Third Straight Night of Racing Gets Underway at Charlotte Motor Speedway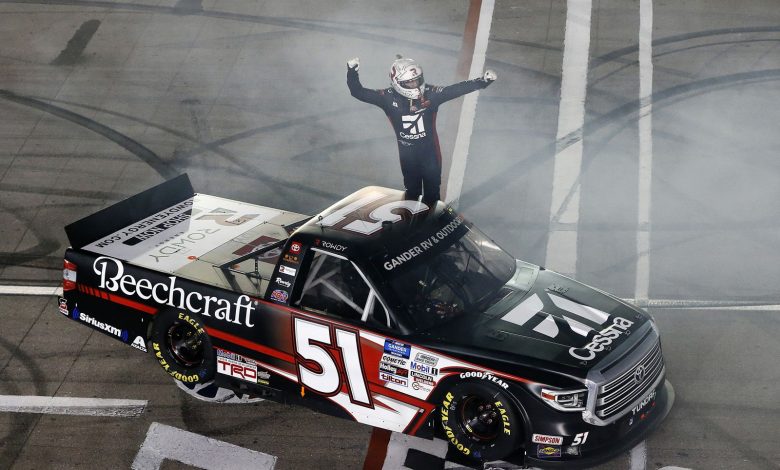 The NASCAR action continues on Tuesday with the NC Education Lottery 200 betting guide. This event is under the Gander RV & Outdoors Truck Series and will be held at 7:00 on Fox Sports 1. The past two nights at Charlotte Motor Speedway have involved some late race drama and have been a great watch.
Kyle Busch
(-165) is a big favorite on Tuesday at -165. Busch has raced in each of the last two at Charlotte Motor Speedway, scoring a 4th place win in Sunday's Coca-Cola 600
while winning the Alsco 300 on Monday night
. Does fatigue get to Busch in this one – finally?
Matt Crafton +2000
#88 Matt Crafton brings the Menards Chevy to Charlotte Motor Speedway. He has 14 career wins and landed in the top ten 18 times last season en route to the '19 championship. Crafton will be starting in the 2nd row at the #4 position for Lottery 200 betting
Pick: Driver head to head Crafton (-110) vs. Austin Hill.
Johnny Sauter +1600
Johnny Sauter in the #13 Tenda Toyota has great return of value at 16/1 odds considering he is currently in 2nd place in the Gander RV & Outdoors series standings. Sauter finished in 2nd at the Strat 200 back in February which was the last race prior to the pause for Covid and finished 7th the week before that at the Nextera 250.
Pick: Driver head to head Sauter (-115) over Brent Moffitt
Ben Rhodes +1200
Ben Rhodes
#99 Carolina nut Chevy is looking at a finish near the top of the podium considering his is the 3rd lowest favorite behind Busch (-165) and
Chase Elliott
(+400).
The last time we saw Rhodes he was finishing 5th at the Strat 200
and was involved in an accident the event before that. Rhodes currently sits in 3rd in the 2020 standings heading into Lottery 200 betting. Rhodes is also in the pole for this race.
Pick: Driver head to head Rhodes (-135) over Grant Enfinger. 
Sheldon Creed +3500
Sheldon Creed starts in the 21st spot at Charlotte on Tuesday night, looking for a big finish to climb up from his 5th spot in the 2020 Gander RV & Outdoors Truck Series standings. Creed has yet to finish in the top 5 yet this season but had two top 10 finishes prior to the Coronavirus postponements. Creed and Sauter are the only two drivers to finish in the top 10 in this season's races.
Pick: Driver head to head Creed (-110) over Enfinger
Chase Elliott (+400)
Chase Elliott has been great in the last two Cup series races but ultimately has come up empty handed in both. Elliott had a win last Wednesday within reach until getting spun out by Kyle Busch. Then on Sunday, Elliott had the lead and Coca-Cola 600 win in sights until a late caution required him to take a pit. Elliott has still finished 4th and 2nd in two of his last 3 Cup Series races since the restart.
Elliott and Busch have since mended their ties, but there's a lot of extra incentive for the #24 truck on Tuesday. Busch has won 7 straight Gander RV races which prompted
Kevin Harvick
and
Marcus Lemonis
to offer up a total of
$100,000 for any Cup racer who can beat Busch in the truck
. Does Busch let Elliott get one here as an apology for spinning him out in Darlington?
Pick: Elliott to win +400