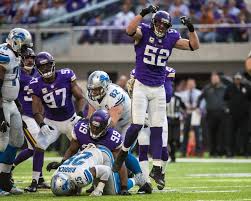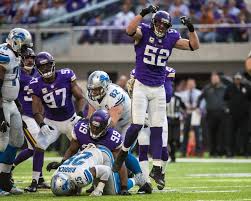 We have three NFL Thanksgiving free picks with the first one featuring the Minnesota Vikings (6-4) at the Detroit Lions (6-4). In our Minnesota plays Detroit free pick, the Lions are favored by 2.5 points. This is an important game, as are all three Turkey Day games. Each contest will have an important effect of the standings and each team's playoff possibilities.
The Minnesota Vikings were in first place in the NFC North for quite a few weeks. No one could beat them or their defense. Minnesota win their first five and then, as their defense suffered various injuries, they lost four in a row. That losing streak started on October 23 and stretched into November 13. The Vikings lost to Philadelphia 21-10, Chicago 20-10, Detroit 22-16 in OT, and Washington 26-20. Finally, last week they put their streak to rest by beating Arizona 30-24.
The Detroit Lions have done the reverse of what their opponents have done. At the start of the season, they went 1-3. Then they went 5-1 over their next six games. Of all teams, the Lions lost to the Bears 17-14, Then Detroit went on to beat the Eagles, Rams and Redskins. Then they lost 20-13 to the Texans, and, after that, won two. They beat Minnesota in OT and beat the Jaguars 26-19. The Lions have become a team that wins in the final minutes of the final quarter.
Minnesota Offense vs. Lions Defense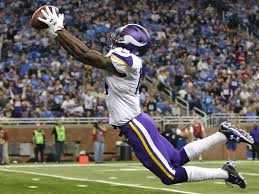 In our Minnesota plays Detroit free pick we note that the Vikings will look to QB Sam Bradford (69.8 COMP%, 12 TDs, 2 INTs, 26 Sacks) to guide this club to a win. Bradford is playing well but has a tendency to get sacked. His main receiver, Stefon Diggs (67 REC, 747 YDs, 11.1 AVG, 2 TDs), is questionable due to injury. Two other pass catchers, WR and TE, will definitely play in this game. To win, Bradford will need to connect with these guys, as the Minnesota running game is weak. The top rusher of the group is RB Matt Asiata (85 ATT, 260 YDs, 3.1 AVG, 4 TDs). If Asiata can pick up about 90 yards tomorrow and Bradford can hit some big throws, this team will have a shot.
In red zone defense, Detroit is 66.67%, which is 31st. But like Minnesota, over the course of the last three games they are doing much better at 46.15%, placing them 12th. Detroit has 20 sacks and 27 TFL. They've also posted 37 PD and 6 INTs while recording 9 FF. They will look to DT Kerry Hyder, who has seven sacks and four tackles for a loss, to help shut down Bradford's passing game and the Viking run. Corners Darius Slay (1 INT, 9 PD, 1 FF) and Nevin Lawson (0 INT, 6 PD) along with LB Tahir Whitehead (89 TCKLs, 1 TFL, 5 PD) will need to keep control beyond the line of scrimmage.
Detroit Offense vs. Vikings Defense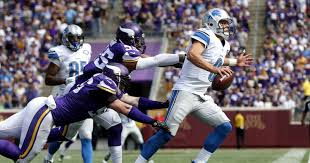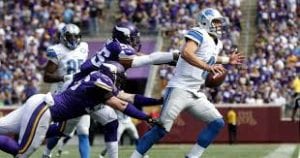 For the Lions, QB Matthew Stafford (67.8 COMP%, 18 TDs, 5 INTs, 23 Sacks) has also played well. In fact, his quarterback problems are similar to Bradford's, meaning he's prone to the safe. Bradford needs to connect with WRs Anquan Boldin (41 REC, 323 YDs, 7.9 AVG 5 TDs) and Marvin Jones (38 REC, 676 YDs, 17.8 AVG, 4 TDs). Both are exceptionally able receivers. The loss of Theo Riddick as a running back and pass catcher is big. Someone such as Zach Zenner has to step up in his stead.
The Viking D, which has been compromised by injuries over the past month, can still win games. Their red zone defense is presently ranked 11th at 51.85%. However, over the past three games, they are at 44.44%, placing them 9th. Minnesota's defensive stats include 26 sacks, 12 INTs, and 9 FF. They also have 43 PD and 20 TFL. CB Xavier Rhodes (4 INTs, 9 PD, 1 FF, 1 TD) has been a huge factor on defense, but he may not play due to concussion. DEs Everson Griffin and Danielle Hunter are huge factors as between them they have 13 sacks, 2 TFL, 2 FF and 2 recoveries. Other players who are major factors but may not play include safety Andrew Sendejo and LB Eric Kendricks.
Our Minnesota Plays Detroit Free Pick
On our Minnesota plays Detroit free pick, the basic stats look like this. Minnesota is scoring on average 20.5 PPG while holding teams to 17.6. Detroit is putting 23.1 PPG on the scoreboard, but they are allowing opponents 22.5 PPG. The spread is favoring the Lions by 2.5 points.
One factor is health, and the Lions seem to be better off in that category. We think that the spread may diminish as bit more prior to the 12:30 p.m. ET start of this game. Two other factors include the kicking and return games. Neither team has a perfect kicking unit, but the Lions are a bit better in this category. Also, both clubs have guys who can break into the open field and score on a kick. Marcus Sherels is that guy to the Vikings, but he's questionable. For the Lions, it's Andre Roberts, and he is healthy.
We are taking Detroit at -2.5. This line may tighten so you may want to bet later than earlier if you are going with Detroit. We'll update this piece if it does change.
Odds updated 9:51 p.m. ET, Wednesday, November 23: Detroit at -1.0, Before game time, odds may be even. Wait to bet if going with Lions. Will update again tomorrow morning. 
Odds updated 9:33 am ET. Game is now even. Take Detroit at even odds
Our Minnesota Plays Detroit Free Pick: Detroit at even odds