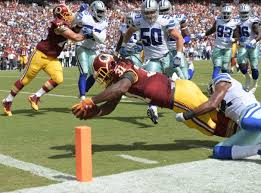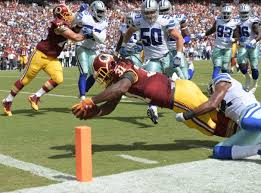 In this NFL free pick Washington plays Dallas. This is the second of three NFL Thanksgiving Day games ay Betting Brain. The first features Minnesota at Detroit at 12:20 and the final NFL game offers Pittsburgh at Indianapolis at 8:30. This is a big day for the NFL, especially the NFC. The Minnesota/Detroit game is for first place in the NFC North. When it comes to this game it's the Redskins who have a lot to gain or lose.
The Washington Redskins (6-3-1) have a real shot at the postseason this year. The Skins are in third place in the NFC East, but they are one-half game out of the wild card. After going 0-2 to start the season, Washington went on a four-game run, beating the Giants, Browns, Ravens and Eagles. After that they lost to Detroit 20-17 and tied the Bengals in London 27-27. They've won their last two, beating the Vikings 26-20 and the Packers 42-24. They come into this game ready to battle the best team in the NFC.
The Dallas Cowboys (9-1) have run off nine straight wins. After starting the season with a one-point loss to the Giants, they have beaten everyone. That includes this Redskins team who they met in week two. The final on that game was 27-23. Their last three wins were against the Browns 35-10, Steelers 35-30, and Ravens 27-17. No one has been able to stop the Dallas offense.
Washington Offense vs. Dallas D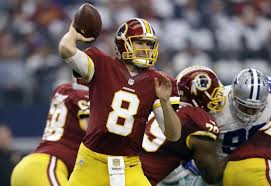 In some ways, the Washington offense looks like it can match the Dallas offense's output. When it comes to yardage, Washington is compiling 429.3 YPG, including 312.2 yards in the air. Their red zone offense is 28th in the league at 48.28%. That's a real weakness for this team. The good news for QB Kirk Cousins (67.2 COMP%, 17 TDs, 7 INTs, 14 Sacks) is he's not facing a formidable pass rush ,nor does he have to deal with an overwhelming secondary.
Cousins will be looking to connect with WR Jamison Crowder (47 REC, 635 YDs, 13.6 AVG, 6 TDs), WR Pierre Garcon (48 REC, 593 YDs, 12.4 AVG, 2 TDs), and TE Jordan Reed (49 REC, 535 YDs, 10.9, 3 TDs). Between them, they've caught 22 passes for 20 or more yards. All are ready to take the turf today. RB Robert Kelley (84 ATT, 424 YDs, 5.0 AVG, 4 TDs) will be the primary rusher, as Matt Jones is out with an injury.
Dallas Defensive Notes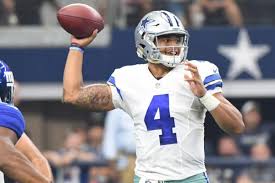 There is some hope for the Redskins in that the Dallas red zone defense has not been that great all season, and they have been really off the last three games coming in at 77.78%. Dallas is only allowing 84.4 YPG on the ground. In the air, they are giving up 272.9 YPG. Opponents are scoring on average 18.7 PPG. That stat has been stable all season.
The Cowboys have made 20 sacks, managed four picks, and caused 11 fumbles. Those states open the door for Cousins and Washington's air game. CB Morris Clairborne (2 TFL, 1 INT, 5 PD), a top performer in the Dallas secondary, is out. LB Sean Lee (91 TCKLs, 7 TFL, 1 PD), who leads the team in tackles, is ready to play, as is sack leader DT Tyrone Crawford (3.5 Sacks, 5 TFL, 2 FBL REC).
Dallas Offense vs. Redskins Defense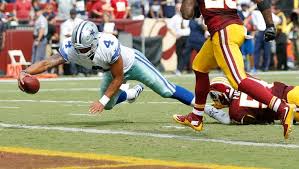 QB Dak Prescott (67.7 COMP%, 17 TDs, 2 INTs, 14 Sacks) and RB Ezekiel Elliot (223 ATT, 1102 YDs, 4.9 AVG, 9 TDs), two rookies, drive this Dallas offense. Both have been unstoppable. The Cowboys have a fine squad of receivers, which includes WR Cole Beasley (53 REC, 591 YDs, 11.2 AVG, 5 TDS), TE Jason Witten (49 REC, 520 YDs, 10.6 AVG, 2 TDs) and WR Dez Bryant (28 REC, 478 YDs, 17.1 AVG, 5 TDs). Bryant is questionable for today.
Washington Defensive Notes
Although the Redskins defense is allowing 23.3 PPG, they can get it done when they need to do so. The club has 27 sacks (6th in NFL), 15 FF (2nd in NFL), and LB Ryan Kerrigan is tied for first in TFL with 12. Kerrigan is also seventh in sacks with eight. LB Will Compton, who leads the team with 84 tackles, is another major force with four TFL, five PD, one INT, and two fumble recoveries. In the secondary, corner Josh Norman is massive, notching 11 PD, one INT, and two FF. The team has 31 TFL and seven interceptions total.
Our NFL Free Pick Washington Plays Dallas
To win this game the Redskins have to keep the Dallas running game, and that means Elliot, to under 90 yards. They also have to find a way to rattle Prescott. The Cowboys may be vulnerable when it comes to the Skins' passing game. Cousins and company have been on fire lately and looking mighty comfortable on hitting those long routes.
Our NFL free pick Washington plays Dallas is the Redskins at +7.0 Grab that now if you're going with this pick as lines are trending down at most books!
Our NFL Free Pick Washington Plays Dallas: +7.0