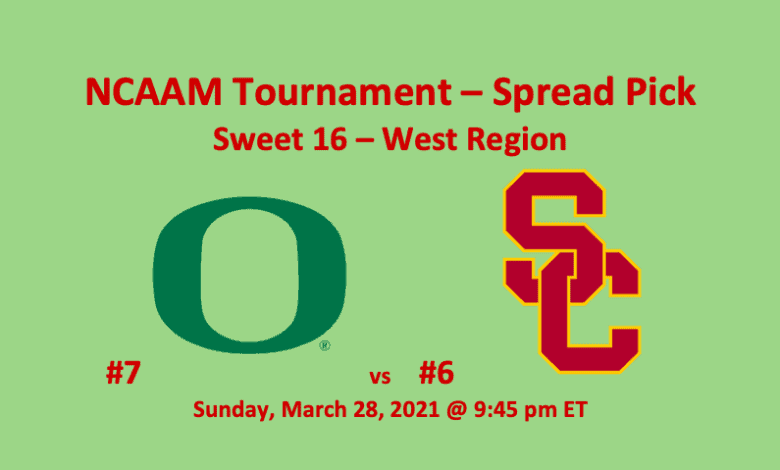 Our Oregon vs USC pick offers the Trojans as a slight favorite. You'll find USC at -2.0 (-110). You'll be able to bet the Ducks at +2.0 (-110). Oregon arrives at this 2021 NCAAM Tournament Sweet 16 West Region game after VCU withdrew from the competition in Round One due to COVID. In the second round, Oregon beat the #2 Iowa Hawkeyes 95-80. On the other hand, in order for the Trojans get to the Sweet 16, they did have to play two games. In the initial round, the USC Trojans dominated the #11 Drake Bulldogs 72-56. In the next round, the Trojans easily beat the #2 Kansas Jayhawks, 85-51.
The Ducks and Trojans meet on Sunday, March 28 at 9:45 pm ET. These two teams will play at Bankers Life Fieldhouse in Indianapolis, IN. Also, see our second West Region Sweet 16 pick for Sunday, as the #5 Creighton Bluejays the #1 Gonzaga Bulldogs at 2:10 pm ET. That contest will take place at Hinkle Fieldhouse in Indianapolis, IN
Oregon vs USC Pick – Stats
There are two statistical categories where the Trojans greatly outpace the Ducks. USC is holding opponents to 53.5 PPG, while Oregon is giving up 80.0 PPG. The Trojans are also out-rebounding the Ducks 39.5 to 33.1 per game. USC also leads in blocked shots, 5.3 to 3.7. On the other hand, Oregon leads in steals per game, 7.4 to 4.7 per game. The Ducks are good on 47.6% of their field goals, while the Trojans are completing 47.1% of their attempts. Oregon is better from downtown, 37.9% to 34.8%, and they are better from the foul line, 70.4% to 64.7%.
Key Players
The Ducks bring a balanced attack to the game. The five starters are each scoring in double-digits. In the backcourt, Chris Duarte is good on 53.3% of his field goals and 42.8% of his threes. He's leading the team in points per game with 17.0. He's also averaging 4.6 RPG and 2.5 APG. Guards LJ Figueroa and Will Richardson are averaging 12.6 and 11.7 PPG. Figueroa is grabbing 6.2 RPG while Richardson is dishing off 3.9 APG. Both are good on approximately 40% of their threes. Around the rim, Eugene Omoruyi is averaging 16.7 PPG and 5.3 RPG. Additionally, forward Eric Williams Jr. is recording 10.3 PPG and 6.0 RPG. Both are 35-percent-plus three-point shooters.
For USC, forward Evan Mobley and guard Tahj Eaddy, the tops scorers, are averaging 16.5 PPG and 13.5 PPG respectively. Mobley is completing 58.0% of his field goals and 31% from downtown. Additionally, he's taking down 8.8 RPG. Eaddy, a 44.5% field goal shooter and 38.6% three-point scorer, is averaging 13.5 PPG and 2.8 APG. Also, in the backcourt, Drew Peterson is recording 9.8 PPG, 5.0 RPG, and 2.8 APG. Guard Isaiah White is averaging 7.3 PPG. In front, Isaiah Mobley is averaging 9.5 PPG and 7.3 RPG.
Oregon vs USC Pick – Final Thoughts
Our Oregon vs USC pick notes that when these two teams met in the regular season, the Trojans beat the Ducks 72-58. If USC can repeat that performance, they'll cover the two-point spread easily. However, the Ducks come armed with a slew of shooters and outpace Oregon from the arc and the foul stripe. However, USC's defense is limiting opponents to under 55 PPG, while Oregon is allowing 80. Based on defense, we're taking the USC Trojans at -2.0 (-110).
#7 Oregon Ducks vs #6 USC Trojans
USC Trojans at -2.0 (-110)