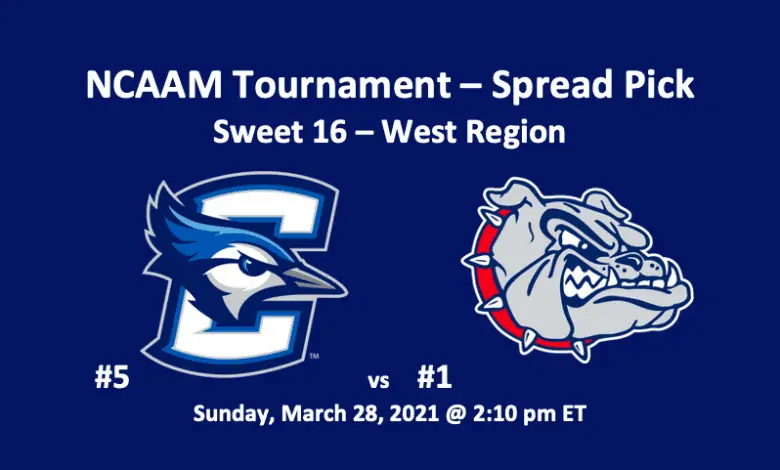 Our Creighton vs Gonzaga pick offers the Bulldogs as the favorite. The best point spread for Gonzaga is -13.5 (-110). If taking the Bluejays, you can get them at +13.5 (-110). Creighton comes to this 2021 NCAAM Tournament Sweet 16 West Region game after sneaking by the #12 UC Santa Barbara Gauchos 63-62 in Round One and then by easily beating the #13 Ohio Bobcats 72-58 in Round Two. In Round One of the tournament, the Gonzaga Bulldogs annihilated the #16 Norfolk State Spartans 98-55. In Round Two, the Bulldogs met and beat the #8 Oklahoma Sooners, 87-71.
The Bluejays and Bulldogs meet on Sunday, March 28 at 2:10 pm ET. These two teams will play at Hinkle Fieldhouse in Indianapolis, IN. Also, see our second West Region Sweet 16 pick for Sunday, as the #7 Oregon Ducks take on the #6 USC Trojans at 9:45 pm ET. That contest will take place at Bankers Life Fieldhouse in Indianapolis, IN
Creighton vs Gonzaga Pick – Stats
Both teams possess stingy defenses as the Bulldogs are allowing 63.0 PPG and the Bluejays 60.0. However, the Zags have one of the most explosive offenses in men's college basketball. They're averaging 92.1 PPG, while Creighton is putting up 76.7 PPG. Gonzaga is shooting 54.9% from the field and 36.5% from downtown. They are good on 72.7% of their free throws.
Creighton's field goal success rate is 47.4%. They're matching Gonzaga's three-point rate completing 36.7% of their attempts. However, the Bluejays are good on just 64.2% of their free throws. The Bulldogs are also better on assists (18.4-15.8) and steals (8.3-6.9). Creighton is a bit better on blocked shots, 3.4 to 2.8.
Key Players
Each of the Bluejays' five starters are double-digit point makers with guard Marcus Zegarowski topping the group. He's averaging 15.7 PPG. Zegarowski is shooting just over 46% from the field and 41% from downtown while making 4.4 APG and 3.6 RPG. Also, in the backcourt, Denzel Mahoney and Mitch Ballock are scoring 12.5 and 10.1 PPG respectively. Ballock is completing 44% of his field goals and close to 40% of his three-point attempts. Damien Jefferson, who is shooting 52%, and Christian Bishop, who's good on 68.2% of his attempts from the floor, patrol the paint. Jefferson is averaging 12.1 PPG and 5.4 RPG. Bishop is recording 11.0 PPG and 6.4 RPG. They're solid frontcourt players.
The strength of the Bluejays is their backcourt, while the Zags primary point-makers are in the paint. Forward Corey Kispert is a threat from anywhere on the court, shooting 54.5% from the field and 45.8% from the arc. He's bringing down 4.9 RPG. Forward Drew Timme is averaging 18.8 PPG and 7.3 RPG. He's good on 65.5% of his shots and 33.3% of his threes. Three guards offer top-notch scoring potential. Jalen Suggs is a fine backcourt playmaker who can also mix it up inside. Suggs is scoring 14.1 PPG while grabbing 5.3 RPG and 4.3 APG. He's also making 2.0 SPG. Suggs is completing 49.8% of his field goal attempts. Joel Ayayi is adding 11.9 PPG and 7.1 RPG and Andrew Nembhard is averaging 8.9 PPG and 4.1 APG.
Creighton vs Gonzaga Pick – Final Thoughts
Our Creighton vs Gonzaga pick certainly likes the Zags. They can score from virtually anywhere on the court, and their guards are solid at penetrating the paint. Creighton offers a very solid starting five. However, the Zags bring greater depth to this Sweet 16 matchup. Our pick is the Gonzaga Bulldogs at -13.5 (-110).
#12 Creighton Bluejays vs #8 Gonzaga Bulldogs
Gonzaga Bulldogs at -13.5 (-110)