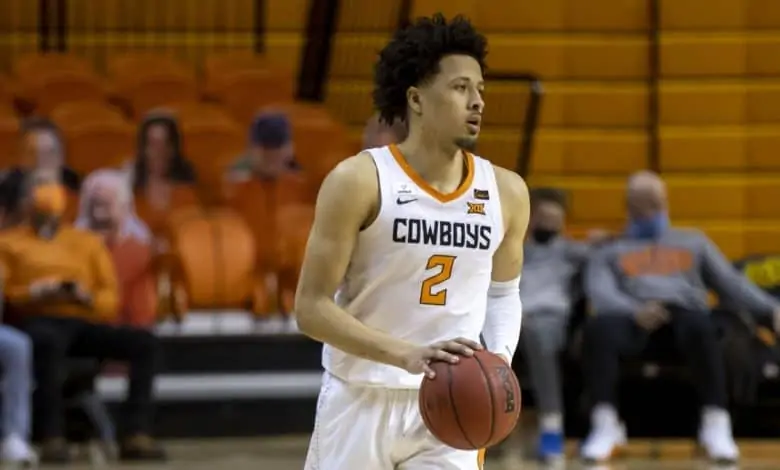 The March 11th Oklahoma State vs West Virginia matchup is a battle of ranked teams right out of the gate for the Big 12 Tournament. The #12 Cowboys are on a roll, winners of six of their last seven which includes an 85-80 win over WVU to close out the regular season.
The #10 Mountaineers have dropped games to the Cowboys and Baylor over their last three. They got beat on their own floor vs. OK State on Saturday, even as -10 point favorites and with OSU missing their best player. Oddsmakers still have West Virginia as a -3 favorite on Thursday, which makes Oklahoma State look great as a 'dog. Is that trap city?
Cunningham Back in Action?
What's especially impressive about Oklahoma State's win in Morgantown over the weekend is that they did it without Big 12 Freshman and Player of the Year Cade Cunningham, who sat out with an ankle injury. Cunningham averages over 19 points, 6 rebounds, and 3 assists per game, and is expected back for the March 11th Oklahoma State vs West Virginia pick.
What the Cowboys win over WVU did is show they are far from a one man team. Avery Anderson III had a career high 31 points and Matthew Moncriefe added 18 off the bench. Getting Cunningham in that mix makes OSU a very tempting underdog from the neutral site T-Mobile Center in Kansas City, Missouri.
OSU is peaking at the right time, losing only to #2 Baylor over their last seven games. That run includes a couple of wins over #25 Oklahoma, outlasting #20 Texas Tech, and getting a win on the road at Thursday's opponent #10 West Virginia. This is a team that's ready for the grind of tournament play.
West Virginia Ready for Vengeance
It wasn't the way WVU wanted to wrap up their last home game of the season, falling to Oklahoma State as -10 favorites. That means West Virginia will have a little extra incentive for Thursday morning's game.
The bad news is that Oklahoma State is only getting stronger after Saturday's win, with not only Cunningham returning but conference honorable mention Isaac Likekele also returning from a hand injury. OK State is going to put up points, can the Mountaineers answer in this matchup of the #2 and #3 scoring teams in the Big 12? They also rank 2nd and 3rd worst defensively, so expect the betting total of 151 to be hammered on the over side.
West Virginia has their share of big dogs as well however. Miles McBride pumps in 15.3 ppg, but has seemingly hit a wall at the end of the season being held to a dozen or less in 4 of the last 5. 6'10" Derek Culver is also a force off the bench, but his numbers have waned a bit lately too. That could also be because WVU played TCU twice and Kansas State once in their last five games, two of the three worst teams in the Big 12.
Free March 11th Oklahoma State vs West Virginia Pick
These teams also played on January 4th, with the Mountaineers getting a 3-point win in Stillwater. Culver and McBride both went for 20+ while Cunningham and Likekele combined for 47. Those were two players missing from OK State's win on Saturday, and getting them back is huge. The wrong team looks favored here.
Oklahoma State 78 – West Virginia 72
Free Pick: Oklahoma State +3