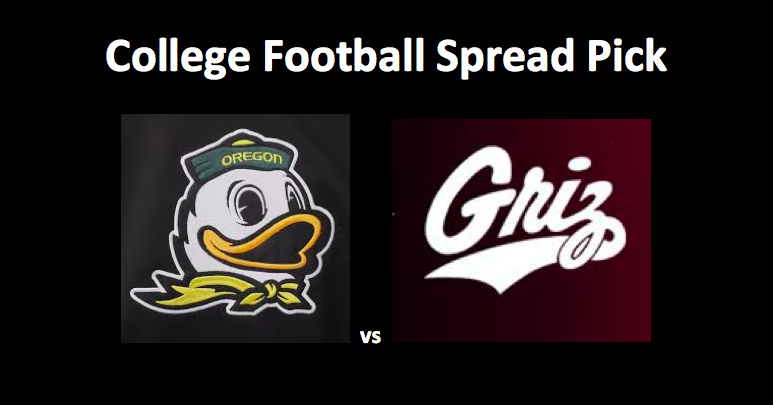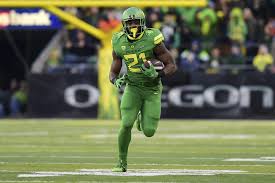 Our Oregon vs Montana pick has the Ducks at -35.5. In creating this NCAA football Oregon vs Montana pick, it's clear that the home team, the Ducks, have the firepower to put a lot of points on the scoreboard. The #15 Oregon Ducks (1-1) took down the Mountain West's Nevada Wolf Pack last week 77-6. In their first week of play, the Auburn Tigers mauled the Ducks 27-21. We expect that tonight's game will play out more like the Nevada than the Auburn contest. As we noted in our 2019 College Football preview, Oregon has a great team.
The Big Sky's Montana Grizzlies (2-0) have recorded easy wins this season. In Week One, they beat the South Dakota Coyotes 31-17. Last week, the Grizzlies ripped the North Alabama Lions 61-17. We do not expect Montana to be able to run roughshod over the Ducks, as they have with their first two college football opponents. Kickoff is slated for 10:45 pm ET on Saturday, September 14, 2019. The game will be played in Eugene, Oregon, at the Autzen Stadium.
Ducks vs Grizzlies Basics
In their last five games, the Grizzlies are 1-4 versus the spread and 0-5 straight up in their last five games on the road. The Ducks have dominated the Grizzlies. In eight meetings, they have won all but one. That one game ended in a tie. It was played in 1952. Montana has not made it to the FSC postseason since 2015. Last season, they went 6-5. Last season, the Ducks went 9-4 and beat Portland, like Montana a FCS team, 62-14. However, the Ducks did not cover, as they were -49.
Oregon vs Montana Pick – Ducks' Offense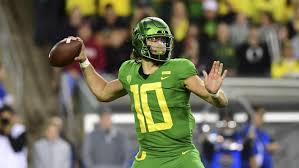 Against Nevada, senior quarterback Justin Herbert (47 CMP, 63 ATT, 74.6%, 6 TDs, 0 INTs) threw five touchdown passes. Each was to different receivers. In that game, 11 different Oregon players scored touchdowns. The offense is dynamic to say the least and includes depth at running back and in the receiving unit. In this NCAAF game watch running backs C.J. Verdell (25 ATT, 136 YDs, 5.4 AVG, 2 TDs) and Darrian Felix (10 ATT, 87 YDs, 8.7AVG, 2 TDs). Both should have big games. The receiving group is led by junior Johnny Johnson III (11 REC, 147 YDs, 13.4 AVG, 0 TDs). We doubt that Montana will be able to stop the Duck attack. We also expect Oregon to dominate the time of possession in this contest.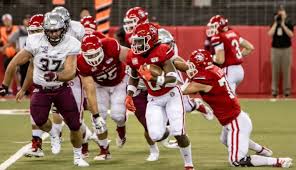 For the Grizzlies, a lot depends on fifth-year senior QB Dalton Sneed. In two games this season, Sneed, who started his college football career at UNLV, has tossed for 696 yards and four touchdowns. He is a dual threat. Last year, where he earned the distinction as the Big Sky's newcomer of the year, Sneed threw for 2,723 yards and 22 touchdowns and rushed for 675 yards and two scores. But he's not a one-man team, and Sneed will need a lot of help from his teammates in tonight's contest.
NCAA Football – Ducks vs Grizzlies Top Factors
The Ducks lead the series with Montana 7-0-1. In 1952, Montana managed to tied the Ducks at 14-all. All eight games have been played on Oregon turf.
Montana's dual-threat QB Sneed will try to keep it close.
Oregon O-line is the most experienced of any such unit in the nation and offer Herbert great protection.
Montana senior receiver Jerry Louie-McGee may break the school record for catches. He needs three more. He's also a fine punt returner.
Duck receiving unit is deep and may be even deeper this week as graduate transfer Juwan Johnson, who missed the first two games, may get the nod to play tonight.
Our Oregon vs Montana Pick
We like the lower spread, as this game opened with Oregon at -39.5. The Ducks will be tuning up their offense as they head into Pac-12 play next week against Stanford. Last season, the Cardinal beat the Ducks in OT 38-31. Montana will try to compete tonight, but we do expect them to be overwhelmed by this Pac-12 team.
Summary Oregon Ducks vs Montana Grizzlies Pick
Oregon Ducks point spread at -35.5