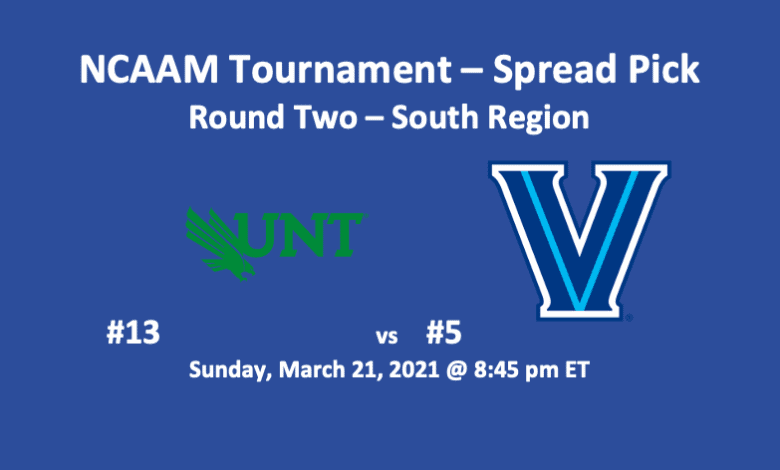 Our North Texas vs Villanova pick has the Mean Green as the underdog. This 2021 NCAA Tournament South Region Round Two game has the North Texas Mean Green at -5.5 (-110). The best line for the favored Villanova Wildcats is -5.5 (-110). In Round One of the tournament, North Texas beat #4 Purdue 78-69 in OT. Over their last five games, they've been perfect, with their last two victories occurring in OT. The Villanova Wildcats, who've won just two of their last five games, beat the #12 Winthrop Eagles 73-63 in Round One.
The Mean Green and Wildcats will meet on Sunday March 21 at 8:45 pm ET. The game will take place at Bankers Life Fieldhouse in Indianapolis, IN. Make sure you access every one of our Big Dance free predictions, as we've got every game covered including Oral Roberts vs Florida.
North Texas vs Villanova Pick – Stats
Going into this Round Two South Region contest, the Wildcats have a few advantages. The team is outscoring North Texas 75.5 PPG to 69.8 PPG. They are dishing off two more assists and comitting three fewer turnovers than the Mean Green. In field goals and three-point shots, North Texas is 2.5-percentage points higher than the Wildcats, while Villanova is three percentage points higher on foul shots. The Mean Green is a tad better on steals and blocked shots.
Key Players
North Texas features two solid guards, Javion Hamlet and James Reese, as well as forwards Thomas Bell and Zachary Simmons. Hamlet lead the team in points (15.3) and assists (4.6). Reese is averaging 10.9 PPG. Around the rim, Bell is completing 52.9% of his field goals. He's hitting for 10.5 PPG and 5.7 RPG. He's also good for 1.2 BPG. Forward Simmons adds 10.0 PPG and 6.0 RPG. He's a 65.0% two-point shooter. This is a sound group.
In the paint, Jeremiah Robinson-Earl and Jermaine Samuels are very effective. Robinson-Earl, who completing 49.1% of his field goals, is averaging 16.0 PPG and 8.4 RPG. Samuels is good for 11.7 PPG and 6.3 RPG. His stats include 47.1 FG% and 39.1 3PT%. In the backcourt, Collin Gillespie, Justin Moore, and Caleb Daniels provide plenty of playmaking chops and offensive output. Gillespie is averaging 4.6 APG and 14.0 PPG. Moore and Daniels are recording 12.7 PPG and 9.8 PPG respectively
North Texas vs Villanova Pick – Final Thoughts
Our North Texas vs Villanova pick is leaning heavily towards the Cats. They're more coordinated, better point-makers and ball handlers, and deeper. We're taking the Villanova Wildcats at -5.5 (-110).
#13 North Texas Mean Green vs #5 Villanova Wildcats
Villanova Wildcats at -5.5 (-110)