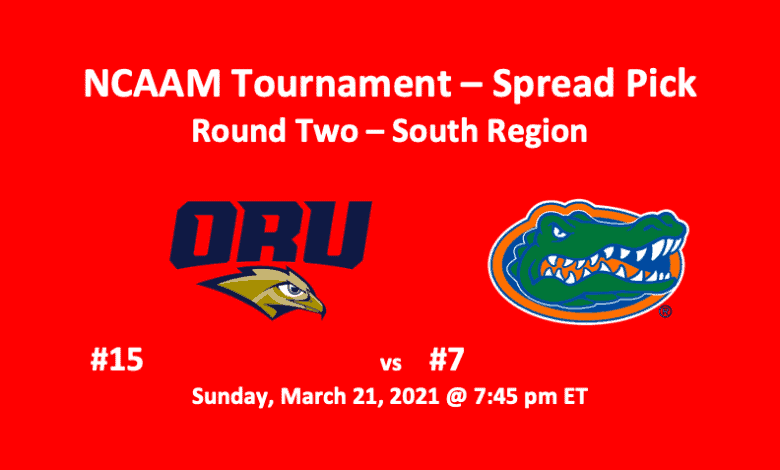 This Oral Roberts vs Florida pick has the Eagles as the underdog. This 2021 NCAA Tournament South Region Round Two game offers the Oral Roberts Eagles at +8.5 (-102). The spread for the Florida Gators is -8.5 (-110). Oral Roberts made it to Round Two by upsetting the #2 Ohio State Buckeyes 75-72 in OT. Over their last five games, they've won five straight contests. The Florida Gators, who've won three of their last five games, took down the #10 Virginia Tech Hokies 75-70 in Round One. That game was also won in OT.
The Eagles and Gators will meet on Sunday, March 21 at 7:45 pm ET. The game will take place at Indiana Farmers Coliseum in Indianapolis, IN. Make sure you check out all of our March Madness picks, including North Texas vs Villanova. You can find any pick that you want by clicking on the appropriate tag at the end of this preview.
Oral Roberts vs Florida Pick – Stats
Can Oral Roberts do it again? Score a major upset. Here's the fact, the Eagles can shoot. Then again, so too can the Gators. However, Oral Roberts is three percentage points better on three-point completions and seven points better on frees. Plus, they are making three fewer turnovers a game and outscoring the Gators 81.8 to 74.0.
Key Players
For Oral Roberts, Max Ambas is the guy who can get it done. Ambas is averaging 24.4 PPG. His stats include a 48.1 FG% and 43.6 3PT%. He's also making 3.7 APG and 1.5 SPG. Guard R.J. Glasper is putting up 11.0 PPG. In the paint, forward Kevin Obanor offers double-double potential with 18.6 PPG and 9.5 RPG. He can hit inside and, also, knock it in from downtown.
Guards Tre Mann and Tyree Appleby lead the Florida Gators. Mann tops the team with 24.4 PPG, 3.7 APG, and 3.3 RPG. He's good on field goals and threes 43-percent-plus. Appleby is averaging 11.2 PPG and 3.2 APG. Around the rim, Colin Castleton is averaging 12.3 PPG and 6.2 RPG. He's good on 58.9% of his field-goal attempts.
Oral Roberts vs Florida Pick – Final Thoughts
Our Oral Roberts vs Florida pick likes the Eagles. The fact is they are a good team that includes some great shooters. The Gators are certainly a fine club. Like the Eagles, they have a backcourt that can shoot and a front man who can get the job done. However, overall, we think that the underdog Eagles have the edge. We're taking the Oral Roberts Eagles at +8.5 (-102).
#15 Oral Roberts Eagles vs #7 Florida Gators
Oral Roberts Eagles at +8.5 (-102)