NFL Picks
NFL Pick: Cincinnati Bengals at Denver Broncos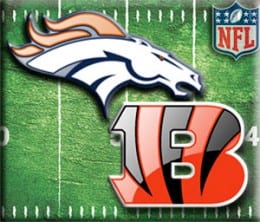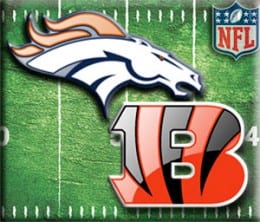 Bengals and Broncos fans get a weird game in week 16, as Peyton Manning and Andy Dalton will both miss what is still a massive game for both sides. The hype meter might break if those two quarterbacks were healthy, but this is still a gigantic game even with A.J. McCarron and Brock Osweiler set to take the field. The lack of star power gives off an odd feel for this game, but that doesn't hurt the importance of this one for either side.
Matchup History
Denver and Cincy first faced off back in 1968 and have met up 28 times since then. Denver has dominated the series with a 19-9 record, while the Broncos have claimed four of the last five games. Cincinnati was the most recent winner, however, as they won their 2014 meeting, 37-28. That game was in Ohio, though, while this week 16 battle goes down in Denver.
Bengals Preview (+3.5)
The Bengals fell apart two weeks ago once Andy Dalton (thumb) went down, but were able to get a nice road win last week under the guidance of backup passer, A.J. McCarron. Whether he can make it two road wins in a row to get the Bengals the AFC North crown, of course, is another thing entirely. It's tough to write off Cincy, of course, as Jeremy Hill and Giovani Bernard give them a threatening rushing attack and McCarron is not without weapons in the passing game with A.J. Green and Tyler Eifert to lean on. All of those weapons lose some luster on the road against Denver's vaunted defense, however.
Broncos Preview (-3.5)
The Broncos are in a very similar spot, as a win would get them one step closer to a division title of their own, yet they're down their starting quarterback and currently have some questions on offense. The biggest one is Brock Osweiler, who has run hot and cold for the Broncos and has played a big role in two straight losses. Going up against a very solid Bengals defense, he may not be able to continue his struggles and escape with a win this week. That could demand more production out of Denver's defense and rushing game. The defense, however, is on full alert after getting abused in a loss to the Steelers in week 15. The Bengals are not as much of a threat to go nuts like that with McCarron under center, but the serious crater job a week ago is absolutely concerning.
The Pick
This is such an odd battle, as neither team has their normal starting quarterbacks, yet are fighting for first place in their respective divisions. Neither team is at 100%, but neither can afford to lose, either. With things being fairly even going into this one, it probably comes down to who can move the ball better and which defenses forces more turnovers.
Osweiler has had some issues, but he's also had some nice moments. He's at home, has more experience than McCarron and still appears to be backed by the better defense. I am willing to buy into the Bengals impressive 7-0 ATS run in their last seven road games, but not to the point of them snagging the win.
Denver arguably needs this win more and is at home in a game where their defense is going to want to make up for being embarrassed last week. I think they do just enough to win, but look for the Bengals to beat the spread in a narrow loss.