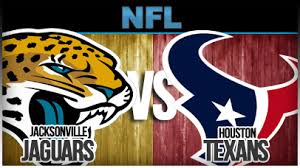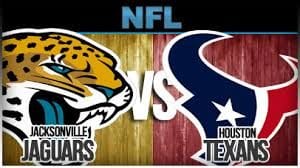 In our 2016 NFL week 10 free pick Houston plays Jacksonville. The Houston Texans (5-3) are on top of the AFC South by one game. They are back from their bye week. The Jacksonville Jaguars (2-6) are in last place in the AFC South. The point spread ranges from 1 to 2.5 with the Texans being favored.
The Texans have won three of their last five games. They lost those two games to fine defensive teams, the Vikings 31-13 and Broncos 27-9. Their other loss was to another solid defensive club, the Patriots 27-0. Their last three wins were against Tennessee 27-20 (Oct. 2), Indianapolis 26-23 OT (Oct. 16) and Detroit 20-13 (Oct. 30).
The Jags have recorded three straight loses. They've been beat by Oakland 33-16 (Oct. 23), Tennessee 36-22 (Oct. 30), and Kansas City 19-14 (Nov 6). Their two wins, against Chicago 17-16 and Indianapolis 30-27, occurred the two weeks prior to that string of losses.
Houston Offense vs. Jaguars Defense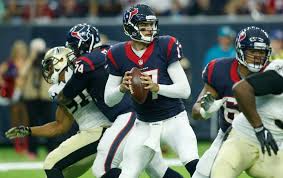 Will rest help this offense, which is averaging only 17.1 PPG? Also on offense, the Texans are averaging 328.9 YPG, with 114.0 on the ground and 214.9 in the air. QB Brock Osweiler (59.3 COMP%, 9 TDs, 9 INTs, 16 Sacks) certainly has some quality receivers, including WR DeAndre Hopkins (40 REC, 434 YDs, 10.9 AVG, 3 TDs) and TE C.J. Fiedorowicz (26 REC, 279 YDs, 10.7 AVG, 3 TDs). Another key pass catcher, Will Fuller V, is questionable with a knee. RB Lamar Miller (153 ATT, 637 YDs, 4.2 AVG, 2 TDs) needs to accumulate some yards in this game. The problem is he's nursing a sore shoulder. PK Nick Novak has trouble from 45-plus yards and has missed one extra point.
The Jacksonville defense is allowing 26.9 PPG. They've got a decent run defense, which has allowed 116.9 YPG and has recorded 31 TFL. However, their secondary is weak. They have defended 15 passes and grabbed just three interceptions. Key in today's game will be DE Yannick Ngakoue (14 TCKL, 4 Sacks, 1 TFL, 1 PD, 1 INT, 3 FF) and LB Paul Posluszny (74 TCKL, 1.5 Sacks, 3 TFL, 1 PD, 1 INT). Both will be important in stopping Houston's offense.
Jacksonville Offense vs. Texans Defense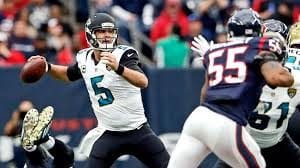 The Jacksonville offense is focused on the air game. QB Blake Bortles (59.2 COMP%, 14 TDs, 10 INTs, 19 Sacks) will be looking to WR Allen Hurns (31 REC, 443 14.3 YDs, AVG, 2 TDs). Hurns, who has been out with a concussion, has just been cleared to play in the game. Wide out Allen Robinson (39 REC, 442 YDs, 11.3 AVG, 4 TDs) will also be important in today's game.
The running game has been problematic. Jaguar rushers have fumbled five times and lost two of those balls. PK Jason Meyers has been perfect on field goals from under 50 yards but is one of four from 50-plus. In a game like this, that can be an important stat.
The Jags are averaging just 19.1 PPG. They are playing a club that is allowing 20.9 PPG. Although the Houston D has suffered some major losses due to injury, they do have a solid linebacking squad. Look for LBs Jadeveon Clowney (30 TCKL, 3 Sacks, 6 TFL, 1 PD), Whitney Mercilus (30 TCKL, 4.5 Sacks, 2 TFL, 1 FF, 1 REC), Benardrick McKinney (73 TCKL, 3 Sacks, 1 TFL, 1 PD, 1 FF) to be primary players on D today. The secondary needs CB A.J. Bouye, who has nine passes defended. Bouye suffered a knee injury in practice and is questionable. Safety Andre Hal and CB Jonathan Joseph, with nine passes defended between them, will need to be on their game.
2016 NFL Week 10 Free Pick Houston Plays Jacksonville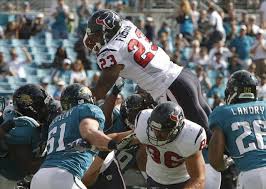 In our 2016 NFL week 10 free pick Houston plays Jacksonville for the first time this season. The Texans are -30 on PF/PA, while the Jags are -62. That says a lot about bot team's consistency. The Jags are 17th in red zone offense at 56%, while the Texans are dead last at 38.10%. That will be a factor if the Jaguars can make their way into the red zone.
When all is said and done we're going to take the Houston Texans in what looks like a very tight game. The Texans are available at -1.0. Kickoff is 1 p.m. ET.
2016 NFL Week 10 Free Pick Houston Plays Jacksonville: Texans at -1.0