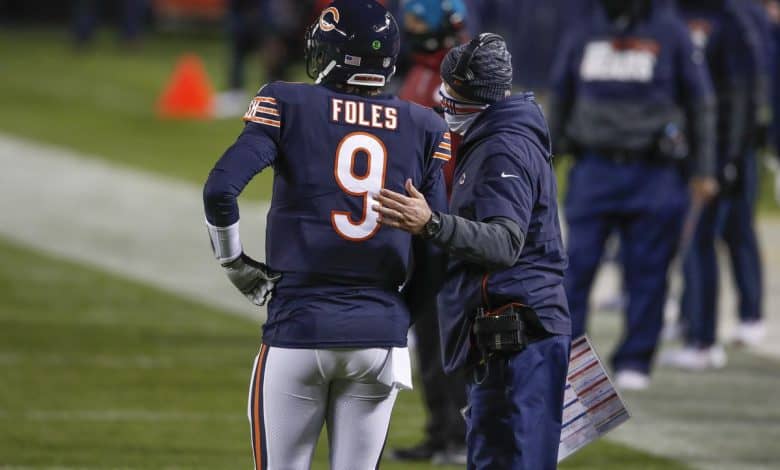 There's a lot of unknowns coming into the NFL's week 9 Bears at Titans pick. On one side, Chicago definitely didn't look good enough to win last week against the Saints, but ultimately had their chances in a 26-23 OT home OT loss. Tennessee on the other hand was completely dominated 31-20 at Cincinnati last week. Which versions of each team shows up on Sunday?
As expected, the Titans are -6 point favorites at Nissan Stadium, where they are 3-1 on the season. Chicago puts their 3-1 road record to the test, but with a very banged up offensive line. The public is split 50/50 on this one, adding even more question marks to this tilt.
What Does Chicago's Offense Contribute?
The Bears had a quick turnaround last week after a 24-10 loss to the Rams on Monday night, so in some ways the 26-23 loss to the Saints in OT was excusable. Heading into the Bears at Titans pick there isn't a whole lot to be optimistic of, especially on the offensive side where it seems like Chicago has to scratch and claw for every single point they get.
Matt Nagy says the game plan is to run the ball more on Sunday, if anything to avoid Nick Foles getting battered around in the pocket. The Rams got to Foles four times in the MNF game, and New Orleans sacked Chicago five times a week ago. One break Chicago gets is Tennessee's Jadaveon Clowney missing this game with a knee injury, but the Bears line is also missing 3-4 key components from a unit that wasn't that good to begin with.
The big problem with Chicago trying to run the ball more is that they're not very good at it, ranking 2nd to last in the NFL with just 85.6 yards/game. That sets up a lot of 3rd and long situations that will let Tennessee tee off on Foles. Not being able to sustain drives also tires the Chicago defense – not good against the ground and pound of Tennessee.
Titans Ready for a Bounce Back?
Tennessee sets out to prove that the 31-20 loss at Cincinnati as -7.5 road favorites was an anomaly – but was it? The Titans gave up 116 yards rushing to the Bengals and allowed rookie Joe Burrow to go 26/37 for 249 yards and 2 TD.
The loss to the Bengals came a week after the Steelers visited Music City and stayed undefeated with a 27-24 win. Tennessee lost despite picking off Ben Roethlisberger three times, and that game came a week after the Titans escaped with a 36-42 OT win at home against the Texans. Deshaun Watson was 28/37 for 335 and 4 TD in that game.
The good news for Tennessee is that the Chicago offense isn't anywhere near as capable as Houston, Pittsburgh, or even Cincinnati for that matter. The Bears defense could present a challenge if the Chicago offense can get off the field though. Drew Brees was 31/41 last week vs. Chicago however, and Ryan Tannehill is the same type of super accurate QB. The Bears also have to contend with Derrick Henry of course.
Free Bears at Titans Pick
Chicago has a chance to stay in this one early, mostly at the hands of their defense. The Bears offense is going to struggle, because inexperienced offensive lineman don't just give up pressure, they also get called for a lot of drive killing penalties. The Titans run away with this one (literally) in the second half.
Titans 31 – Bears 13
Free Pick: Titans -6.5