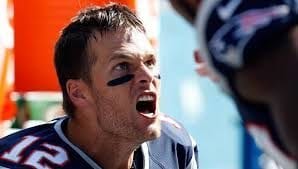 It wasn't as dramatic as Monday night's dramatic finish to hit the 'over' but last Thursday night's game between the Bears and Packers soared over the total just the same. Combined with Sunday night's 46-19 win by the Seahawks over the Colts that means all three primetime games last week went to the side of the over. With all the talk about the ineptitude of the New England defense going into Thursday, it would seem that the NFL Week 5 Thursday Night Over Under Free Pick favors the high side of the total once again.
Oddsmakers aren't making it easier however. They've listed tonight's total at an insane 54 yet still over 60% of the bettors are leaning towards the 'over'. It's not hard to see why people would side with the points, the Patriots have both the #1 offense in the NFL as well as the #32 (worst) defense. The Bucs are #3 in passing yards, #9 in total yards, and 3rd worst overall in total defense. This game might last until 2 AM.
Can New England Stop Somebody So the Under 54 Hits?
Even though Harry Potter Matt Patricia (DC) and Gandalf Bill Belichick needed to make a statement last week at home after almost getting beat there the week prior – they were lit up by Carolina…as some predicted. It was a flaship (former) Belichick game where everybody is getting down on him and then he comes out with a perfect gameplan to silence the critics. Instead Cam Newton lit up the Pats' D for 316 yards and 3TD in the air and another 44 and a TD on the ground. Fellow #1 pick Jameis Winston is looking to mimic that performance tonight.
No sure thing Rob Gronkowski is active tonight and if he is, he will be limited, per source.

— Adam Schefter (@AdamSchefter) October 5, 2017
It goes without saying, but Brady can have success against this defense in the NFL Week 5 Thursday Night Over Under Free Pick. The Bucs gave up 288 and a TD to Eli Manning last week and the week before were shredded by Case Keenum for 369 and 3TD. Tampa is 5th in rushing yards allowed though so it may be all Brady – all night. If Rob Gronkowski sat with his thigh injury it might point towards the 'under' but instead all the factors seem to point – towards points.
Will Tampa Bay Keep Up to Push the NFL Week 5 Thursday Night Over Under Free Pick?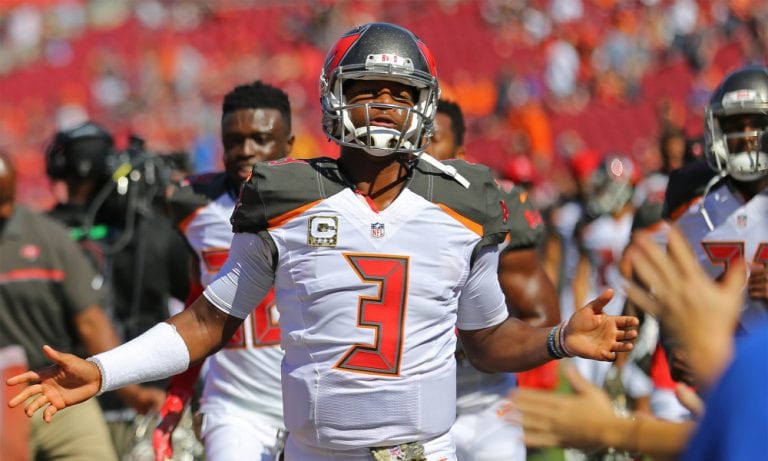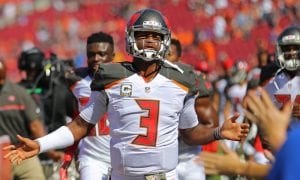 Tom Brady gets a lot of pub throwing for 350 YPG so far in 2017 but surprisingly Jameis Winston is right there at #3 in the NFL tossing for 288 per. Mike Evans has hauled in 75 YPG (11th in the NFL) and the Bucs have gotten off to their 2-1 record with basically a nonexistent running game (84.7, 26th in NFL). Doug Martin returns from suspension tonight to help bolster the running game – which essentially could open up the passing game even more.
Ex-@HHSGopherFB star @Jaboowins is excited about playing on @NFL Thursday night football — and meeting Tom Brady. https://t.co/cZjXizFHjG

— Mark Inabinett (@AMarkG1) October 5, 2017
With Tampa Bay's defense, the NFL Week 5 Thursday Night Over Under Free Pick has all the makings of a shootout. They stop the run like one of the best in the league (5th with 78.7 allowed) but that doesn't matter because the Patriots don't run anyway.at just 3.6 YPA and 95.5 YPG. The Tampa Bay defense was already behind the 8-ball but their walking wounded doesn't help the matter. Likely gone from the defense Thursday is:
CRAZY: Bill Belichick has never won AT Tampa Bay in his 23 years as a Head Coach in the NFL… Pats @ Bucs tonight… #TNF pic.twitter.com/26qoaz6YSn

— JB Wish-TV (@jordan_burrows) October 5, 2017
NFL Week 5 Thursday Night Over Under Free Pick – Betting
The very basics of this game show that everything is pointing towards a high scoring affair. You've got Tom Brady battling Jameis Winston with two of the top three worst pass defenses in the league on the other side of the field. Tampa is even more vulnerable with their injuries which is why 67% of the public is banking on New England to get it together.
54 is a high number, but all four of New England's games have been 'over' that this year. That being said both teams are working on a short week which could slow down their collective offenses. This also feels like the 'last chance' for Belichick and Patricia to get it right against Winston – who is prone to mistakes. Tampa Bay may be geared more towards the running game with Martin back too.Even the Patriots offense will be not as explosive if Gronkowski is limited.  Everything needs to go right to hit an 'over' this high – which is what makes our play so appealing.
Pick: New England / Tampa Bay *Under* 54