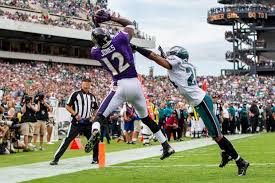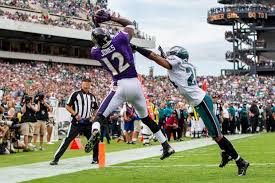 We're thinking that this Philadelphia Eagles plays Baltimore Ravens free pick offers sports bettors an opportunity. The Ravens open at -6.5 and are now at -4.5. Baltimore needs this game badly. The Ravens (7-6) need every win they can get as they are second in the AFC North and sit one-game behind first place Pittsburgh. The Eagles (5-8) are in last place in the NFC East.
Philadelphia is on a four-game losing streak. Their last win was against Atlanta on Nov 13. The score was 24-15. Their four losses were to Seattle 26-15, Green Bay 27-13, Cincinnati 32-14, and Washington 27-22. The Eagles have lost much of their offensive punch while, at the same time their defense has not been able to keep teams out of the end zone.
The Baltimore Ravens have gone 3-2 over their past five games. They lost last week to New England 30-23. Their other loss was on Nov. 20 to Dallas 27-17. Wins were over Cleveland 28-7, Cincinnati 19-14, and Miami 38-6.
Philadelphia Offense vs. Ravens Defense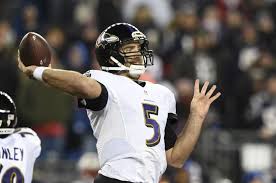 The Eagles are averaging 22.3 PPG on offense. QB Carson Wentz (63.7 COMP%, 13 TDs, 12 INTs, 30 Sacks) has some good targets to throw to, but one, Darren Sproles, will not play due to a concussion. Sproles is a solid dual threat. He will be able to toss to his leading receiver Jordan Matthews (65 REC, 765 YDs, 11.8 VG, 3 TDS) and to big TE Zach Ertz (57 REC, 564 YDs, 9.9 AVG, 2 TDs). RB Ryan Matthews (117 ATT, 487 YDs, 4.2 AVG, 7 TDs) is ready to go.
The Baltimore defense is tough, holding opponents to 18.2 PPG. They've been very effective against the rush, holding teams 75.5 YPG on the ground. In their last three games, they've held teams in the red zone to a success rate of 45.45%, placing them ninth for that period.
The defense has made 29 sacks, grabbed 15 picks, and forced 15 fumbles, recovering 10. They can be relentless. Top performers include DE Timmy Jernigan (5 Sacks, 4 TFL), LB Terrell Suggs (8 Sacks, 3 TFL, 4 PD, 3 FF), and safety Eric Weedle (1 Sack, 11 PD, 4 INTs, 1 FF). LB C.J. Mosely (4 TFL, 7 PD, 3 INTs) is also a major threat. Expect this defense to shutdown the Philadelphia run and harass Wentz.
Baltimore Offense vs. Eagles Defense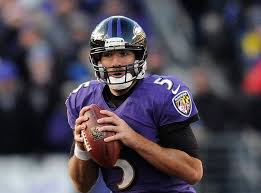 In his last five games, QB Joe Flacco (65.2 COMP%, 17 TDs, 12 INTs, 25 Sacks) has thrown 11 touchdown passes and five interceptions. He's got four different guys to toss to, including leading receiver wideout Mike Wallace (62 REC, 903 YDs, 14.6 AVG, 4 TDs). WRs Steve Smith Sr. and Breshad Perriman and TE Dennis Pitta will also likely been tapped by Flacco in this game. RB Terrence West (165 ATT, 652 YDs, 4.0 AVG, 5 TDs) could have a big day against the Eagles.
The Philadelphia defense has 28 sacks, 10 INTs, and 12 FF. They have recovered nine of those fumbles. They also have 46 TFL and defended 60 passes. Over the curse of the season, they've allowed red zone scoring 46.34% of the time, which puts them 4th in the league. However, for the last three games, they've ranked 14th at 54.55%.
Top performers include DT Fletcher Cox (5.5 Sacks, 4 TFL, 2 PD, 1 FF) and DE Brandon Graham (5.0 Sacks 8 TFL, 1 PD, 2 FF). If they can hassle Flacco, that could turn the game in the Eagles' favor. Safety Rodney (71 TCKLs, 1.0 Sacks, 3 TFL, 6 PD, 3 INTs, 1 FF) is a quality player who could have a huge impact in this game.
Philadelphia Eagles Plays Baltimore Ravens Free Pick
In our Philadelphia Eagles plays Baltimore Ravens free pick, we like the Ravens at -4.5 for various reasons. Overall, they are healthier, more motivated, and their defense has the potential to overwhelm the Eagles. We're taking the Ravens at -4.5 at home. Kickoff is 1 p.m. ET.
Philadelphia Eagles Plays Baltimore Ravens Free Pick: Baltimore at -4.5