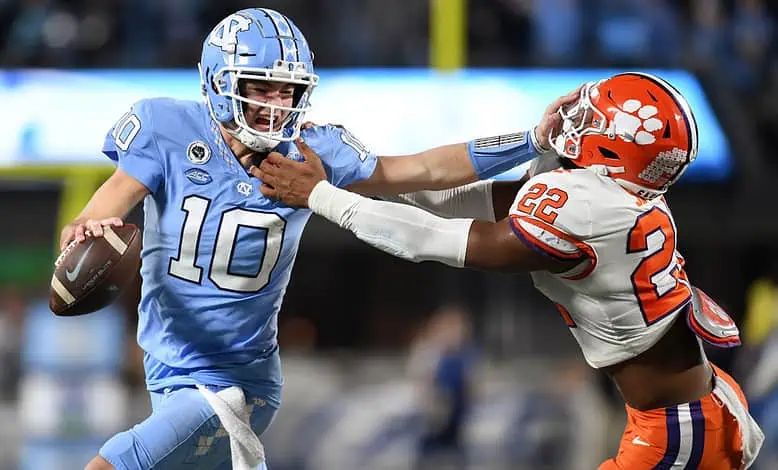 Clemson coach Dabo Swinney tried to play the Rodney Dangerfield "I get no respect" card with a sports radio caller a couple weeks ago, but the Tigers (6-4) find themselves a somewhat surprising -7.5 favorite against #20 North Carolina (8-2) on Saturday afternoon. The Tigers do in fact have some respect from oddsmakers, but is that enough to make them the play in the North Carolina at Clemson betting matchup in week 12?
Four losses is normally a couple seasons full for the Tigers and Swinney's team being unranked is almost unheard of, yet they are over a TD favorite vs. the Tar Heels. On the flip side UNC getting this many points with one of – if not the – best QBs in the nation is also a real slap in the face. It's a chip-on-your-shoulder vs. chip-on-your shoulder ACC battle here with over 60% of the betting public liking UNC plus the points.
Why North Carolina Has Value at +7.5
You're going to give bettors Drake Maye – arguably the best QB in college football – and +7.5 points? That's a wager you nearly make 8 days of the week. Maye has been his usual spectacular self this season, completing over 65% of his passes yet again with 21 TDs against 6 INTs.
Maye has thrown for 300+ yards in three of the past four, and the one game he didn't hit that mark over that span he had 4 TD passes. The star QB has helped UNC to the #1 scoring mark in the ACC (39.9), and #3 in the entire country in yards/game (520.6) – you just don't seem like you can give a team like that +7.5 points.
The crazy thing about UNC getting +7.5 on Saturday is that they're not just all about Maye, as RB Omarion Hampton is 2nd in the nation with 1,236 rush yards. to go along with 13 TDs on the ground. The 'Heels are a top 20 team in the FBS in passing and running which is something nice to have to go along with getting over a TD.
Why Clemson Has Value at -7.5
It's been another November to remember for Swinney and Clemson, who traditionally get hot this time of year to the tune of winning 23 of their last 26 in this month. 2023 has yielded a 31-23 win over Notre Dame while getting +3 and a 42-21 victory over Georgia Tech to cover -14.5 the past two weeks.
Clemson should have an endurance advantage on Saturday afternoon as they play their third straight home game. Not only that, the Tar Heels may be a bit fatigued after having to endure a 47-45 2OT victory over rival Duke last weekend where a loss would have been UNC's third in the last four games. Clemson is getting hot while the Tar Heels seem to be faltering a bit down the stretch.
There's no doubt that North Carolina has an elite, well-rounded offense but the Clemson defense isn't too shabby themselves. The Tigers rank 6th in the country in yards allowed, 7th vs the pass giving up just 162.5 ypg, and 20th vs the run (109.3).
Free Week 12 North Carolina at Clemson Betting Pick
Pick your poison in this classic offense vs defense matchup. Getting +7.5 with Maye under center is very appealing, but you also have to look at why this point spread is so high in favor of Clemson? The Tigers are 5-1 at home while UNC is playing just their third true road game of the season in this matchup. The line looks too high which in this case is why you take it.
Free Pick: Clemson -7.5