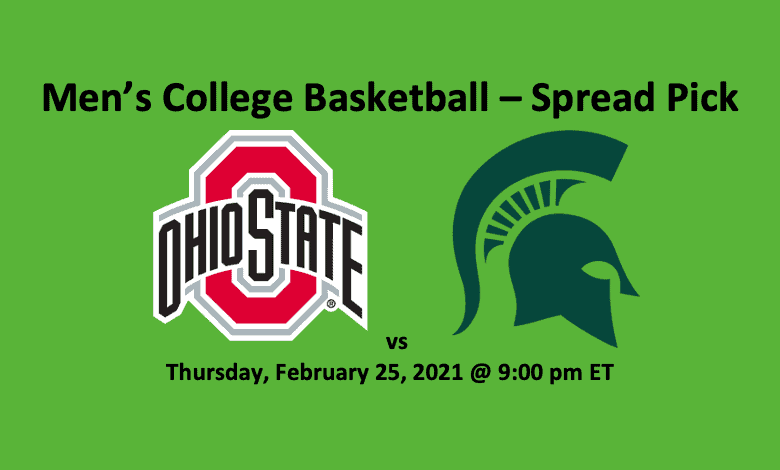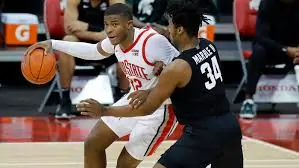 Our Ohio State vs Michigan State pick notes that these two teams met four days ago. The result was OSU 87 and MSU 92. The best spread for the Buckeyes is -3.5 (-110), while the underdog Spartans can be found at +4.0 (-112). The number four Ohio State Buckeyes is 12-5 in the Big Ten and 18-5 overall. They are in third place in the conference, 1.5 games away from first-place Michigan. The tenth-place Spartans are 6-9 in the conference and 6.5 games out of first. Michigan State is 12-9 in combined conference and nonconference play.
This game will be played Thursday, February 25, 2021 at Michigan State's Breslin Center in East Lansing, Michigan. Tipoff will be 9:00 pm ET. Along with the spread pick for this Big Ten Conference contest, we also have the over/under on the Santa Clara vs Gonzaga matchup as well as the spread prediction for that same game.
Ohio State vs Michigan State Pick – Stats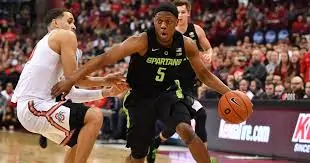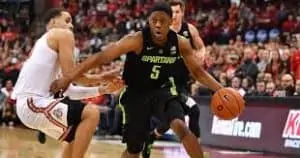 On paper in basic terms, OSU looks better than MSU. Ohio State is averaging 78.5 PPG while Michigan State is putting up 71.3 PPG on the scoreboard. Additionally, the Buckeyes are holding opponents to 69.6 PPG. On the other hand, the Spartan defense is allowing 71.7 PPG. Those stats give OSU a PF/PA differential of over nine points.
However, on the other hand, Michigan State is outrebounding OSU 38.2 to 36.6 PG. Plus, the Spartans are better on assists (17.0-12.9) and blocks (4.7-3.3). The Buckeyes have the advantage on threes (36.8-33.6) and frees (77.7-73.4).
Buckeyes vs Spartans – Players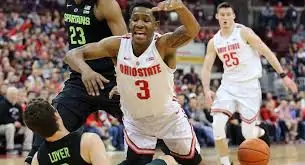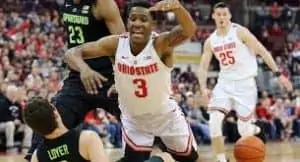 Our Ohio State vs Michigan State pick notes that the Buckeyes are sound both in the paint and in the backcourt. In the frontcourt, forward E.J. Liddell tops the team with 15.9 PPG and 6.8 RPG, while forward Justice Sueing is good for 15.6 PPG, 2.8 RPG, and 2.9 APG. Both are shooting over 36% from downtown. In the backcourt, Duane Washington Jr. is averaging 10.3 PPG and 5.7 RPG, while CJ Walker is knocking in 9.1 PPG and dishing off 4.2 APG.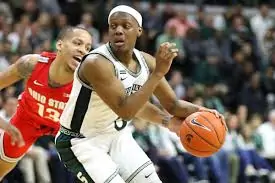 MSU brings three double-digit scorers to this game in forwards Aaron Henry (15.2 PPG) and Joey Hauser (10.3 PPG) and guard Joshua Langford (10.0 PPG). Henry and Hauser are combining for an average of 11.6 APG, while Henry is averaging 3.5 APG. In the backcourt, Langford is hitting threes at the rate of 37.5%. Guard Rocket Watts, who is averaging 8.0 PPG, is averaging 3.0 APG.
Ohio State vs Michigan State Pick – Final Word
Our Ohio State vs Michigan State pick sees the Buckeyes rebounding from their February 21 loss to Michigan State. If they are on target when shooting, OSU will outscore MSU. However, the Buckeyes need to match them on the boards. We think that will be the case in this game. Take the Ohio State Buckeyes at -3.5 (-110).
Prediction Summary – #4 Ohio State Buckeyes vs Michigan State Spartans
Point Spread Pick – Ohio State Buckeyes at -3.5 (-110)