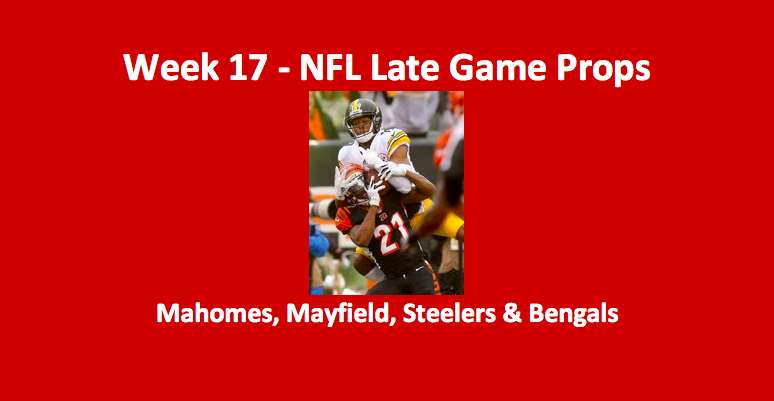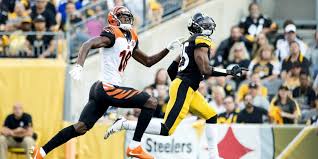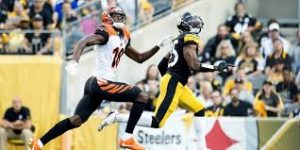 Our series of proposition bets continues, as we offer a mix of the best NFL Week 17 props. This article offers props on two players, both of which are quarterbacks, and on Cincinnati and Pittsburgh total TDs. Remember, we've posted two other prop articles today. Each piece offers three props. To connect, you'll find our trio of Patriots vs Jets props here and our three best NFL receiver props through this link. We do think there's a lot of value to be found in Week 17 NFL props. Here are our late-game NFL Week 17 props.
Patrick Mahomes Over/Under 280.5 Passing Yards
Bet: Mahomes Over 280.5 (-108)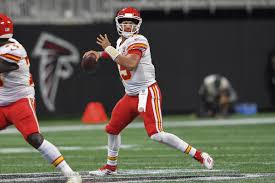 What will Mahomes do today? It's true he's been in a slump, passing for under 281 yards in each of his last two games. But he is playing against the Oakland Raiders today. This is a team that is allowing on average over 240 passing yards per game and more than 28 PPG. Plus, K.C. needs this game to secure the top spot in the AFC Division and to get the bye and home field in the playoffs.
Last week, Mahomes just missed the 281-yard mark by eight yards. He missed it by more the week before when he threw for 243 yards. But Mahomes has 11 games this season where he's passed for more than 281 yards. Five weeks ago, he had 290 yards in the air against the Raiders. Bookies are noting that the Chiefs have the potential to score over 33 points in this game, and we doubt they'll do it all on the ground. Mahomes is averaging 321.1 YPG in passing. The average rushing yards for the Chiefs comes to 117.1. We do like the over here.
Baker Mayfield Over/Under 240.5 Passing Yards
Bet: Mayfield Under 240.5 (-115)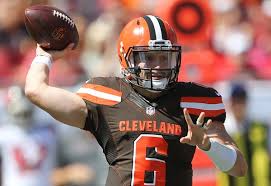 What will Mayfield do today? In Week 5, the Browns played the Ravens and the rookie QB managed to amass 342 passing yards. He's surpassed the 240.5 mark six times this season. Last week against the Browns, he passed for 284 yards. But he's facing a Ravens D that is allowing under 220 passing yards per game. Plus, Mayfield and company are on the road, playing in a game that Baltimore has to win to ensure a division-win and a playoff spot.
Mayfield has been sacked 25 times and has tossed 11 picks. The Ravens have 43 sacks, 80 PD, 10 FF, and nine INTs. Although the number of picks Baltimore has pulled off is not especially impressive, their QB bring downs and passes defended are. We think that the Ravens will harass him quite a bit today. As we note above, take under 240.5 yards in passing today.
Cincinnati and Pittsburgh have scored a combined 97 touchdowns in 30 games this season. The Steelers have the best red-zone offense in the NFL, according to Team Rankings, while the Bengals rank second. Meanwhile, both red-zone defenses rank below the league median.
Steelers vs Bengals Over/Under 5.5 TDs
Bet: Over 5.5 TDs (+120)
Here's the skinny on our third of three late-game NFL Week 17 props, neither team has a great red-zone defense and Pittsburgh has the best red-zone offense in the league and the Bengals have the second-best. The Steelers come in as a 14.5-point favorite, which means there's the thinking that points will be scored. In 30 games, these two teams have score a total of 97 TDs. All of this indicates we take the over at 5.5.
Final Word: Late-Game NFL Week 17 Props
Of course, we certainly like each of our three late-game NFL Week 17 props, but do we prefer one over the other? The answer is not really. We do think that the touchdown prop in the Pittsburgh vs Cincinnati game is the weakest of the three. But we like the odds a lot, and we do think these two teams will be pushing to put points on the scoreboard. By the way, all of the games we've listed will be played at 4:25 pm ET. Best of luck today!