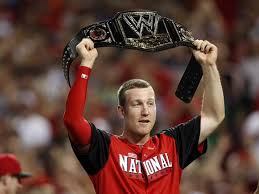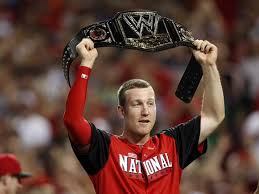 It's a big night tonight, Monday, July 11th, as the 2016 MLB Home Run Derby will be played out at Petco Park in San Diego, CA at 8 pm. You can catch the derby on ESPN or through MLB live streaming. Tonight's tournament offers fans eight sluggers, four from the NL and four from the AL. Six of these players will also be in the All-Star game, which will take place on Tuesday night.
2016 MLB Home Run Derby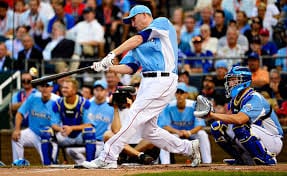 The following rules are as stated by MLB and have been developed and written by MLB. They will be in effect for the entire 2016 MLB Home Run Derby.
Single-elimination tournament in which the winner of each matchup advances and the loser of each matchup is eliminated.
If the second batter hits more home runs than the first batter in any matchup, he will be declared the winner and not attempt to hit additional home runs.
Four minutes per batter for each round. Clock starts with the release of the first pitch. In the first round and semifinals, each batter is entitled to one 45-second timeout. In the finals, each batter is entitled to two 45-second timeouts.
Thirty seconds of bonus time will be awarded for two home runs that each equal or exceed 440 feet.
Ties in any round will be broken by a 60-second swing-off with no stoppage of time or additional time added. If a tie remains after the swing-off, batters will engage in successive three-swing swing-offs until there is a winner.
2018 MLB Home Run Derby Participants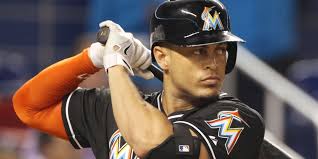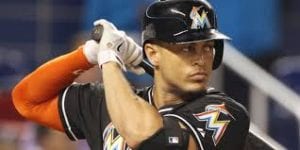 Each of the participants in this 2016 MLB Home Run Derby has the right stuff to win this thing outright. Here's a look at the seeding and how we see it playing out in the first round.
Round 1: Mark Trumbo (Seed 1- Baltimore Orioles with 26 home runs) vs. Corey Seager (Seed 8- Los Angeles Dodgers with 17 home runs). The vet Trumbo beats the rookie Seager.
Round 1: Todd Frazier (Seed 2- Chicago White Sox with 23 home runs) vs. Carlos Gonzalez (Seed 7- Colorado Rockies with 18 home runs). Frazier, the guy who's second in dingers and who won last year's derby, wins this round and moves on to the next.
Round 1: Adam Duvall (Seed 3- Cincinnati Reds with 22 home runs) vs. Wil Myers (Seed 6- San Diego Pandres with 19 home runs). Homer Myers takes this round and gets to move to the next level.
Round 1: Robinson Cano (Seed 4- Seattle Mariners with 20 home runs) vs. Giancarlo Stanton (Seed 5- Miami Marlins with 20 home runs). Stanton, who can hit massive round trippers, takes this initial round.
Round 2 of Home Run Derby
Round 2: This features the winner of 1/8 vs. the winner of 4/5. That means that Trumbo takes on Stanton. Some like Stanton in this matchup, but we're taking Trumbo and saying he'll move onto the finals. This one should be close!
Round 2: This matchup has the winner of 3/6 vs. the winner of 2/7. Upstart and hometown favorite Meyers battles last year's champion Frazier. Romanticizing, it would be great if Meyers took this one, but common sense says that Frazier wins it.
The Finals
Here's a classic battle between the one and two seeds. It's Mark Trumbo against Todd Frazier. Can Trumbo take Frazier's crown away from him? Let's take Frazier to repeat as champion. After all, he's been here before and he knows how to win it.
Playing the Odds
The odds on the 2016 MLB Home Run Derby are:
Stanton: +350
Trumbo: +375
Myers: +550
Frazier: +600
Duvall: +600
Cano: +800
Gonzalez: +800
Seager: +900
Don't go crazy on betting this competition. If you do wager on it, you can attempt to cut your losses by spreading your wagers out in a fashion similar to how you might play futures.
If you take Stanton for two units, Trumbo at two, and Frazier at one and any of them win, you'll be ahead.
2016 MLB Home Run Derby Picks: Stanton (+350) for two units, Trumbo (+375) for two, and Frazier (+600) for one