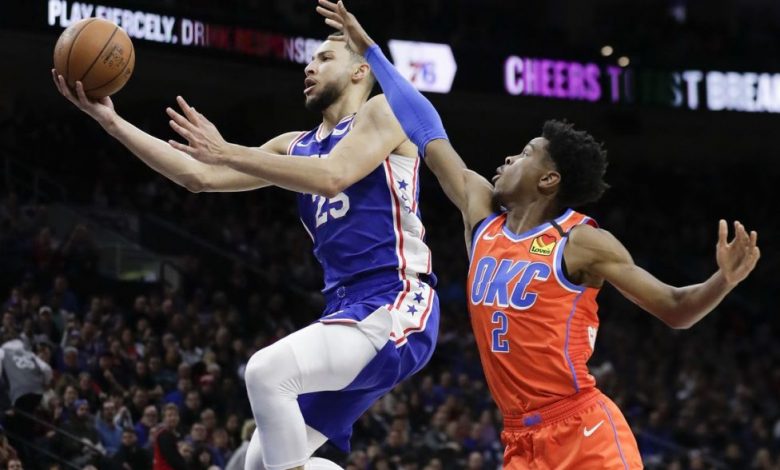 The race for the top seed in the NBA's Eastern Conference may be Milwaukee's to lose, but after that, five teams in the East are bunched together in the next tier. Two of those teams face each other Monday night, as the Indiana Pacers (24-15) welcome the Philadelphia 76ers (25-15) to Bankers Life Fieldhouse in Indianapolis.
Here is a preview for Monday night's game between the 76ers and Pacers, along with odds and a free pick.
By the Numbers
It was a bittersweet week for the 76ers, who lost center Joel Embiid to a finger injury that requires surgery and will keep him out indefinitely. However, they managed to win two out of three without Embiid, an improvement over their recent four-game losing streak that included a 115-97 drubbing by the Pacers in Indiana on New Year's Eve.
Philadelphia is averaging 109.3 points per game, good for 19th in the NBA. However, the 76ers score efficiently, ranking eighth with a .469 field-goal percentage.
Philadelphia doesn't take a lot of threes on offense (30.1 per game), with only five teams shooting fewer. Additionally, the 76ers are third in assists and assist ratio, dishing out an average of 26.5 a night.
On defense, the 76ers allow 105.8 points, the seventh fewest in the league, on 45.7 percent shooting. The bulk of those points come within the arc, as no team allows fewer threes on a nightly basis than the 10.0 the Sixers give up.
Philadelphia also cracks the top 10 in blocks (5.6) and steals (8.3) per game.
The Pacers are still hoping to find some consistency as they look to climb up the Eastern Conference standings. They won two out of three last week but have dropped six of their last 10 games overall.
Following a win against the Bulls on Friday, a win Monday night would give Indiana its first winning streak since it won five in a row from Dec. 11-20.
Not only are the Sixers and Pacers close to each other in the standings, but they're also close in many statistical categories. This season, Indiana is averaging 109.6 points per game, 17th in the league. However, the Pacers trail just four teams in overall field-goal percentage at .471 and three-point percentage with .368.
Ironically, even though they are successful when they shoot them, no team takes fewer threes than the Pacers. They're also top five in assists and average the fewest turnovers (12.4) per game.
One spot behind the Sixers, the Pacers sit eighth in points allowed with 106.5, ranking in the top 10 in field goal percentage allowed as well at .445.
Indiana is also seventh in threes allowed with 11.2 but sits just 19th in defensive rebounds per game with 34.1. The Pacers also sit just outside the top 10 with 5.1 blocks per game but near the bottom of the league with 6.9 steals.
Who to Watch
Without Embiid on the court, the Sixers lost by 18 the last time they faced the Pacers. They hope to be a little more prepared this time around, thanks to the help of Ben Simmons.
Philadelphia's All-Star point guard scored 18 points and pulled down 10 rebounds against the Pacers a couple of weeks ago, and since then, he is averaging 19 points, 10.5 rebounds and 8.3 assists per game. Simmons will need to continue to stand out on the court during Embiid's absence.
Additionally, consider Josh Richardson as an X-factor. The veteran swingman has found his scoring touch, dropping 23 against the Thunder and a season-high 29 versus the Celtics, both of which ended in wins. If Richardson can continue to score, the Sixers will benefit greatly.
The last time these teams faced off, it was Domantas Sabonis who gave Philadelphia the most trouble. The big man notched a double-double with 23 points and 10 rebounds, with 11 of those points coming in the third quarter.
Now in his third season, Sabonis is enjoying a breakout year, averaging 18 points and 13.1 rebounds per game. However, after missing Friday's game, he is considered a game-time decision Monday night due to an ailing knee. Guard Malcolm Brogdon is also questionable due to a back injury and illness.
In the event Sabonis doesn't play, look for Myles Turner to play a big role in the action. The center set season highs in both points and rebounds against Chicago with Sabonis out of the lineup, dropping 27 points and pulling down 14 boards.
While Turner can still impact the game if Sabonis plays, he would be in an interesting spot if he had to carry the load again, especially against a team missing its elite center.
Odds and Pick
Monday night in Indianapolis, the home team is favored to leave the arena with a W. The Pacers are -2 against the 76ers, which makes sense considering their 15-5 record at home and Philadelphia's 7-13 road record.
Ultimately this game will come down to if the 76ers without Embiid can score enough and whether the Pacers, potentially without two of their top players, have enough depth to get by. But I'm sticking with the Pacers, who exposed the Embiid-less Sixers last month and will do it again Monday night. Give me the Pacers -2.