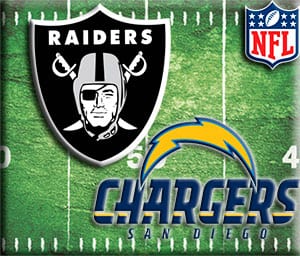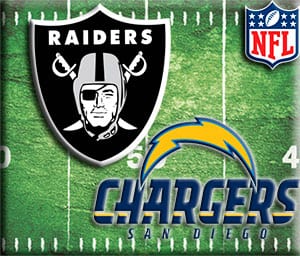 Overview
The San Diego Chargers are in Oakland tonight for their big week 16 match-up versus division rivals the Oakland Raiders. The Raiders haven't had much luck versus the Chargers over the years winning just 5 of the last 20 meetings but they usually keep the score close covering the spread in 10 of the last 13 meetings.
Head to Head Trends
Chargers are 1-5 ATS in their last 6 meetings.
Underdog is 12-1 ATS in their last 13 meetings.
Oakland Raiders (-6)
The Oakland Raiders are 3rd in the AFC West with a 6-8 record. The Raiders looked like they might have a decent team early in the season winning 2 of their first 3 games and 4 of their first 7 but when you look back at the teams they were beating they were some pretty bad teams. The Raiders have a lot of talent I mean they did beat the Broncos in Denver a couple weeks back although I think that might have been more of the Broncos beating themselves.
The Raiders have a decent offense averaging 346 yards and 22.8 points per game but defense is their problem allowing 366 yards and 25.4 points per game. The Raiders defense has played much better of late allowing just 278 yards per game over their last 3 games but even with that low yards total they are still allowing 25.3 points per game.
Oakland Raiders Trends
Raiders are 5-1 ATS in their last 6 vs. AFC.
Raiders are 8-3 ATS in their last 11 games following a ATS loss.
The NFL moneyline odds at the BetOnline betting site is at -225 for the Raiders and with spread the Chargers are getting 5.5 points with the point spread.
San Diego Chargers (+6)
The San Diego Chargers are 4th in the AFC West with a 4-10 record. This has been a super disappointing season for the Chargers especially after back to back 9 win seasons over the last couple years.
The Chargers are an odd team in the fact that over their last 5 games they put up 30+ points in 2 of them but in the other 3 games they managed just 9 points total. On the season the Chargers are averaging 377 yards and 20 points per game on offense while allowing 357 yards and 24.9 points per game on defense.
San Diego Chargers Trends
Chargers are 1-9 ATS in their last 10 vs. AFC West.
Chargers are 3-8 ATS vs. a team with a losing record.
Conclusion
This is a really tough game to pick especially with the spread being -6. I think the Raiders win this game straight all day long but the question is are they going to win by more then 6 points. The Raiders defense has been playing much better of late so I think they will be able to keep Philip Rivers and the Chargers offense in check and win by at least a touchdown.
Free Pick: Oakland Raiders -6