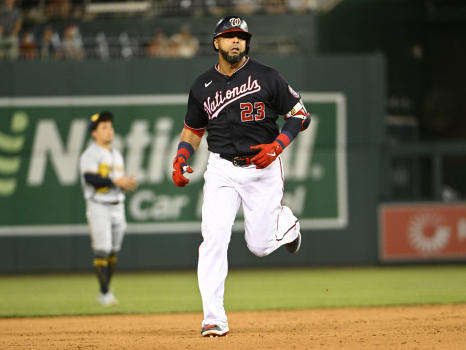 Somebody had to win on Friday night in a matchup of two teams that had combined to lose their last 9 games. That team ended up being Washington as they belted out 19 hits en route to an 11-5 win as +160 underdogs. Milwaukee now has a 7-game losing streak as they come into the June 11th Brewers at Nationals betting contest.
Milwaukee has been favored in six of seven games during their recent slide, and that trend continues on Saturday afternoon with the Brewers at a whopping -161. That's a bit of a price drop after Friday night's debacle at -175, with the majority of public betting still having faith in Milwaukee.
Brewers Struggles Continue
Milwaukee's 1-9 stretch over their last 10 games has dropped them 1/2 a game back from St. Louis in the NL Central. The Brewers are trying to fight through injuries in their rotation to Brandon Woodruff (ankle) and Freddy Peralta (back) but in the process are burning up their bullpen.
That Milwaukee bullpen was called into action on the early side yet again on Friday, with starter Aaron Ashby unable to get out of the 5th after surrendering 13 hits and 6 ER. The Brewers have now lost their last three games by scores of 11-5, 8-3, and 10-0 so this pitching staff is getting rocked.
With each rough outing from a Milwaukee starter, it puts more subsequent pressure on the follow up which is Eric Lauer (5-1, 2.38 ERA) in the June 11th Brewers at Nationals matchup. Lauer hopes to be the stopper as he's allowed 2 ER or less in 8 of his last 9 starts.
Nationals Offense Rolled Friday
Washington's offense was feeling it in the series opener, belting out 19 hits with everybody in the lineup getting on the board. Nelson Cruz, Josh Bell, and Maikel Franco all went deep for the Nationals, with Cruz going 4-5.
Friday's win snapped a three game skid for the Nationals but the big question is if they can get similar production as the opener. Juan Soto is hitting .158 over the past week, but he's 4-12 with a HR in his career vs. Lauer. Cruz has also gone 3-5 in his career vs. the Milwaukee starter.
Erick Fedde held the Brewers to 3 ER over 5.2 IP in Friday's win, and Patrick Corbin (2-8, 6.71 ERA) tries to break out of his recent slump when he takes the mound on Saturday afternoon. Corbin has allowed at least 3ER in 5 straight starts, and has given up 5+ in 3 of those outings. The left-hander is 1-4 with a 5.90 ERA at home on the season.
Free June 11th Brewers at Nationals Betting Pick
Corbin is not the same pitcher he once was, posting a career high 5.82 ERA last season and being even worse this year. The Nationals lost the first 9 games he started in 2022, and even though Washington has won two of his last three starts there's also a 12 hit, 7ER outing mixed in.
Milwaukee is in a slide right now, but they should be able to get back on track against a struggling Nationals starter. The Brewers can run away with this one.
Free Pick: Brewers -1.5 (+110)