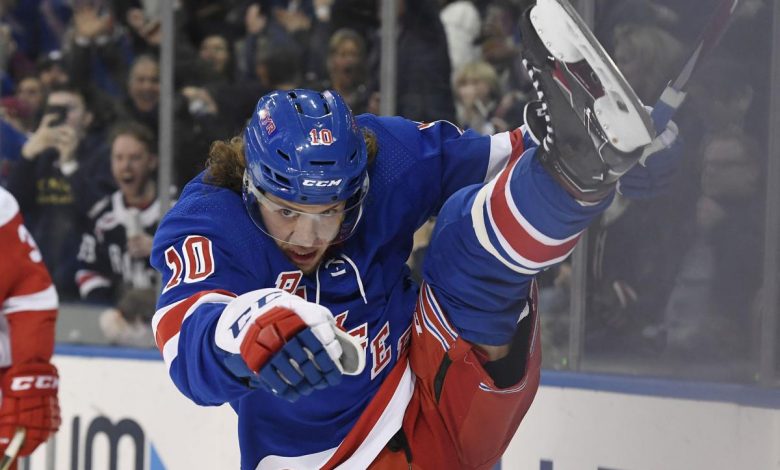 Two red-hot teams from the NHL's Metropolitan Division will meet Friday night in Philadelphia, as the New York Rangers (35-24-4) take on the Philadelphia Flyers (36-20-7). It's the first half of a home-and-home that will see these teams face off again on Sunday in New York.
Here is a preview for tonight's game, along with odds and a free pick.
By the Numbers
The Rangers have shot themselves back into postseason contention thanks to five straight wins and nine wins in their last 10 games. Despite technically being seventh place in the Metro, they trail Columbus by just two points for the final Wild Card spot.
New York has had one of the better offenses in the league for much of the season, ranking sixth with 3.35 goals in 31.1 shots. Their 10.8 shooting percentage is the second-best in hockey, while their power play is also sixth at a solid 23 percent success rate.
Defensively, the Rangers are allowing an average of 3.03 goals per game, 14th in the league. It's impressive when you consider that New York allows the second-most shots in hockey at 34.4. They also have a penalty kill percentage of 79.6, 18th in the NHL, despite averaging more time in the box than any other team.
The Flyers have also started to find their groove, winning four straight contests and seven of their last 10 overall. They're a group that not only has snuck back into postseason contention but is now third in the Metro and a point behind the Penguins for second.
Philadelphia cracks the top 10 in goal-scoring as well, averaging the ninth-highest 3.25 goals per game on 31.4 shots. Their shooting percentage of 10.4 also comes in at 10th, and their 20.4 percent success rate on the power play ranks 14th in the NHL.
On the other side of the ice, the Flyers have succeeded to the tune of 2.86 goals allowed, 11th in hockey. No team has allowed fewer shots per game as well than Philly's 28.6, while entering tonight with a solid penalty kill of 82 percent, one that ranks eighth.
Who to Watch
Everyone has seemed to have found their rhythm during New York's hot streak. However, the charge is being led by All-Star Artemi Panarin. In his first year with the Rangers, Panarin has been exceptional, scoring 32 goals while adding 55 assists to put him among the league's best.
He is in the midst of an 11-game point streak in which he has five goals and 11 assists. Look for Panarin to keep it rolling tonight.
Along with Panarin, Mika Zibanejad and Ryan Strome are two guys who have succeeded both this season and in recent games. Zibanejad has scored a goal in six straight games, with a point streak of nine games that sees him at eight goals and seven assists.
In total, the center is at 30 goals and 32 assists, and on pace to pass his career-high 74 points from last season.
As for Strome, after his eight-game point streak snapped, he responded in a big way yesterday with two goals and an assist against Montreal. The 26-year old has six goals and eight assists in his last 10 games and is now up to 18 scores and 40 helpers on the season.
While Philadelphia doesn't have the high-point players that their opponents boast, they have still been getting great production from several vets. One of them is winger Travis Konecny, who on Tuesday registered his third one-goal, two-assist performance in four games.
Now with five goals and 13 points in his last nine games, Konecny has a career-high 35 assists as well as 22 goals, three away from a career best in that stat as well.
Other players for Philadelphia that are worth monitoring include Kevin Hayes and Scott Laughton. Hayes is coming off of a two-goal, three-point performance against San Jose, moving him up to 21 goals and 17 assists. After being held pointless for six straight at the beginning of the month, Hayes now has four goals and a pair of assists in his last four contests.
Meanwhile, Laughton isn't much of a point producer but has come alive with two goals against Winnipeg, followed by two assists against San Jose. The veteran center has now tied his career high with 12 goals in just 43 total games.
Goalies
Once again, Alexandar Georgiev will be your Rangers starter in net. Georgiev is 16-12-1 with a 2.94 GAA and .914 save percentage.
Philadelphia will likely counter with Carter Hart. After a strong rookie year, Hart is 20-12-3 with a 2.51 GAA and .909 save percentage.
Odds and Pick
Even though both teams are coming in hot, the home team is getting more love on the books. The Flyers are decent favorites tonight at -165, helped in large part by their exceptional 22-5-4 home record. Meanwhile, the Rangers are still a decent 18-11-2 on the road.
This game is going to be a good one. Philadelphia will certainly have the rest advantage after New York played yesterday. But the Rangers are slightly healthier and have won their last 10 road games.
I think the Rangers find a way to steal this one, relying on their stars like Panarin and Zibanejad to win it for them. It won't be easy, but I'm picking the Rangers +145 to take this one and make it six straight wins.